Tierradentro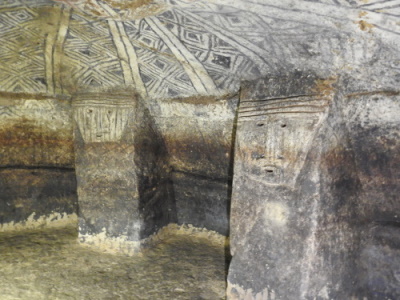 The National Archaeological Park of Tierradentro is well known for its pre-Columbian hypogea, which were found in several excavations and in various archeological locations.
The typical hypogeum has an entry oriented towards the west, a spiral staircase and a main chamber, usually 5 to 8 meters below the surface, with several lesser chambers around, each one containing a corpse. The walls are painted with geometric, anthropomorphic and zoomorphic patterns in red, black and white. Some statues and remains of pottery and fabrics can be seen scarcely due to grave robbery before the hypogea were constituted as protected areas.
The precolumbian culture that created this funeral complex inhabited this area during the first millennium A.C. Tierradentro Archaeological park features hypogea dating from 6th to 9th centuries AD. The details in the sculptures and pictoric patterns are similar to the San Agustín culture.
Community Reviews
---
Visited Tierradentro just recently (November, 2011). Visiting all 5 places (Segovia, El Duande, El Tablon, San Andres and Aguacate) requires at least full day on foot or riding a horse (although I am not completely sure about the latter possibility as the road are occasionally stopped by fence accessible by man only). All thirst four sites are protected and most of tombs are locked. They can be opened during visiting hours only (no additional cost except of entrance ticket). Aguacate is more remote (requires 500 meters climb and some 1,5 - 2 hours of mountain walking), very impessive (photo attached)
---
I visited Tierradentro, which is set in beautiful and spectacular mountain scenery, in November 1996.
Two days earlier I was in San Agustin and spent the intervening day getting from there to Tierradentro in 4 different vehicles, including my only ride on a chiva (goat) the open sided bus, brightly painted clay models of which are one of the commonest souvenirs of Colombia.
I stayed at the Hospedaje Los Lagos in nearby Pisimbala. I thought it excellent.
The description at the top of this page gives a good brief description of the site.
I began my visit by going first to the attractive and informative museum to learn something of the culture that flourished here about 1300 years ago and, upstairs of the areas present day inhabitants, the Paez Indians.
It is possible to visit most of the best tombs on foot. I walked first to Segovia where there are more than 30 tombs, of which about 6 are lit and visitable, then to El Duende (more tombs), then El Tablon, where there are statues like those to be seen at San Agustin, and finally down and up again to Alto de San Andres. By this time I decided not to make the effort required to climb to El Aguacate.
This was clearly an advanced culture, with time to spend on their elaborate funerary monuments and rituals. These required that bodies be buried first with tools and personal possessions in a simple tomb. Some time later the remains were exhumed and placed in the excavated chambers which this site now preserves.
---
Site Info
Full Name

National Archaeological Park of Tierradentro

Unesco ID

Country

Inscribed

Type

Cultural

Criteria

3

Categories

Link
Site Links
Unesco Website
Official Website
Visitors
23 Community Members have visited.