Rani-ki-Vav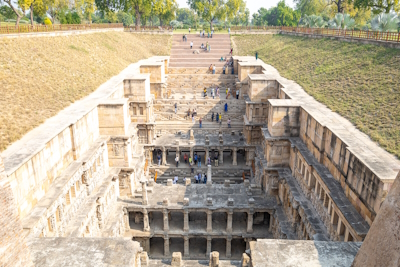 Rani-ki-Vav (The Queen's Stepwell) at Patan, Gujarat is the most developed and ornate example of this type of subterranean water architecture in India.
Stepwells are wells or ponds in which the water may be reached by descending a set of steps. These were sites for collecting water and socialising, but also simultaneously hold great spiritual significance. Rani-ki-Vav was built in the 11th century. It has more than 500 figurative sculptures with mostly religious and mythical themes, divided across seven galleries.
Community Perspective: "A fantastic, hidden gem". Best visited on a combined day trip with the Sun Temple in Modhera by taxi from Ahmedabad.
Community Reviews
---
This is a fantastic, hidden gem of India. Stepwells are large, flat wells that were once quite common in this part of India, and the Queen's Stepwell here is one of the largest and most ornate. It's surprisingly large in area: about 60x20 metres in area, and 27 metres deep. On the inside, every inch of the walls is covered in carving, mostly of Hindu gods but there are some secular figures in there as well. The carvings are extremely beautiful and in fantastic condition as well, as the site was completely silted over until its discovery in the 1980s. The surrounding area is well manicured as well, though there isn't anything to see at the site other than the stepwell, which unless you're super into photography, probably won't take longer than an hour to thoroughly inspect.
We accessed the site via a private car from Ahmedabad. It's about 2.5 hours each way, and we ended up paying about 3500 rupees to hire the driver for the day. 
Overall this is a strongly recommended site. It's definitely a bit out of the way, but a trip that we definitely found worthwhile. It's a site unlike any other we've visited so far!
Read more from Joel on the Road here.
---
This is a really nice site - a spectacular building with a rich history, off the beaten tourist tracks but well-developed for a visit. The fact it was buried for centuries and only recently excavated only adds to the charm. I like the general architecture of stepwells, but this one comes jam-packed with rich stone carvings. I rented a driver for a day from Ahmadabad and visited the site together with Modhera (also very worthy). The site itself is fenced in and guarded - which means it is clean and free of touts. It's not too big - there are no further buildings apart from the stepwell. A bit of climbing is required to reach the bottom of it. Compared to the Ahmadabad stepwells, the Rani-ki-Vav is much more decorated, but also a bit more damaged. I would recommand to visit the adalaj stepwell first to get an impression of the general stepwell layout, and than the Rani-ki-Vav for sheer beauty.
All-in-all, I think this site needs a bit more love - it certainly deserves better than scrape around the bottom of our top lists !
Visited: Nov 2015
Importance: 3/5 Beauty: 5/5 Uniqueness: 5/5 Environment: 3/5 Experience: 5/5
---
Visited in May 2015.
Rani-ki Vav is one of the biggest and most ornamented stepwells you can find in Gujarat and southern Rajastan. It was constructed at the beginning of the rule of Solanki dynasty (XI century) and most of the time was covered with the silt from Saraswati River - for the first time the stepwell was flooded at the last phase of its construction. That's why now we can enjoy woderfull sculptured panels representing apsaras, Dus Avatars, sadhu men and floral and geometrical designs. Most sculptures are in devotion to Vishnu and that's really rare.
This stepwell is 64 m long, 20 m wide and 27 m deep.
At the bottom of the well at the western side you can see a big water tank that was linked through an underground channel with the cistern - the only part of the structure used even at the beginning of XX century.
Rani-ki Vav is not easy to reach using public transport: while coming from Ahmedabad you have to change at least twice, first in Mehsana and then in Patan from where you have to take a taxi or walk around 8 km. It much better to use a taxi driver from Ahmedabad and combine the trip it with a visit to Sun Temple in Modhera. It takes around 7 hours and on the way back you can visit other stepwells (Adalaj Vav - in my opinion the most interesting of the stepwells I've seen, although not so big) and historical monuments. Expect to pay something around 1200 rupees for the whole trip.
There were no guides at the entrance to the very nice park/maidan in which the Rani-ki Vav is located, but you can buy a little book about the place in the ticket booth - it gives you a very good explanation and shows how it looked some decades ago.
---
Site Info
Full Name

Rani-ki-Vav (The Queen's Stepwell) at Patan, Gujarat

Unesco ID

Country

Inscribed

Type

Cultural

Criteria

1

4

Categories

Link
Site Links
Unesco Website
Official Website
In the News
Visitors
44 Community Members have visited.