Rachid Karami International Fair-Tripoli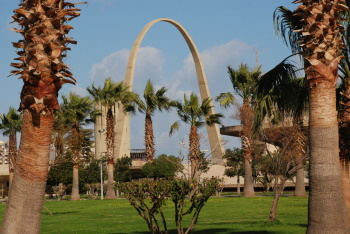 The Rachid Karameh International Fair in Tripoli is a large-scale exhibition complex, designed by Brazilian modernist architect Oscar Niemeyer and built between 1967 and 1975.
The area covers 72ha and holds several buildings. The fairground's main structure, the curved Grand Canopy, is 70m wide and 620m long. Niemeyer's original plan had been to also add a new neighbourhood with social housing, but this was discarded by the Lebanese authorities. The whole project wasn't yet fully finished when the Lebanese Civil War broke out in 1975, and it suffered damage during the war. Most buildings and the landscaped areas are still maintained, although a new use hasn't been found.
Map of Rachid Karami International Fair-Tripoli
Load map
Community Reviews
---
3.50 Netherlands - 21-Feb-23 -
Tripoli is Lebanon's second largest city and a Tripoli day trip is worth it if you're in Lebanon. It's a completely different world compared to Beirut. I left Beirut around 08:30 and was in Tripoli at 10:00. I visited both the International Fair and also Tripoli Old Town, both worth it!
Oscar Niemeyer designed the Rachid Karami International Fair in the late sixties for the World Fair in 1976. The fair ground was never finished as the civil war broke out in 1975. Today all the concrete structures are still there and not damaged by the war. The site is a 45-minute stroll as, honestly there isn't that much to see. I did climb, the tower, which was "partially locked". I think it wasn't allowed. Access is free to all the places. All buildings are empty but you can wander around freely.
When I visited, there was some youth event going on but a real new use for the place was never put in place.
I give it a 3.5 stars, as I like this architecture and this is certainly worth a place on the WHS list.
Read more from Christravelblog here.
---
Site Info
Site History
2022

In Danger

At inscription (Emergency Nomination), due to lack of financial resources of the State Party (in severe financial and economic crisis) and critical conservation conditions.
2019

Revision

Successor to La foire Internationale Rachid Karameh de Tripoli-Liban (2018)
Visitors
4 Community Members have visited.