Nahanni National Park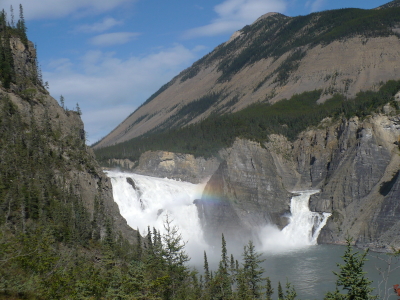 Nahanni National Park covers a spectacular wild river landscape further adorned with features of ongoing geological processes.
The centerpiece of the park is the South Nahanni River. Four great canyons line this whitewater river and it also holds one of North America's most impressive waterfalls, Virginia Falls. The area sees tectonic activity, which has resulted in spectacular granitic peaks and hot springs.
Community Perspective: this is a remote and costly area to visit – you generally fly in and then continue on the river by canoe or raft. Sid and Gary did so, and Zoë has described a flightseeing day trip.


Community Reviews
---
4.00 Chinese-Canadian - 14-Sep-23 -
Nahanni was my last Canadian WHS and there's a good reason for it. It's not exactly tough to get in but you need to have the right timing and definitely money, not crazy amounts but let's say you spend less flying to Belize and back than getting there domestically. Moneywise we are talking a couple of thou easily and that's just for the flightseeing. You won't save money on the alternatives and it will take you heaps longer. So I finally managed to see it this year after Covid, park closures (park closed again due to wildfires this year just after I went in July) and not being in Canada in summer most years doesn't help too. The season to visit the park is only from June to September and we are talking LATE June to EARLY September if you want to have a good experience.
There are three ways to visit the park. One is to hike in...yeah well I figured I should mention it. If you are on of those (you'd have to Canadian to be crazy enough) then you still have to either get dropped in by plane or take your own car to the Nahanni Butte which is a former First Nation village and nowadays has nothing. There are some small towns nearby. Having said that, it's a looong drive to the Butte. You will have to be hardcore into this trip to drive up and then cayak around and it takes a day to get even into the park from the road - two if you are actually hiking after all (is there even a trail??). The REAL way to enter the park for us tourists is flightseeing. You can choose several operations from Simpson Air flying in from Fort Simpson (which is a long drive too and expensive to fly into domestically alone) or from Muncho Lake which you can arrange to be extended from Vancouver, stay at the Northern Rockies Lodge and it's really luxurious, great staff and the flights are wonderful. So obviously I did the latter and I don't want to promote it directly but it seems the ideal way to enjoy the trip and ensure you get to see the park. There are options with Simpson Air to stay at a lodge in the park (self-catering) and you'll be on your own for a night if you prefer that. Northern Rockies does a lot of these drop off trips for hunters so they can definitely arrange something if you have a small group (read: WH community meetup!).
I'll be talking about the flight experience only as it will only stop at Náįlįcho (Virginia Falls) and you see the rest from above. The flight from Lake Muncho is roughly 2h and you spend up to 3h at the Falls depending how long your lunch is. Because this is the only thing you do for the day there isn't any rush and you just have to watch the weather. There isn't much to do at the Falls but enjoy the beautiful scenery. The Falls is easily the most impressive park. You can take a nearby boardwalk and be at the top and bottom of the Falls all the guide askes you to stay in a group. There are even Parks Canada red chairs which are probably the least used chairs (even less than the ones at Wood Buffalo's salt lake) you'll ever find plus they aren't even listed on the website!!
Whereas you only get to see most of the park from the sky and there isn't much time at the Falls to really see the park itself I have to say it's a wonderful experience and being in such a huge region that is kept alone is always amazing to experience. Any angle from the Falls gives you a wonderful impression with the natural surroundings extending for what seems like infinity.
p.s. I originally "planned" this as #1000 but my India+ trip didn't pan out so I came short when I actually arrived and whereas Els recommended going to Okavango as it is no.1000 I couldn't make that work either and by the time you read this the UNESCO committee has inflated the number of WH sites by pretty much inscribing ANYTHING state parties propose so I'll be way over 1k :/ Bummer but at least you get to see the pic here that I had planned and brought on the tour.
---
Nahanni National Park might very well be the greatest national park in the world. That is a big statement, but anyone who has been to Nahanni (and few people have) can back it up.

Nahanni is home to one of the world's largest waterfalls (Virginia Falls) which is higher than Niagara Falls and has a flow comparable with Victoria Falls in Africa.

That alone would be enough to make it a world heritage sites. However, it is also home to the Cirque du Unclimables, which is a stunning collection of mountain peaks, and the Ram Canyon, which is one of the most impressive canyons in the world.

Nahanni only gets about 800 visitors per year. There are no roads to the park, so the only way to enter is by hiking or float plane. There is also a very short season of about 2 months where visitors can enter.
Read more from Gary Arndt here.
---
Sid Stark
It has been almost twenty years since I had the awe-inspiring and quite humbling experience of sticking my (and my buddy's) canoe into the river and wending down one of the most beautiful spots one could imagine on earth.
For the first three days after the plane dropped us off, we (veterans of canoe/kayak trips much longer than this one) were like tourists -- gawking agape at the size, beauty, and power of the river, its attendant mountain peaks, and the furry/feathered creatures that called this jewel home. It was, and is, like nothing I had seen before or since.
Enjoy your trip to this wilderness paradise!
---
Site Info
Full Name

Nahanni National Park

Unesco ID

Country

Inscribed

Type

Natural

Criteria

7

8

Categories

Link
Site Links
Unesco Website
Official Website
In the News
Visitors
7 Community Members have visited.