Lord Howe Island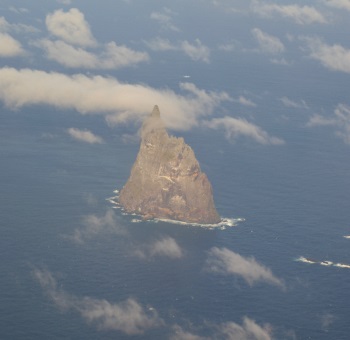 The Lord Howe Island Group consists of islands and rocks of volcanic origin that are home to many species of birds and other endemic or rare animals.
Besides Lord Howe Island, the designated area includes the Admiralty Group, Mutton Bird and Sail Rock, Blackburn (Rabbit) Island, Gower Island and Ball's Pyramid.
Map of Lord Howe Island
Community Reviews
---
I visited Lord Howe Island in July 2016, when I stayed at Beachcomber Lodge and rented a car from Wilson's Hire Service. My main objective was to see the Lord Howe Island stick insects that are kept at the Lord Howe Island Museum. The stick insects were once very common on Lord Howe Island, but became extinct on the main island soon after black rats were introduced in 1918 when a supply ship ran aground. The last walking stick was observed on Lord Howe Island in 1920, after which time the species was thought to be extinct. In 2001, Australian scientists scaled nearby Ball's Pyramid and discovered a small population of 24 walking sticks living beneath a shrub. In 2003, scientists collected two breeding pairs, and the Royal Melbourne Zoological Gardens has since successfully bred walking sticks (more than 9,000 according to the most recent estimate in 2012). Breeding pairs have since been sent to zoos at San Diego, Toronto and Bristol. I also spent time searching for Lord Howe woodhen, which are now relatively abundant but which had declined to 30 known birds by the late 1970s.
---
Bonnie Siems
I have been to Lord Howe Island twice, and both times have been a rewarding experiance.
I climbed up Mount Lidgbird on my first visit, but did not get as quite as far as Goat House.
The views you get from anywhere on Lord Howe are spectacular, and you should climb all available mountains and hills.
A camera is a neccesity, so you can capture the lovely scenery when you want to rememer the great time you had, as I did.
I hope to be able to stay there again sometime.
---
Ben Fraser
Lord Howe Island is one of the most magical places on Earth.
It has an amazinf natural beauty, the high mountains rising up from the coral encrusted lagoon. The diving is amazing, as the sea life is so prelific.
While not very cheap, due to limits on the number of people it is definately worth the trip out from Sydney.
---
Site Info
Site Links
Unesco Website
Official Website
Related
In the News
Visitors
16 Community Members have visited.