Hyrcanian Forests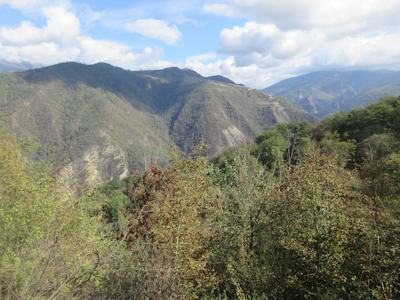 The Hyrcanian Forests comprise an 850km long massif covered in ancient natural broad-leaved forests.
They date back 25 - 50 million years when such forests covered most parts of the Northern Temperate region. The site has 15 components, mostly located on higher elevations. They show high floristic biodiversity (3,200 vascular plants), and are home to forest birds and the iconic Persian Leopard.
Community Reviews
---
What you could do if WHC refuses to inscribe one of your proposed sites? One of the options is to add several similar, mediocre sites and propose it under different name and slightly different criteria. This is what is happening in Iran after unsuccessfull proposal of Arasabaran Forest. After negative opinion of IUCN, one year after deferral it comes again as part of Hyrcanian forests. The proposal consists of several forest parks located near Caspian Sea. We managed to visit only one of them – Abr Forest, a nice and quick detour on our way back from Gonbad-e Qabus to Tehran.
I have to admit that once we entered Abr, we felt like we were in a completely different country. The forest was very green and wild, wet and cloudy. Landscapes were pretty, as the area is mountainous. Abr Forest is also named 'Cloud Forest' – this is because relatively high altitude, resulting with frequent clouds and mist. We saw clouds, but were lucky enough to see mountain peaks and picturesque valleys. Although landscapes were fine, I really cannot understand where is the OUV of this site. State party's description of 'masterpieces of nature creative genius in the form of this ancient forest' make me only laugh.
Travel warning – we entered Abr Forest from Aliabad-e Katul and wanted to cross it to Shahrud (with one tentative site and another one nearby). This road cannot be driven without 4WD. It is very good at the beginning but then becomes very moody and swampy. We had to retreat and go back to Alabad-e Katul.
---
2.00 Chinese-Canadian - 13-Feb-19 -
I visited 2 parts of this nomination in January 2019. Abr Forest was my first stop and it is very tourist centric, with many guest houses and hikes around "Cloud Forest". Unfortunately on day 2 it started snowing in the morning and the visibility was so bad it was really hazardous to take the 83 through the Khar Turan NP (not part of the Hyrcanian Forest nomination btw). Once I made it to Gonbad Kavus and visited Qabus I continued driving East.
Here I drove through the National Golestan Forest, formerly listed as a separate nomination under the name Golestan NP which aren't technically the same thing but I think mean the same area. So actually I drove through the national park and there are already signs that is is listed on the tentative list for world heritage. I was impressed with the rock formations and the the forest looks healthy but I saw no real good place to stop and enjoy a hike, picnic or whatever. Many people stopped on the way just in the side of the road to feed the boars (hate that). The NP is huge and the main road cuts right through it so there may be smaller areas on the side that actually allow for more touristy stuff.
I highly doubt this is worthy of the title world heritage. The document doesn't even describe why it is unique. Just reading "natural beauty and its masterpieces of nature creative genius in the form of this ancient forest." meh makes me feel like someone is really proud of their own forests but compared to other parts of the world it didn't seem special at all, plus the sites listed as other unique areas aren't exactly the same league it is trying to be. I am interested to see the evaluation in the summer.
---
Site Info
Site History
2019

Revision

Includes former TWHS Golestan NP (2007-2013)
Site Links
Unesco Website
Official Website
In the News
Visitors
14 Community Members have visited.