Hyrcanian Forests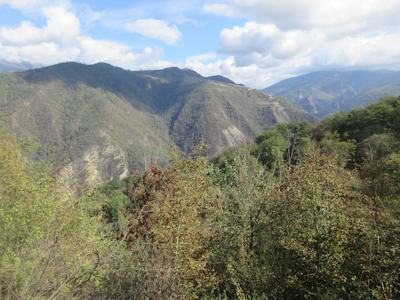 The Hyrcanian Forests comprise a 1,000km long massif covered in ancient natural broad-leaved forests.
They date back 25 - 50 million years when such forests covered most parts of the Northern Temperate region – after periods of glaciation these became isolated remnants. The forests cover inaccessible steep terrain. They show high floristic biodiversity (3,200 vascular plants) and are home to forest birds and the iconic Persian Leopard.
Community Perspective: Among the components in Iran, Wojciech visited Abr Forest, and Zoë also covered Abr plus National Golestan Forest. Clyde so far has provided the best coverage of the Khanbulan component in Azerbaijan.

Community Reviews
---
I visited the Azeri location closest to Xanbulan in 2023, knowing that this tWHS has great potential of being an easy extension to the already inscribed Iranian WHS this year (the Colchic Forests WHS in Georgia made it as a separate inscription!).
The "rangers' office" of the Hirkan National Park (Hirkan Milli Parki) and the best base for any organised or guided visit of one of the many trails around the 3 locations in Azerbaijan can be found along the main road 2-3km outside Xanbulan proper and the actual locations, not far from the Khanbulan lake. Unless you decide to cover a lot of ground with a multiday hike (on mostly muddy terrain), a guide is not necessary and online or offline (better) GPS maps are sufficient for a day trip from Baku towards the Iranian border. Should you opt for a guided visit, do make sure to call well ahead as the office doesn't seem to have fixed opening hours and supposedly an entrance ticket is charged too. The areas around and south of Xanbulan which I tried to cover during my day trip, involved some hairpins and minor offroading with my rental car, mostly because the area is prone to flooding and mudslides, and the only rangers I saw were busy covering higher ground on horseback and didn't charge me any entrance ticket.
The parking area close to the lake is very touristy and popular among locals, with lots of makeshift tea houses, swings, photo spots with plastic flowers, hearts, etc. However, especially when the terrain is muddy, most people stay very close to the parking area, so after a rather short (distancewise, but very muddy so time consuming nonetheless), you will most likely be alone in one of the three shaded mixed broad-leaved forests; even if you don't do much research before visiting the Hirkan forests of Azerbaijan, you'll still easily understand the main feature of the trees that make up these forests, as the leaves shed on the muddy terrain are a godsend when hiking, as well as great for birdwatching. During my short visit, I easily spotted and took photos of one of the smaller endemics, the Hirkan Caspian Tit (Parus Lugubris Hyrcanus) looking for acorns under the many leaves on the forest floor. The larger birds of prey are easily heard but much more difficult to spot and/or photograph. Another thing to watch out for and to keep a distance from are the colourful bee hive boxes clearly marked with white painted stones in some areas of the park.
All in all, it was a pleasant day trip away from the arid and desert-like environment around Baku, and I see no apparent reason why Azerbaijan should be left out when Iran and Georgia have already their similar inscribed forests on the list.
---
In July 2022, I arranged a day trip from Baku to Khanbulan Lake, about 3 hours away to Lankaran, close to the border of Iran. I originally intended to arrange a foreist hike within Hirkan National Park, but could not contact any available guide during the Eid ul-Adha holiday.
Instead, I trekked along the lake, admiring the lush forest along the trail. There were tourists camping around the lake area.
I would give it a thumbs up, come inscription time. The park managers argue that the Hirkan forest ecosystems on the Azerbaijan side are just as intact and uncompromised as their Iranian counterparts'. And the locals pledge to protect the territory.
---
1.00 The Netherlands - 15-Nov-20 -
During the past week Azerbaijan has replaced its TWHS "Hyrcanian State Reserve", dating from 1998, with "Hirkan Forests". This revision follows the change in the national park structure that happened in 2004 and a further enlargement of the protected area in 2008. Though it may seem like a minor administrative adjustment, a change like this usually indicates an upcoming official nomination of the site. In this case it would be an extension to the Iranian Hyrcanian Forests WHS from 2019. The new Azeri TWHS is known for its ancient, deciduous mixed broad-leaved forests - in normal language that means: trees that shed their flat, usually veined, leaves. It comprises 3 locations.
A similar, but smaller site was nominated for inclusion in the WH List already in 2006 as "Hirkan Forests of Azerbaijan". It was Deferred at the time with the option to renominate it as part of a transnational serial property with other Hirkanian forest areas in Iran.
When I re-read that IUCN evaluation now, I see no strong argument to either include or reject it. The forests are said to be of equal importance to sites known for vascular plant diversity already on the List, such as the Great Smoky Mountains. The Azeri site's size is small, but there might be OUV if linked to Hirkanian forest sites in Iran. (I do not really understand this point as all components of a serial site should show OUV individually, so this alone should not have been a reason for Deferral). The removal of illegal settlements from the area however may have been a precondition.
I "visited" one of the 3 locations of the revamped TWHS on my way from Azerbaijan to Iran in 2016. I was well aware that I would quickly pass it by bus and sat ready with my camera in front of the windows. This explains the blurriness of the photo accompanying this post. To me it was a forest like any other, but I decided that I earned my future 'tick' when I noticed a park entrance gate marked Hirkan Milli Parki (photo). The road to Ardabil (in Iran) straddles the border and the Hirkan National Park. I am unsure about the proposed site's exact borders, but will count it anyway as it is unlikely that I will ever visit Azerbaijan or this region again.
According to its new TWHS description, the area includes "living fossils" among its tree species such as the Persian Ironwood, Caucasian Wingnut and Caucasian Elm. The text even includes a cliffhanger: "...further endemic, rare, and threatened species ... will be detailed in the nomination dosser".
These Azeri forests are not contiguous with Lisar, currently the most western part of the 15 locations of the Iranian Hyrcan Forests WHS. And to add to the confusing storyline - last week Iran has launched a new TWHS to add 2 more locations which are in a wholly different area. All together, this serial transnational Hyrcanian Forests (T)WHS seems to imitate the pointless extension upon extension of the Ancient Beech Forests of Europe. If you have allowed one location in, locations of similar value (and there are many in these cases) will get into the List also. Even the Colchis Wetlands and Forests of Georgia (up for the WHC of 2020/2021) is related. All these "survived the ice age periods as extremely rare "Tertiary relict forests"".
---
What you could do if WHC refuses to inscribe one of your proposed sites? One of the options is to add several similar, mediocre sites and propose it under different name and slightly different criteria. This is what is happening in Iran after unsuccessfull proposal of Arasabaran Forest. After negative opinion of IUCN, one year after deferral it comes again as part of Hyrcanian forests. The proposal consists of several forest parks located near Caspian Sea. We managed to visit only one of them – Abr Forest, a nice and quick detour on our way back from Gonbad-e Qabus to Tehran.
I have to admit that once we entered Abr, we felt like we were in a completely different country. The forest was very green and wild, wet and cloudy. Landscapes were pretty, as the area is mountainous. Abr Forest is also named 'Cloud Forest' – this is because relatively high altitude, resulting with frequent clouds and mist. We saw clouds, but were lucky enough to see mountain peaks and picturesque valleys. Although landscapes were fine, I really cannot understand where is the OUV of this site. State party's description of 'masterpieces of nature creative genius in the form of this ancient forest' make me only laugh.
Travel warning – we entered Abr Forest from Aliabad-e Katul and wanted to cross it to Shahrud (with one tentative site and another one nearby). This road cannot be driven without 4WD. It is very good at the beginning but then becomes very moody and swampy. We had to retreat and go back to Alabad-e Katul.
---
2.00 Chinese-Canadian - 13-Feb-19 -
I visited 2 parts of this nomination in January 2019. Abr Forest was my first stop and it is very tourist centric, with many guest houses and hikes around "Cloud Forest". Unfortunately on day 2 it started snowing in the morning and the visibility was so bad it was really hazardous to take the 83 through the Khar Turan NP (not part of the Hyrcanian Forest nomination btw). Once I made it to Gonbad Kavus and visited Qabus I continued driving East.
Here I drove through the National Golestan Forest, formerly listed as a separate nomination under the name Golestan NP which aren't technically the same thing but I think mean the same area. So actually I drove through the national park and there are already signs that is is listed on the tentative list for world heritage. I was impressed with the rock formations and the the forest looks healthy but I saw no real good place to stop and enjoy a hike, picnic or whatever. Many people stopped on the way just in the side of the road to feed the boars (hate that). The NP is huge and the main road cuts right through it so there may be smaller areas on the side that actually allow for more touristy stuff.
I highly doubt this is worthy of the title world heritage. The document doesn't even describe why it is unique. Just reading "natural beauty and its masterpieces of nature creative genius in the form of this ancient forest." meh makes me feel like someone is really proud of their own forests but compared to other parts of the world it didn't seem special at all, plus the sites listed as other unique areas aren't exactly the same league it is trying to be. I am interested to see the evaluation in the summer.
---
Site Info
Full Name

Hyrcanian Forests

Unesco ID

Country

Inscribed

Type

Natural

Criteria

9

Categories

Link
Site History
2023

Extended

Extended with 2 forests in Azerbaijan : Dangyaband (Northern HNP) and İstisuchay Valley (Southern HNP)
2023

Extension rejected

The extension with other sites in Azerbaijan (Khanbulan) and Iran (Dizmar East and Dizmar West) was not approved.
2020

Revision

Renomination of Hyrkan State Reservation (1998)
2019

Revision

Includes former TWHS Golestan NP (2007-2013)
2006

Deferred

to consider options for renominating the property as part of a transnational serial property with other Hirkanian forest areas in Iran
Site Links
Unesco Website
Official Website
In the News
Visitors
21 Community Members have visited.