Coro and its Port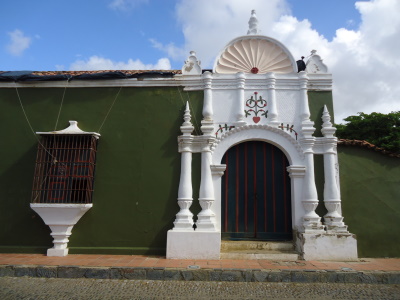 Coro and its Port comprise an urban colonial landscape renowned for its earthen architecture that is unique in the Caribbean.
The city of Santa Ana de Coro was founded in 1527 in the early days of Spanish colonization. It has conserved its original layout and early urban landscape very well. The buildings show examples of traditional mud-building techniques, which are still being used. The architecture is a unique fusion of Mudejar, native, Spanish and Dutch influences, the latter through the neighbouring islands of Curaçao and Aruba.
Community Perspective: the only reviewer so far, Joseph, details a visit from 2009.
Community Reviews
---
Joseph Colletti
I visited Coro in August 2009. I think the historical significance of the site is probably the main reason for its inclusion on the list, rather than any significant colonial architecture. As the part of the city that shows off the colonial past is quite small, no more than nine or ten square blocks, even with visits to the museums most visitors will probably need no more than a few hours, half a day at most, to get a sense of the city and stroll the most interesting streets and plazas and get something to eat.
Unfortunately there are not too many other places in Venezuela that retain their colonial sections at all, and certainly not with such a architectural integrity and cleanliness. Those places that do often have changes to the facades,adapted residences for other uses such as restaurants and shops, spider webs of electric lines, abandoned buildings, cracked and pot hole filled streets and piles of garbage. The cleanliness alone of Coro is enough to recommend it. (I could not help comparing it to the much larger and more dramatic setting overlooking the Orinoco of the colonial section of Ciudad Bolivar, which, unfortunately has suffered from the ravages of time, poor planning and, in many places, its use as an open garbage dump and latrine.)
I noticed the site is on the endangered list and obviously much has been done and is being done to restore and repair the colonial section and the plazas. Many of the buildings looked newly painted. Several of the churches and museums were closed for renovations and strolling should be left to the early morning or evening as the heat of the day can be quite oppressive. Coro is easily reachable by bus from nearby cities. The surroundings of Coro, including the sand dunes (be careful, I heard several reports of robberies in that area) and the Paraguana peninsula are worth a visit if in the area.
---
Site Info
Site History
2005

In Danger

Deep concern over gradual and considerable deterioration in the state of conservation
1993

Name change

Changed at inscription from "Coro and its dunes"
1993

Advisory Body overruled

Referral was advised
1993

Revision

Nomination also included Coro Dunes National Park, which was not inscribed
Site Links
Unesco Website
Official Website
Related
In the News
Visitors
22 Community Members have visited.