Bago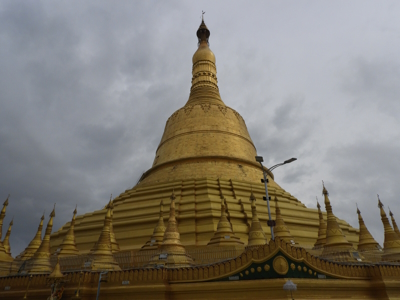 Mon cities : Bago, Hanthawaddy is part of the Tentative list of Myanmar in order to qualify for inclusion in the World Heritage List.
Bago was the capital of the Mon kingdom of Hanthawaddy during the 13th-16th centuries. The Mon-speaking people at the time ruled large sections of present-day Myanmar. In Bago a large number of monasteries and pagodas still remain or have been reconstructed.
Map of Bago
Load map
The coordinates shown for all tentative sites were produced as a community effort. They are not official and may change on inscription.
Community Reviews
---
After Bagan, this is surely my personal favourite tentative listing in Myanmar. Many temples and sites to visit but not the best of accomodation around. The Taungyi Cemetery on the way to Bago is a moving experience you shouldn't miss even if for a quick peek.
---
Bago is a city in S Myanmar a few miles east of Yangon. Historically it was the capital of the Mon peoples. Across the centuries, shifts of power in the area meant that the Mon were subjugated to other kingdoms. Its golden period occurred around 1369–c1569 when, under the name "Hanthawaddy", it was the capital of the independent Mon Kingdom of that name. As well as its political importance, it possessed significant religious significance from the legend that Buddha traveled around SE Asia 8 years after his enlightenment and saw a pair of "Hamsa" birds on a small piece of land where Bago now is. He predicted that the location would become the centre of a kingdom which followed his precepts. Because of this the city "acquired" various Buddha relics and became a major pilgrimage site with several significant sacred structures built through the 15th/16th centuries. Although silting had cut it off from the sea by the late 16th C it remained a significant city through later periods of subjugation interspersed with short periods of Mon resurgence when it resumed its status as a "Capital". The Capital of Burma was at Amarapura when Bago was annexed by the British in 1852 but they decided to develop Yangon as their capital and Bago took on its current role as a religious centre and regional town.
We spent an afternoon and evening there in Nov 2012 and concentrated on its religious monuments. There is a $10 entrance fee which covers all of them but you have to pay a separate camera fee at each. Although many of the buildings date back some centuries the regular damage by earthquakes and the Burmese culture of rebuilding, reguilding and adding structures together with the, to Western eyes, rather gaudy, almost Disneyesque repainting of images means that they look rather new – and indeed, at least in external part – many are!
The remains of the city of "Hanthwaddy" itself have been excavated largely in the form of a former palace (photos of this and some huge teak pillars from it are on show in the National Museum in Yangon). I gather that these excavations are not on view though some city walls remain. However, as at Mandalay, the Tatmadaw thought it worthwhile building a replica palace there in 1990 to the design of the one constructed in 1556 and burnt down in 1599. It looked all very "shiny" and new from photos I had seen so gave it a miss!
Among the buildings we did visit were
a. Shwemawdaw Paya. A massive pyramid of gold, supposedly containing 2 hairs and 2 teeth of the Buddha and surrounded by a myriad of pagodas etc around a courtyard. To the untrained eye the whole place was largely indistinguishable from the Shwedagon – but I guess that is a bit like saying that most Gothic cathedrals look very similar! It has been reconstructed several times after earthquakes, each time a bit higher and currently stands 376ft high – 46 higher than the Shwedagon. Interestingly a large chunk of an earlier stupa destroyed by earthquake has been incorporated at a crazy angle into the new one.
b. Hintha Gon – Set on a hill and supposedly the location of the Hamsa birds. We found little of interest
c. Shwethalyaung Reclining Buddha. We found this perhaps the most interesting of the sites at Bago. At 180ft long it is way short of being the biggest even in Burma (We saw one still in construction at Mudon which is 180 metres long!).
d. Mahazadi Paya. A whitewashed stupa which is supposed to be a nice spot to watch the setting sun – unfortunately the external climb was closed when we were there
e. Kyaik Pun Paya. 4 Buddha statues (Gautama and his 3 predecessors), 100ft high, placed back to back around a square pillar. It dates from 1476 and one of the statues was destroyed by earthquake as recently as the 1930s. I have an atmospheric old sepia photo from the early 20C which shows them in some decrepitude with tropical mold staining the covering wash – but they now have the universal bright colouring (see photo). I remember the place mainly for the chanting in Pali of Buddhist scriptures in the setting sun by a local lady – very calming and peaceful.
So, should you go there and will it ever make the List? It is easily visitable on a day return trip from Yangon if you are not going further east to climb the Golden Rock. If you are, and don't want to give it an overnight, then it could be fitted in for around 2-3 hours on the return journey to Yangon if you have a car. We saw it during our first week of 3 in Myanmar before we had got a bit "templed out" but, on our return, it has proven a bit difficult to distinguish aspects of it from the myriad of golden stupas we saw across Myanmar. Yet it is of historic importance and of current cultural significance in Myanamar so I would try to give it at least the "day return trip". As to its WHS credentials – well there is that problem of UNESCO's western-oriented definition of "Authenticity" to overcome and then the whole issue of "Management". Also I wonder about the OUV of many of the sites – but then I think of all those inscribed European Gothic Cathedrals! All in all, I can't see it happening in my lifetime!
---
Site Info
Full Name

Mon cities : Bago, Hanthawaddy

Country

Added

1996

Type

Cultural

Categories

Link
Site History
1996

Added to Tentative List
Visitors
22 Community Members have visited.