Bishop's Basilica and Late-Antique Mosaics of Philippopolis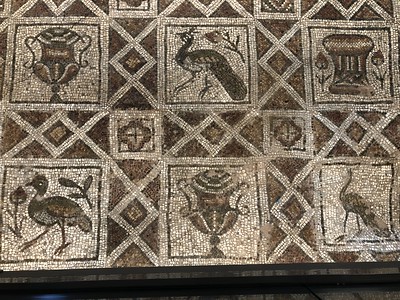 Bishop's Basilica and Late-Antique Mosaics of Philippopolis, Roman Province of Thrace is part of the Tentative list of Bulgaria in order to qualify for inclusion in the World Heritage List.
The Bishop's Basilica and Late-Antique Mosaics of Philippopolis comprise three former Roman structures in Plovdiv. The Bishop's Basilica, Small Basilica and Irene Building were built and functioned during the 4th-6th centuries in the strategically located Roman city of Philippopolis. All three have well-preserved mosaic floors.
Map of Bishop's Basilica and Late-Antique Mosaics of Philippopolis
Load map
The coordinates shown for all tentative sites were produced as a community effort. They are not official and may change on inscription.
Community Reviews
---
The Mosaics of Philippopolis comprise three former Roman and early Christian structures with well-preserved mosaic floors in Bulgaria's second city, Plovdiv. I had a pleasant two-night stay in modern Plovdiv; it has a more oriental and less Sovietesque feel than other Bulgarian towns. Because I travelled with a rental car I stayed overnight in a hotel in the outskirts, at the other end of the 'regatta' – an artificial rowing canal. I decided to walk all the way to the city center, over 5km, so I saw quite a lot of Plovdiv. Most of the city's monuments (from Roman, Ottoman and 19th century periods) are covered by the city's other TWHS. I'll focus on the mosaics here.
The three structures - Bishop's (or Great) Basilica, Small Basilica and Irene Building - are located a few hundred meters from each other in the south of the city center, where the core of the Roman city was. They only have been accidentally rediscovered since the mid-1980's during construction works. Slowly they have been excavated and made presentable to the general public.
The remains of the Great Basilica are covered by a large hall. I wondered why the previous reviewer (Argo) did overlook this, but later I found out that this structure is brand new. It has only opened in April 2021! In 2018 it was still an archaeological site.
And what an excellent museum it has become. Think of a floor space the size of a substantial cathedral. About 70% of the floor is covered by mosaics. There are walkways across it made out of glass – at the entrance they make you wear plastic shoe coverings to keep it clean. Each block of mosaics is accompanied by a description in Bulgarian and English, written in an educational but not boring way. For sure this museum will be a school groups' favourite for years to come. It was already fairly busy now with Bulgarian day trippers and one class of school children.
Two layers of mosaics can be seen, on top of each other. The first ones are mostly geometric patterns. The second ones show early-Christian symbols. These are polychrome, the most impressive are the images of over 100 birds. But there are also swastika's, Hercules and Solomon's knots, flowers and the Spring of Life.
The Little Basilica lies somewhat further along the same street. The floor mosaics are less impressive here, but a baptismal font has been preserved, surrounded by bright mosaics of birds and a deer. Finally, the remains of the Irene Residence are located in an underpass. They are protected in a museum setting. It was closed when I walked by early in the morning, on my return it had opened up but then I was already on my mosaics tax after having seen the Great and the Small Basilica.
We do already have a connection for 65 WHS with Mosaic Art, so it is hard to argue that we need another site focused on this. From the ones that are still out in the open, I remember Volubilis and Villa Romana del Casale as outstanding. Aquileia is quite similar to the Great Basilica of Plovdiv, both in setting and the fact that they are from the early Christian period and not so much a product of Roman decadence. The Mosaics of Philippopolis may never make it unto the List, but the new museum is yet another attraction in this already fine city.
Read more from Els Slots here.
---
This TWHS is made of three different components, more precisely three mosaics which were covering the floor of three different buildings: two churches (basilicas) and a house. While nothing is left from the buildings, these mosaics are still showing great artistic value. All were designed at the end of the Roman period, when the Empire had already adopted Christian faith.
Our visit started at the so called "Small Basilica". Mosaics at this place were discovered at the end of 20th century, but only recently a modern building was set to protect them and allow visits (2013). Although the building is modern (and bright red), its external shape was designed as the basilica may have looked like. Inside, glass floors, walkways and an overlooking platform allow a close look at the different parts of the mosaic. Most famous ones are located around the small baptistery, added around 100 years after the basilica was built: they show doves, symbol of Holy Spirit, and stags, symbol of Christ for the early Christians. Small basilica is open daily, and although easily reachable by foot from the city centre and main attractions of Plovdiv, it is just off the beaten tracks. This may explain why we were the only visitors in that week day of August.
Few hundred meters further, we stopped at the site of the "Great Basilica", which is supposed to be the main component of this TWHS. This place is still under archaeological investigation. Parts of the mosaics were known for years, but only recently the complete surface of the Basilica is being cared, after removal of some stretch of road which were overlapping part of the remains. The best place I think is to stand in front of the St Louis church. From there, you can easily realise how huge was this monument, and spot some pieces of the mosaics. Most of the mosaic however is covered by bag, earth, etc for preservation reasons, as the complete area is still an open air field. According to displays on the fences around the site, it will be managed in the same way as the Small Basilica: a building will cover the whole area and it will become a museum as well. The question is: when will this be achieved? On the city map of Plovdiv I was given at the tourist information centre, a small note indicates "opening in 2017". One year later, a lot is still to be done, and I would say one or two more years are still needed to complete this work. Anyway, we were happy to see archaeologists at work, although we could only see parts of the whole mosaic.
Finally we visited the third component of this TWHS: another mosaic, same period, but from a house. It was found when works were performed under the main road that goes through Plovdiv old town hill. A small, privately owned museum (named "Trakart") was set in the pedestrian underpass (under the road), quite an unusual location. Part of a roman street is still there, too. This is the smallest of the three components, but the mosaic is very nice and can be seen from very close. It is sometimes referred as "Irene mosaic", after the name of the lady in the middle of the mosaic. Irene was then seen as a personification of Peace. There is a small fee to visit the place.
For years, "Plovdiv old town" has been on Bulgaria tentative list. Indeed the old city is very pleasant, with many remains from Roman (theatre, circus, forum), Ottoman (mosque), 18th and 19th century (old houses) periods, and those are must see if you go to Plovdiv. Many streets are dedicated to pedestrians, traffic is limited is some other streets, and the whole area really looks good. However, there are elsewhere better preserved roman theatre, bigger ottoman mosque, etc. Our understanding is that Plovdiv will now push forward this nomination focused on early Christians mosaics for better chances to finally get the Unesco stamp. These three places were easy to find, and close to each other, so easily reached by foot.
---
Community Likes
Site Info
Full Name

Bishop's Basilica and Late-Antique Mosaics of Philippopolis, Roman Province of Thrace

Country

Added

Type

Cultural

Categories

Link
Site History
2018

Added to Tentative List
Site Links
Locations
The site has 3 locations
Bishop's Basilica and Late-Antique Mosaics of Philippopolis, Roman Province of Thrace:
Bishop's Basilica
(T)
Bishop's Basilica and Late-Antique Mosaics of Philippopolis, Roman Province of Thrace:
Small Basilica
(T)
Visitors
21 Community Members have visited.