Ancient Cities of Lycian Civilization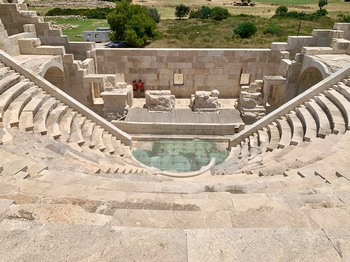 Ancient Cities of Lycian Civilization is part of the Tentative list of Turkey in order to qualify for inclusion in the World Heritage List.
The Ancient Cities of Lycian Civilization represent mainly Hellenistic and Roman sites such as Patara (the capital), Xanthos, Pinara, Olympos, Myra and Tlos. 23 cities formed the Lycian League, a democratic union. Their most notable monuments are the rock-cut tombs.
Map of Ancient Cities of Lycian Civilization
Load map
The coordinates shown for all tentative sites were produced as a community effort. They are not official and may change on inscription.
Community Reviews
---
I visited 4 of the currently proposed 6 Lycian cities on my trip from Xanthos to Antalya.
Xanthos
Already inscribed as a WHS, this is probably the town most travellers will visit. The site is already covered by the several Xanthos-Letoon reviews.
Patara
Patara served as the Lycian capital and the archaeological site stretches over a large area. After passing the tollbooth to pay the entrance fee, the road leads more than 1km into the site until you reach the parking lot. The area includes a rather well preserved theatre, a heavily reconstructed parliament hall and several remains of other buildings such as baths and temples. If you hike up the hill behind the theatre, you will find a tomb and a view point. I covered the northern part by parking my car near the ancient main gate. From there you can visit the Harbour Bath.
Myra
Myra is located at the northern border of the city of Demre. It can easily be combined with the St. Nicholas Church TWHS in the city center. The site is very small, but very scenic. It consists of a very nice and big theatre and countless tombs built into the rock behind the town. I spent around 40 mins on site and would not know how to extend it much further.
Phaselis
Phaselis is only one hour drive from Antalya. This site by far attracts the most visitors of all the Lycian cities. It is located directly at the sea and the locals flock the beach there on sunny days. I felt a bit weird with my camera, walking past grills, towels and umbrellas. The remains partially reach the water, but are mostly located in a forest that start right behind the beach. There are remains of an aqueduct, temples and a small theatre.
As a serial nomination this would be a worthy addition to the list, in my humble opinion. Compared to some Greek or Roman site already on the list, Myra or Patara certainly don't need to hide.
---
Community Likes
Site Info
Site History
2009

Revision

Extended from former TWHS Myra (1984).
2009

Added to Tentative List
Locations
The site has 7 locations
Ancient Cities of Lycian Civilization: Olympos (T)
Visitors
24 Community Members have visited.