Citadel of Alessandria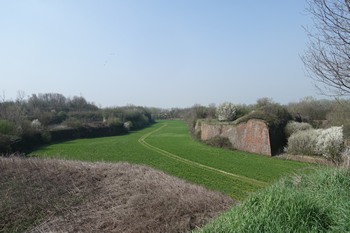 Citadel of Alessandria is part of the Tentative list of Italy in order to qualify for inclusion in the World Heritage List.
Map of Citadel of Alessandria
Load map
The coordinates shown for all tentative sites were produced as a community effort. They are not official and may change on inscription.
Community Reviews
---
I visited this tentative WHS in July 2019. Although I can understand that it is quite an important historical site for Italy, it is yet another very niche site and not only lacks any OUV but is in dire state of conservation.
Even though there was a military festival going on when I visited, most of the buildings inside the citadel were fenced off as their roofs were collapsing or have collapsed. The whole place needs to be cleaned from overgrown grass and weeds before it can even be compared to some of the Vauban sites like Neuf-Brisach or Peschiera del Garda. Still, I seriously doubt that it can provide any added value to the WH list.
The best view of the citadel star-shaped fortifications is from the air and since this site is no longer a military-owned place, we tried getting used to our drone here and took our first few drone photos. Once again, there are many other places with star-shaped fortifications on the list already which are far more elaborate but at least this made our short stopover worthwhile.
---
The Citadel of Alessandria is an 18th-century star fortress on the Tanaro river, a tributary of the Po. Built by the Kingdom of Piedmont-Sardinia to protect its borders, it saw plenty of battles over time. The most historic event, though, is not military. In 1821 during the Piedmont resurrection, revolutionaries raised a Carbonari tricolor flag here. the flag would undergo a change of color to eventually become the flag of Italy.
Unlike David, I was able to enter the site. Since 2007 it's no longer owned by the Italian military. You can climb the walls and explore the bastions freely, only the main buildings are closed. In addition, there is an on-site military museum. I think they even offer guided tours, but can't find any information online.
The preservation state, when I visited, was poor as weeds were growing everywhere and the site feeling desolate. The citadel has been flagged as endangered by Europa Nostra. Major efforts would be needed to clean this up.
OUV
It's an 18th-century star fortress. That's roughly it. When you visit it's hard to discern the star layout (you would need an aerial view). What is unique is that the fort still has mostly the original views of the surrounding countryside. The town never grew past and around it.
Getting There
Alessandria is on the railway line between Milan and Turin. You can also connect to Genoa by train. By bus, you can travel to Nizza Monferrato (Vineyard of the Piedmont). The bus departs in front of the railway station.
While You Are There
Alessandria a typical Italian town with the usual old town. It's nice enough, but doesn't stand out with any other Italian town.
---
Italy / Czech Republic - 14-Sep-08 -
The citadel of Alessandria is really a disappointing monument! We stopped there accidentally when we were returning to home from our tour of Spain coming from France and passing through the Italian Piedmont region. The citadel, that was built in the 17th century on order of Vittorio Amedeo 2nd of the Savoy dynasty by Ignazio Bertola, is located to the north-west of the historic centre, on the other side of the Tamaro river and we arrived there easily as there are signboards in all the town bringing you there. Unfortunately it belongs to the Italian Army and it is not open to visitors. It looks really impressive and huge on aerial pictures but on the ground you can see only some limited sections of the outer walls from some points that you will find driving around it by car on main roads and trying to cover the lateral streets going towards it. However it is surely everywhere a similar view to that we saw from a lateral section of Pavia Street (we limited us to a stop there), access street to the fortress, in front of the Bridge of the Citadel. Here you are between two well fortified bastions and in front of the monumental main gate. The fortress is however in quite bad conditions.
Surely this place doesn't deserve a visit and probably even if I couldn't have a look to its interior I can say that there are probably many other more important fortresses. It seems also that the modern buildings that were built on the southern side of it quite damaged its outer fortifications above all in their underground structures.
---
Community Likes
Site History
2006

Added to Tentative List
Visitors
16 Community Members have visited.