Mt. Soraksan Nature Reserve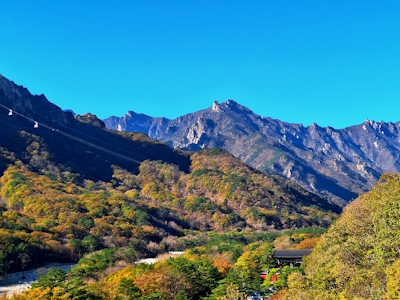 Mt. Soraksan Nature Reserve is part of the Tentative list of Republic of Korea in order to qualify for inclusion in the World Heritage List.
Located in the eastern part of the central Korean peninsula, Mt. Soraksan Nature Reserve is part of a complex mountain range of strongly dissected granite and is characterized by spectacular rocky hills and ridges. The magnificent natural beauty of Mt. Soraksan is due to these geographical features. The Mt. Soraksan Nature Reserve region is considered to be a floristically diverse area, with more than 822 vascular plant species that have been recorded.
Map of Mt. Soraksan Nature Reserve
Load map
The coordinates shown for all tentative sites were produced as a community effort. They are not official and may change on inscription.
Community Reviews
---
On my first visit to Korea over Christmas in 2004 we did two excursions to sites outside Seoul. We went to Gyeongju for Korean history. And we went to Seoraksan for Korean nature.
Seoraksan is the most popular National Park in Korea. It is situated on the Eastern coast, roughly a 3h drive by bus from Seoul (depending on the traffic in Seoul). Coming from modern Seoul it's quite a contrast to see the rural side of Korea and the mountains from the bus window as you venture to Sokcho, the gateway to Seoraksan.
The National Park itself is surprisingly close to the coast. Essentially, it starts directly on the city limits of Sokcho, maybe a kilometer off the coast, and then climbs fast.
In the park, the most known sites are a giant buddha at the entry. And the unmovable stone. We did some hiking and site seeing. I wish we had had more time to venture deeper into the park as the nature was great, even in winter.
OUV
Having been to Korea twice, I feel that the country has two defining features:
Both are not really represented on the list and in my eyes deserve to. For the coast, the tidal flats are nominated. For the mountains, I would be perfectly fine with adding Seoraksan. To me, this is one of the great national parks of the world and deserves inscription. I could even see the case for a mixed inscription as the park is dotted with buddhist temples and shrines.
For Koreans the peaks in Northern Korea are the even greater ones, specifically Mount Kumgang on the other side of the border. It may be the hard to get to factor that adds to the longing. So as mentioned by Kyle, a transborder nomination of Mount Kumgang and Mount Seoraksan would have charms. Or the whole mountain range stretching the Korean peninsula.
Getting There
We took a bus from Seoul and stayed for one night in Sokcho. From Sokcho, you can take a shuttle bus to the park entry.
While You Are There
Depending on the state of affairs between North and South Korea it has been possible in the past to do trips into North Korea. You could visit specifically Mount Kumgang with eased entry requirements. At the time of writing (2019), this seems to be closed down. Sokho itself is a coastal town with a beach, I seem to recall. This wasn't really an option in winter.
Notes
There are different romanizations of Korean. 설악산 to my knowledge in the site's name in current romanization should be Seoraksan.
---
California - United States of America - 17-Feb-10 -
Being practical, there are important options to consider for any traveler to this national park. You could spend 1-2 hrs, take a cable car to a splendid view, check out a Giant Buddha statue, and grab a snack. For 3-5 hrs you could do all of the later, and add the Ulsanbawi hike (enormous granite rock formation), and perhaps even a waterfall. If you have a full day, or better yet 2 days, you can hike into the isolated interior of the park to see an expansive wilderness. Seoraksan is one of those national parks (like Yosemite) that pays off if you stay and explore.
The entrance of the park, and nearby facilities are quite busy, full of families and serious hikers in equal measure. Don't be discouraged, this park does have wild areas, you just have to invest a bit more time to see this iconic Korean landscape. Seoraksan is notable for its rugged peaks, numerous waterfalls, and huge granite boulders. The park also has some pleasant Buddhist temples.
When considering world heritage, Seoraksan National Park has only 2 options. It will not be inscribed by itself, this is clear (already rejected twice). Now, there is one encouraging development that might yet bring world heritage status to this iconic landmark in Korea. If you are not familiar with the Baekdu-daegan Range, than it might be worth researching for any outdoor-minded traveler to Korea. The Baekdu-daegan is the mountain range that spans the Korean peninsula from Mt. Baekdu (North Korea/China Border) all the way down to Jirisan National Park in South Korea (1700km). This range is the watershed ridge of Korea, it is never broken or crossed by water. While the Northern portion includes several celebrated mountain regions, much is wilderness. In South Korea, the Baekdu-daegan is connected by 7-8 national parks. I've visited 5 of them, and each was well-worth my time. Seoraksan is probably the most well-known (along with Jirisan) of the South Korean peaks on the Baekdu-daegan.
With such an expansive property, the Baekdu-daegan would be a very ambitious conservation project. While the South Korean portion is essentially already well-protected nationally, and the trail is even well marked in places, the Northern portion would require years of research, documentation, management plans, boundary clarifications, and much more. I would personally be thrilled to see such a designation, it would protect the most important interior habitats in Korea, the most pristine land, and some of the most scenic areas in the country. There has been discussions recently to pursue world heritage status for the Baekdu-daegan, it could process along more in the coming years.
The second possibility and one that could potentially be pursued far more readily than a Baekdu-daegan nomination, is a joint nomination of Mt. Kumgang and Seoraksan. This proposal has been floating around quite a bit recently. Both National Parks are already on tentative lists an they protect part of the same mountain range and habitat. Moreover, it would bypass some of the more difficult challenges of a DMZ transnational nomination, both national parks while close in proximity, do not share a border with the DMZ. Essentially, if North Korea and South Korea could just agree on making the joint nomination, in which both parks would be a single WHS managed separately, than perhaps this nomination could be a symbol of cooperation. It would almost surely apply as a mixed nomination, and I would be very optimistic on the chances for inscription. Mt. Kumgang would certainly strengthen the case for OUV, and South Korea would inevitably create an excellent management plan and nomination dossier. Mt. Kumgang even has basic tourist facilities for the determined traveller and there has been talk of reopening tours. We shall see, in the meantime, if you have the chance, visit these wonderful national parks in both Koreas!
Read more from Kyle Magnuson here.
---
Community Likes
Site Info
Full Name

Mt. Soraksan Nature Reserve

Country

Added

Type

Natural

Categories

Link
Site History
1996

Requested by State Party to not be examined

Bureau - No reason given
1994

Added to Tentative List
1986

Requested by State Party to not be examined
Visitors
13 Community Members have visited.