The Augustow Canal (Kanal Augustowski)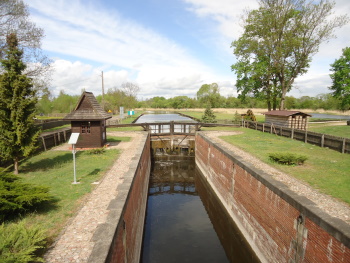 The Augustow Canal (Kanal Augustowski) is part of the Tentative list of Poland in order to qualify for inclusion in the World Heritage List.
The Augustów Canal is a cross-border canal in Poland and Belarus built in the first half of the 19th century. It connects the Biebrza River with the Neman River using natural lakes and rivers. It has numerous sluices and locks to regulate the water levels, in Poland most important are Śluza Augustów and Śluza Dębowo.
Map of The Augustow Canal (Kanal Augustowski)
Load map
The coordinates shown for all tentative sites were produced as a community effort. They are not official and may change on inscription.
Community Reviews
---
I visited the Polish side of this tentative WHS in August 2020. Being a transnational tentative site with Belarus and soon up for inscription, I decided to all a long day trip by car to visit 2 main locations.
On a European scale, the Augustow Canal is a cross-border relic of technology and supposedly has unique hydraulic engineering from the first half of the 19th century. Its total length is 103.4 km, 80 km of which are on Polish territory. The canal was built between 1824 and 1839. To compensate for differences in water levels, 35 km of the Netta and Czarna Hancza rivers were regulated. Over 40 km of drifts were carried out, while 18 locks and 23 sluices were built to regulate the water level.
The Augustow History Museum (closed on Mondays) has a separate section dedicated to the canal so it is were I started my visit (some 4 hours away from any other tentative or WHS!). The museum is situated in a historic house from the 19th century, the so-called Pradzynski Manor House, named after the engineer who designed the Augustow Canal. Close to the museum is the Augustow Lock which was built between 1825 and 1826 but was destroyed in 1944. It was rebuilt shortly after as a single chamber lock located at the 32.5km point of the Augustow Canal. The lock is still fully functional with personnel on duty just in case the lock needs to be operated. With some 'gestures/sign language' and a peek to the personnel's logbook, I found out that a small private vessel would be using the lock in around 30 minutes time so I stayed a bit longer to see the lock in operation (nothing really unique, pretty much the same experience you'll have in every other lock, but worth seeing if you happen to be there).
I headed next to the Debowo Lock, some 30 km away by car. The last few kms in the national park are still unpaved and with the heavy rain from the night before, there were sections which seemed like shallow river crossings for my 2WD but I made it without any damage and later exited the national park from another side. The Augustow Canal flows near the villages of Debowo and Polkowo in the Bierbza National Park. The Debowo Lock, built in 1826-1827, allows entrance to the Bierbza river from the canal. It is perhaps one of the best areas to spot beavers, otters or mink as well as birds of prey such as spotted eagles, white-tailed eagles, harriers and buzzards.
According to the national park regulations, which I happened to read only after my visit, apparently park admission tickets are needed but I never found any evident park headquarters. Through the wooden Debowo Lock, the Augustow Canal was the first waterway in Central Europe to provide a direct link between the Vistula river and the Neman river, and it provided a link with the Black Sea to the south. A pleasant way of exploring this section is to organise a kayaking tour beforehand with one of the local companies. The Debowo Lock in fact seems to be a convenient meeting place to start kayak tours.
All in all, it is a pleasant site to visit but as other reviewers have pointed out, it is neither unique nor does it offer any value added to the WH list. It is no Panama Canal or Suez Canal, both of which have not been inscribed yet, nor does it have a truly unique feature of OUV such as the lifts of the Belgian WHS at Louvain-La-Neuve. That said, being a transnational property with Belarus, I think it stands a very good chance of getting inscribed judging by recent additions to the WH list.
---
August 2017 - After Latvia and Lithuania, we entered Poland, an Area which I had not visited with my family so far. we arrived in Wigry NP and it was heavily Raining. And also the next day remained being way too wet and cold for summer. However that morning we drove to Augustow to see some parts of the canal. For a hike it was too rainy, for a boattrip it was too foggy, so we tried to drive close to the canal and cross it a few Times. In Biebrza NP we went to Dębowo, where the canal is eventually merging into the Biebrza. There you can visit some nice wooden locks. However the further we drove the more water was left on the muddy roads. Suddenly we came to a 60cm deep pitch. What a rainy summer that was. We had to go back all the way we came and took the Main road straight to Białystok.
---
In 1821 when Prussia started putting high tariffs on Polish goods shipped via Prussian harbours Poland started to look for alternatives. They built a canal to connect to Lithuania and Russia and circumvent the Prussian tariffs: the Augustow Canal.
As is often the case with these types of actions, they quickly become obsolete. Prussia eventually relaxed the tariffs so that Polish goods could again be shipped via Prussian ports and the canal was not needed anymore.
In hindsight the Prussian decision seems unwise on multiple levels. You can question it economically. How was Prussia to profit from preventing trade? Having goods shipped via your ports is normally good for your economy as you get to pocket some of the profits for yourself. And looking at the Versailles Treaty after World War 1 you have to wonder if this experience wasn't one driver for the Polish demand for direct access to the sea, the consequence being Danzig becoming a Free City.
Today the canal is used for recreational purposes only. You can rent boats and travel through lush forests and lakes. Together with neighbouring Masury (Masuren) this is a prime holiday region for Poles.
OUV
The Augustow canal landscape is nice. I greatly enjoyed my time hiking around the lakes and through the woods and it's easy to understand why Poles enjoy coming here.
Less clear to me is the justification of OUV for the canal itself. I did read the Unesco description and spotted no reason or argument why this should be inscribed. Was this a first? What engineering feats were achieved? What obstacles surmounted? ... I would think that a inscription focussed on the wonderful nature and lake landscape, possibly combined with nearby Masury would stand a better chance.
Interestingly, there is a canal in Poland where those questions would be easy to answer, the Elblag canal (German Oberländischer Kanal). With its rail based planes to lift ships from one altitude level to another it is clearly unique, so much so that it's featured in the Atlas Obscura. It is mentioned in our forum as Aspiring to be on T-List. Still, it's not yet nominated.
The focus on the Augustow canal instead of the probably easier to inscribe Elblag canal could be due to Polish nationalism. The Augustow canal is a Polish canal, built by Poland on territory that always was Polish. Building it was an act of defiance against Prussia (Germany). The Elblag canal meanwhile was built by a Prussian engineer on Prussian territory.
Getting There
As stated before, the area is really popular with Polish tourists. You can find daily busses to take you to Augustow from Gdansk, Bialystok or Warsaw. It may take a while, though.
Visiting
The lakes and the canal have plenty of trails. You can also hop onto a cruise from Augustow.
Where to Stay
I rarely bother to book a room in advance. For the Labour Day weekend this wasn't entirely smart as most of the inner city hotels were already fully booked. The Poles have two holidays in May and turn this into a long country wide weekend: Labour Day on 1 May and Constitution Day on 3 May. So everyone is travelling even if the weather is not yet nice.
I ended up in Hotel Wojciech on the far outskirts of town. To get there I had to take a cab (13€). The upside was that the hotel has a nice view of the lake and you can start your hike directly there. The Studzienicze chapels are 15min away and there is a also a canal lock to see. From Studzienicze you can hop onto the cruise back into town.
---
Community Likes
Site Info
Full Name

The Augustow Canal (Kanal Augustowski)

Country

Added

2006

Type

Cultural

Categories

Link
Site History
2010

Requested by State Party to not be examined
2009

Incomplete - not examined
2006

Added to Tentative List
Visitors
23 Community Members have visited.