Hua Shan Scenic Area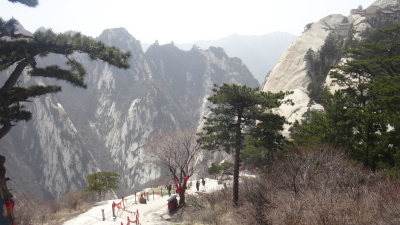 Hua Shan Scenic Area is part of the Tentative list of China in order to qualify for inclusion in the World Heritage List.
Huashan has long been regarded as the most precipitous mountain in China, edged with sheer granite rock face, rugged cliffs and deep valleys. Huashan has over 300 pieces of stone tablets and about 570 rock inscriptions. The total number of cultural relics amount to 1500 sets and pieces, over 120 ancient architectures, including the temples, pavilions and caves. Huashan is increasingly well known all over the world for its profound Taoist culture.
Map of Hua Shan Scenic Area
Load map
The coordinates shown for all tentative sites were produced as a community effort. They are not official and may change on inscription.
Community Reviews
---
Chinese-Canadian - 27-Jan-18 -
Mount Hua is really close to the famous city of Xi'an. For several years there is already a high-speed train that goes here within 30-40 minutes, amazing really. The northern high-speed train station is also in a great location without any extra bus or taxi required to get to the entrance. This makes this an easy day-trip from Xi'an which you are probably wanting to see for the city walls and those terracotta warriors ;)
The mountain is mostly famous for the Daoist temples but the scenery is also beautiful. From the pictures you might relate to Mount Huang and they are not so different. The entrance ticket is a little steep but I am used to that from other sites in China which charge a bit too much in my opinion. You can take a cable car (extra costs) up to two locations, one which is a little off the main entrance. You can also hike up to the first peak which will take a fit person around 3-4 hours, the hotel owner claimed it would be 5h. The beginning is not too bad but inconveniently place outhouses smell up the path which would otherwise be very relaxing along the creek. It gets a little steeper towards and end as you wind around to the top. If you hike up in the morning there will be no sun on the ascending side and even in summer it should be kind of cool.
On the way you will already see some crazy stuff: ladders in stone. They are not required to ascend but make for an alternative extreme path. I saw some people doing it and they take really long to get up so even if you would want to do it you will have to wait a bit. Once you are at the first peak and padded yourself on the shoulders, you are not done yet. There are a total of 5 peaks: one for each direction and a central one. The path goes around all 5 and if not closed for maintenance or whatnot you can also cut across the middle to skip some. As mentioned before there are 2 cable car stations so you will notice a lot of crowds at the peaks with a station and not so much traffic in-between. You could choose to go up one side and walk to the other and go back down from there, with a shuttle bus connecting the station to the entrance (possibly an extra small fee as usual). The path in-between the peaks does go up and down so there is some more hiking involved. I personally took the cable car down feeling I had seen it all.
One of the more unique features for Huashan are the plank walks. I had to squeeze past a lot of people to even get a look at it, snap a pic and then excuse myself way back to the end of the queue. The space here is not even enough for a single row and it wasn't meant for tourism, so I didn't bother to get another look nor to try the walk itself. I'm not even sure if people were waiting to walk on it or just standing around to take pictures and stare at it. Wikipedia quotes a writer saying it is one of the deadliest hikes in the world and they actually mean this part but unless you try the "ladders" mentioned earlier the normal path is very safe and you never walk near an abyss or come in danger. The path is all steps up and around the peaks. There were some really narrow parts near the temples which are clearly annoying if people come from both sides but that was not dangerous either.
Would definitely recommend this if you are coming to Xi'an.
---
Community Likes
Site Info
Full Name

Hua Shan Scenic Area

Country

Added

Type

Mixed

Categories

Link
Site History
2001

Added to Tentative List
Visitors
22 Community Members have visited.