Centre historique d'Irkoutsk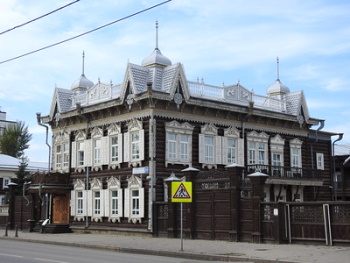 Centre historique d'Irkoutsk is part of the Tentative list of Russia in order to qualify for inclusion in the World Heritage List.
The historic center of Irkutsk shows its urban development over a period of 300 years. The architectural styles used vary from Art Nouveau to Constructivism. Its wooden architecture (some 500 buildings) is especially notable. Irkutsk was founded by Russian colonists in 1666 and afterwards became the urban center of Siberia. Representatives of the exiled Russian nobility greatly promoted the cultural development of the city which is reflected in its architecture.
Map of Centre historique d'Irkoutsk
Load map
The coordinates shown for all tentative sites were produced as a community effort. They are not official and may change on inscription.
Community Reviews
---
The Historic Center of Irkutsk is an enigmatic entry on Russia's Tentative List. Its official description is in French and just rambles on about its general history, architectural styles, street plan and renovation projects. There seems to be no focus what the prospective WHS should entail: "a large number of preserved architectural monuments of different periods and styles (Siberian baroque, classicism, art nouveau, "Russian style", local traditions, Gothic, Byzantine, Asian architectural art, constructivism)" suggests a broad approach, while it seems logical that OUV could be found somewhere in its renowned wooden architecture.
Irkutsk, the largest city in Eastern Siberia, was founded in 1661 as a military fortress that imposed taxes on the indigenous population in the form of animal fur. The city also developed as a commercial and administrative center due to its location on various trade routes with Mongolia and China such as the Tea route. Today it is slightly more chaotic than the big cities in western Russia, but I liked it. One really encounters a completely different side of the country. At the cozy Central Market, you'll find Mongolian, Buryatian and Chinese tradesmen selling nice thick woolen socks, cheese and honey. And of course there are Russian females with buckets full of blue and red berries for sale too.
The city does not have any unforgettable monuments, but it is known for its relatively large number of wooden houses. In 1879 there was a big fire in the city center, after which it was decided not to rebuild in wood anymore. The buildings in the main streets of the city, the Karl Marx street and the Lenin street, are therefore built in stone. The most interesting and best preserved 19th century wooden houses though can be found in the 'Decembrist' Quarter: this is the area where the members of the December uprising in St Petersburg lived who were exiled to Siberia in 1825. Among them were members of Russian nobility who encouraged the cultural development of the city of Irkutsk. Two country houses of those Decembrists can now be visited as a museum: the house of Prince Trubetskoy and the house of Prince Volkonsky. Both are located in a quiet neighbourhood about a 20-minute walk from the city center and provide a glimpse into this history that is so unique to Irkutsk.
In the spacious mansion of Prince Volkonsky, all rooms are furnished with items belonging to the family and other noble exiles. They represent the rich 19th century life of the family in exile. Not much is said about the hardships: at his exile, Volkonsky was given a piece of land in rural Siberia, and allegedly became a successful farmer. After a while, his wife also joined him and they were allowed to move to the city of Irkutsk. There they played an important role in education and the city's cultural life. The most striking space in the house is the winter garden: here the family grew plants, something which did not work so well outside in the Siberian climate.
Prince Trubetskoy's house lies a few minutes away. This also looks very well maintained and is part of the same museum foundation (you can also buy 1 ticket for access to the 2 houses). Just like the other house, the mansion is located on a piece of land with a garden, outbuildings and stables. The exhibition here focuses more on the hard sides of the exile. Trubetskoy had to work in different mines where the living and working conditions were very tough.
There are at least 2 other well-preserved wooden buildings in Irkutsk – one is the Sukachev Estate, now an Art Museum, which I did not visit. The other one is the home of the merchant Shastin. This one is better known as the 'Lace House', because of the very ornate woodwork. The interior of this house cannot be visited, it is being used by the Irkutsk municipality for special occasions. A view from the street is very worthwhile though: regarding to architectural details this really is the best among the wooden houses. More ramshackle wooden houses can still be found in the streets near the Central Market, I enjoyed walking around there as well.
Read more from Els Slots here.
---
I was in Irkoutsk in June 2008. If anyone wants to see the old Siberian Russian wooden architecture, please hurry up, not much is left of what was once a typical XIX century town. Old houses are deminishing all the time and they are constantly replaced by "modern" architecture. There are no plans (at least they are not visible) to halt that process, only a few houses in historic center were carefully restored. All others are just left on their own. Very sad. But nevertheless the old Russian Siberian architecture is fantastic, all wooden ornaments are very interesting. If they only preserve ...
---
Site Info
Full Name

Centre historique d'Irkoutsk

Country

Added

1998

Type

Cultural

Categories

Link
Site History
1998

Added to Tentative List
Visitors
27 Community Members have visited.