Zabid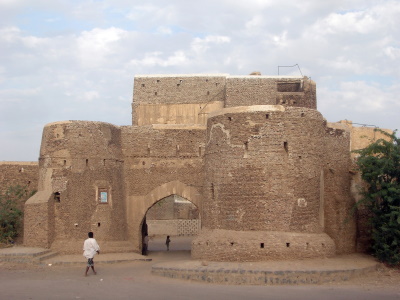 The Historic Town of Zabid is renowned for its domestic and military architecture, and its Islamic university that attracted students from far.
The urban plan of this town shows the characteristics of the early years of Islam, centered around the ancient Alash'ar Mosque. It further developed with fortifications, the Great Mosque, courtyard houses and a network of canals. It became a significant centre for spreading Islamic knowledge from its mosques and madrasas.
Community Perspective: located in a hot coastal area, this feels very different from the rest of Yemen. The interior of the townhouses comes recommended by Solivagant, while Watkinstravel found it in a terrible state of decay in 2007.
Community Reviews
---
I managed to get to Zabid in March 2007, just before UNESCO gave it a "last chance" to fix itself up. It was in a terrible state of decay but not totally forgotten. There was already a small team of foreign conservationists computer-mapping the entire town to help come up with the best approach to right the ship so to speak. I spent a few hours chatting with them and got my first lesson in conservation and an inkling of understanding that while it might be World Heritage to us, it is just home to the locals and they might be more interested in making a living or just surviving than self-sacrificing to preserve ancient history. There must be some sort of moral/ethical dilemma here.
I don't remember there being a lot to specifically see and even if it were in a better state there probably wouldn't be much to get very excited about. What I have written in my journal suggests that what I mostly ended up doing was befriending many of the schoolkids who led me rather aimlessly all about town while practicing their English. One of the kids also hooked me up with a place to stay. It ended up being on the top floor of one of the taller buildings, in an open room where local men sat around chewing qat all day before clearing out for me to sleep at night. The views would have been good except every time I went near a window everyone started to freak out because if I looked down I'd be able to see over various family compound walls and just might be able to see a female! I confess to peeking anyway when nobody was looking. The world didn't end...
---
The main glories of Yemen are to be found in Sanaa and the mountains. On either side of these however are 2 other sights – to the east the desert ruins of Marib which are currently only on the WHS Tentative list and, to the west, the WHS inscribed old town of Zabed,
The West side of Yemen consists of a flat low-lying strip of semi desert called "The Tihama". This area is hot, hot, hot! Facing Africa, it feels very different from the rest of Yemen. If you go there you will probably overnight in the port of Al-Hudayda and Zabed lies a few miles south.
Zabed is one of those WHS which, if it justifies its inscription, does so because of what it has been rather than for what you can see now. From the earliest years of Islam a Koranic university flourished there. It is said that the word "Algebra" (Al-jabr) was coined by a scholar from the town. The very first mosque in Yemen was founded nearby by a local leader who actually visited the Prophet Mohammed in Medina.
The old town is surrounded by walls in mixed state of repair. The main entrance is through a medieval gate and inside there is an area of suqs, a few mosques and a "palace" (19th century). Pleasant enough but, in the heat, not anything to get excited about! The centuries of Islamic scholarship do not come across to the casual non-Islamic visitor!
We were however invited into a couple of the town houses and these were far more rewarding with their patterned white stucco walls and richly painted ceilings in "Islamic" abstract designs. The colors, though not of course the subject matter, reminded me very much of those on the ceilings of churches and monasteries in nearby Ethiopia – the same rich reds, golds and dark blues which on the other side of the Red Sea were used to produce those rows of smiling "saints".
This brings home the early connections between the 2 sides of the Red Sea – Yemen was on several occasions part of the Axumite empire and was a flourishing Christian and Jewish area before the rise of Islam.
As you cross the Tihama you will come across nomads living in circular reed huts – a reminder that Africa is very close!
---
Site Info
Full Name

Historic Town of Zabid

Unesco ID

Country

Inscribed

Type

Cultural

Criteria

2

4

6

Categories

Link
Site History
2000

In Danger

Condition of the historic buildings
Site Links
Unesco Website
Official Website
Related
In the News
UNESCO has given Yemeni authorities two more years (a last chance) before it begins procedures to remove the city of Zabid from UNESCO's World Heritage List. It issued the threat as the government has failed to prevent human activity from changing the historical character of the monuments and houses in these areas. (2007.05.06)
Visitors
18 Community Members have visited.