Virgin Komi Forests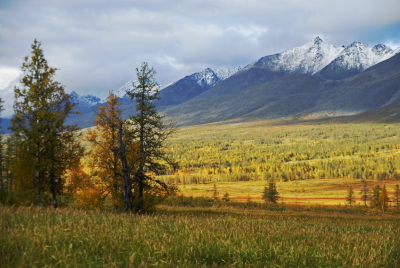 The Virgin Komi Forests comprise a vast virgin boreal forest ecosystem, bordering the alpine tundra of the Ural mountains.
Its mountain structures such as columns and fossilized reefs provide models of ongoing geological processes. The boreal forest holds Siberian spruce, Siberian fir and Siberian larch. Brown bear, moose, wolf, otter, beaver, sable, wolverine and lynx are mammals that can be encountered here.
Community Perspective: The designated forests lie in two parks, which have both been covered by reviews. Jarek and Wojciech visited Yugyd-Va National Park on their own on foot and mostly reported back on the thousands of mosquitos. Martina and Alexander visited Pechoro Ilychsky Nature Reserve 3 years apart and went to Manpupuner Mountain by helicopter as part of a guided day tour.
Community Reviews
---
Visited this site in August 2020 as weekend trip from Moscow. I decided to visit Manpupuner Plateau, which is located in the heart of Pechoro-Ilychskiy Nature Reserve, part of Virgin Komi Forests site. The quick visit here without hard backpacking is only possible with helicopter tour. The logistics has changed as compared with visit made by Martina Ruckova back in 2017. The change is explained to improve accessibility of the helicopter flight due to weather conditions. You first fly on your own to Ukhta, then the car drives you 170 km through sometimes good and sometimes awful road to Troizko-Pechorsk. Troizko-Pechorsk is a depressive municipal village located on the shores of the Pechora River and is the closest large inhabited point to the Pechoro-Ilychskiy Nature Reserve. The only accommodation option is Pechora hotel – very basic and tough place to stay, for example, there was no hot water during our stay. However, it has the only café in the village with no menu and strange operating hours – it closes at 6 p.m. and afterwards you are only left with noodle soup and snacks from nearest supermarket as dining options.
We were unlucky with the rainy weather and were sitting in the hotel whole Saturday waiting for green light from the flight control – but it was rainy and foggy in the Plateau and the flight was finally postponed to Sunday. On Sunday after additional couple of hours of waiting, we were finally given ok to fly. Tour operator is using old Soviet helicopter with additional fuel tank inside. It takes about 80 minutes to fly 160 km over never-ending Komi forests and swamps. On the Plateau, there is small house where reserve's inspector is controlling tourist access and then guides to the stone giants. There are 7 weathering pillars with the height from 30 to 42 meters being result of 200 million years of erosion. There is a marked pass through the site and it is strictly advised not to leave it. Each stone formation has its own name depending on phantasy of the authors. The area is very atmospheric and unusual. The Plateau is believed to be the sacral center of ritual ceremonies by local shamans and is still said to keep negative energy.
The whole area is very popular among backpackers thanks to Manpupuner Plateau and infamous Dyatlov Pass. It takes approximately 8 days and 85 km to walk between these two points of interest with helicopter drop-ins and drop-offs. The pass is equipped with mountain shelter modules providing basic amenities.
Due to weather delays, we missed our flight back from Ukhta on Sunday evening and in order to get back before Monday morning we decided to take shared taxi to Syktyvkar (additional "funny" night driving of 350 km). Despite the tour only takes place from June to September it is still highly weather dependent (like Michael Skellig) and you need to decide whether to be flexible with return days (sometimes people wait for good weather for 4-5 days in order to catch the flight). Only 1,500 people visit the Plateau annually on average.
In overall – the place is a natural wonder among wild nature and it is still quite difficult logistically and financially to get there. The wilderness of the area (largest forest area in Europe) can be appreciated from the helicopter. I hope that there will be continued efforts to improve tourist infrastructure (sometimes very disappointing currently) and measures to protect the reserve area from human intervention.
---
The virgin forests of Komi Republic are one of the more remote WHS of Russia. When I thought about visiting them, I was mentally preparing myself for something akin to a trip to see the Putorana Plateau which involves a week-long fishing trip out in the nature with all of your things with you and no cell signal.
Fortunately, Ivan came with a solution that turned out to be I guess the craziest WHS trip we took so far. And we did it over the weekend! Night flight from Moscow to Perm. Dmitrij, the owner of a travel agency we booked the trip with took us to his hotel where we waited until about five in the morning. When the whole group of about 14 people assembled, we took a five hour-long marshrutka trip to Nirob, the last inhabited town on the border of the National park, still in Perm oblast and a location of a well-guarded prison. The village itself has a church, a museum and a place where Mikhail Romanov was imprisoned.
From Nirob it was 1.5 hour helicopter ride to the Manpupuner mountain with its famous rock formations - parts of the former hilltop that remained after erosion. They're 30 - 40 metres high and a very impressive site, one of seven wonders of Russia. It's a breathtaking sight and a very unique experience. The stone giants are out of this world with extra bonus of our group being the only one there at that time. The only other way to reach the stone formations is via three-day trek and that's one way. We stayed for two hours and then flew and rode back to Perm.
Presently, the helicopter flights from Perm have been renewed after being cancelled for some time as Komi Republic did not like the fact other subject of Russian Federation is making profits from their natural treasure and the Nordic Ural tour agency is making weekend trips from Perm again. They should speak English, but if you need help contacting them, let me know!
---
This is the most remote and the least visited (not counting fresh entries) WHS on European continent and going there is definitely an adventure. But at least minimal visit is doable without too much hassle . You may avoid two day travel by train from Moscow flying to one of the following three locations - Syktyvkar (quite frequently), Vorkuta (the closest to the park, but planes, as of 2016, are only once per week on Wednesday) or Salekhard in Yamalo-Nenets Autonomous Okrug. I chose the latter which was the most adventureous. It is interesting to know that before January 2015 going to Salekhard by foreigners was forbidden unless you had a hard to obtain permit from Russian authorities.
After coming to Salekhard (which is not connected with 'mainland' Russia by road or train) I had to take a ferry on Ob river to Labytnangi, small town which has its own train station and connection with Moscow. Then I followed the advice of Jarek Pokrzywnicki (another WHS fan and a member of this site) and took two trains to small station Kozhym. The tickets may be easily booked online.
The station is literally in the middle of nowhere but has one advantage - lays on the border of the Yugyd-Va National Park (the biggest national park in Europe), being the core WHS zone.
Theoretically going to the park requires, as still too many things in Russia, a special but free of charge permit issued by the park authorities. I did not expect to meet anyone during my short visit so I skipped applying for a permit.
From Kozhym you have to walk around 3km on the rail track, cross the river Kozhym and carefully look for a small passage to the track on the left (it is near small shed named 1952km, meaning that this is in this distance to Moscow). The views are not particularly stunning, it is small forest, some water and literally THOUSANDS of mosquitoes. Forget the repellent, see what locals do and wear anti-mosquito net on your head. You pass by the billboard with the park name and UNESCO plaque, which is used by the visitors as a butt for armed visitors.
If you want to visit the park and see its bests, I suggest arranging one of many activities offered by its authorities. Most of them start in Inta, being the park HQ.
---
Visit in June, 2008.
Area consist of Yugyd Va National Park, Pechorsko-Ilychski Reserve and buffer zones (including Yaksha Forest). Personally I was visiting only parts of Yugyd Va NP. One of the most difficult to reach places in Russia. There are no roads, no airports nearby. The only possibility is to get to Inta by train (2 days from Moscow) and from Inta either by organised trip or on your own. The trips are quite expensive as they organise foreign groups only and use local lorry cars for transportation - some 80 km to Yugyd Va Park borders).
The other way (like I did) is to take a train from Inta to Kozhim-Rudnik station (direction back to Moscow because the fast train from Moscow doesn't stop there) and than by foot. Area to the left of railway is already Yugyd Va National Park. There is a direct road leading inside the Park (the only one there). For individual trip you must have all food and accommodation (tent) on your own. Also (strongly, believe me) recommended nets agains small flies and mosquitos and local maps (there are no maps in Inta - use internet databases). Have in mind that there might be snow in June in the area (like I had that time).
Yugyd Va NP is the biggest national park in Europe with a big diversity of nature landscapes (meadows, bogs, forests, lakes, rivers and mountains)
---
Site Info
Site Links
Unesco Website
Official Website
Visitors
14 Community Members have visited.