Thimlich Ohinga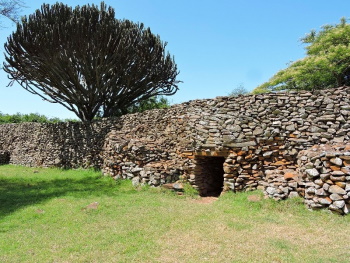 Thimlich Ohinga archaeological site comprises 4 larger fortified settlements that are the best-preserved examples of pure dry stone building in the Lake Victoria Basin.
The dry stone wall enclosures incorporated shared communal settlements (Ohingni) with homesteads, livestock and craft industries. They were founded by the early pastoral communities of the Lake Victoria Basin from the 16th century CE onward.
Community Perspective: "The effort of reaching the site may be greater than the payoff", but Michael did so anyway – on his bike.

Community Reviews
---
Visit in January 2021
To partially compensate for being forced to cancel plans for visits to many top-level Sites in 2020 I intended to make visits to a few unreviewed, or seldom-visited Sites. As it turned out, most of those sites were unreviewed for good reasons, especially because onerous bureaucracy and remote locations made reaching them impractical, or impossible. The best I could come up with was a visit to Thimlich Ohinga, a Site that was unvisited primarily because it was only recently inscribed, in 2018. The Site is located in the southwestern corner of Kenya, in an area where sugarcane is the dominant farm crop, and which was pleasantly green during that time of year. However, while travel around that part of the country is straightforward enough, reaching the Site itself will likely be a lengthy process, no matter from which direction one approaches, and the effort may be greater than the payoff. Traveling to the vicinity from Nairobi, probably via the Kenya Lakes System Site, would be relatively simple, but still a rather long haul. It would probably be easier to reach the Site from the western gates of the Serengeti, in Tanzania. However, in that case most people would need visas for both countries.
Since I was arriving from the northwest, I decided to stay in the small town of Rodi Kopany, which is 46 km to northeast of the Site and has a couple of decent accommodation options, and then ride down to the Site and back as a day trip. About halfway along that route another village, Ndhiwa, has a few more places to stay, presumably slightly more basic, and that could be a reasonable base closer to the Site. The first 26 km of that route were along a paved road that had already disintegrated in a number of places. After that distance, the route turns off on to a dirt road that is marked by a rather non-distinct sign pointing to the "Thimlich Ohinga Cultural Landscape." Similar signs mark a second turn that must be made later on, and one more close to the Site. These roads appear on online maps and with GPS it is not hard to locate the Site. The 20 kms of dirt roads are mostly in reasonably good condition, but there were a number of degraded places which could give trouble to vehicles that aren't off-road capable, especially during the rainy season. I got the impression that if coming from the south the final approach to the Site would be in somewhat better condition, however, I can't say for sure. If one continues past the final turn to the Site for a few hundred meters, Google Maps shows a tiny village, also called Thimlich Ohinga, that apparently contains a couple of Guest Houses. I didn't investigate these, but I expect they would be distinctly basic options. In general, the secondary road network in this part of Kenya is surprisingly extensive and in good condition, so it is reasonable to expect that this Site will have better road access in the future. How long that will take is anyone's guess.
I arrived at the Site at 11:30 AM, and was instantly anxious upon seeing a 3-meter tall iron gate in the closed position. A nearby sign stated that the Site is open every day from 9:00 AM to 6:00 PM and I could see several hand-washing stations inside, which indicated that visitors were expected. Fortunately, the gate was unlocked, so I went inside, and then walked past the small office that was open, but unoccupied, to begin my visit, with no one else present. There is a reasonable amount of informational signage around the site, though some of the panels have already started to peel from exposure to the harsh Sun. The initial area contains several replicas of traditional Luo dwellings, which were built with a circular design similar to other homes around Southern Africa. I did find the concentric, double-mud-walled design distinctive as it seemed to keep the interior noticeably cooler. Also notable was that the largest dwelling was for the matriarch, while the husband and other wives had smaller versions. It is the stonework of the general settlement plan, dating back around five hundred years, that is the Site's important feature, however. In the local language, Thimlich Ohinga essentially means "mound-type structure, surrounded by scary forest." The settlement consisted of a few low circular walls, used as cattle pens, surrounded by a much taller and more substantial outer wall, all constructed using stacked dry-stone methods. It was not clear to me if the walls seen today are original, original but with regular maintenance, or modern partial reconstructions, but overall they appeared to be in excellent condition. The interior of the compound now contains some large trees, and a somewhat weedy, thorny understory, none of which would likely have been there when the site was occupied. However, it is still fairly easy to walk around most of the interior to examine its layout. "Scary Forest" refers to an outer ring of intentionally placed dense thicket just beyond the outer wall. It was easy to see how this overall design would have provided significant levels of protection for the original residents and their cows.
One or two hours is more than sufficient time to obtain a reasonable understanding of this Site and, soon I was on my way out, at which point I finally encountered the sole caretaker, who had wandered off to gather a few cows. So I was eventually able to register my visit and pay the entrance fee, at the time $US 4.50 for international visitors. I gave double that amount to cover a couple of warm sodas, and to excuse myself for wandering around unofficially.
Read more from Michael Ayers here.
---
Site Info
Full Name

Thimlich Ohinga Archaeological Site

Unesco ID

Country

Inscribed

Type

Cultural

Criteria

3

4

5

Categories

Link
Site History
2014

Incomplete - not examined
Site Links
Unesco Website
In the News
Visitors
2 Community Members have visited.