Shirakami-Sanchi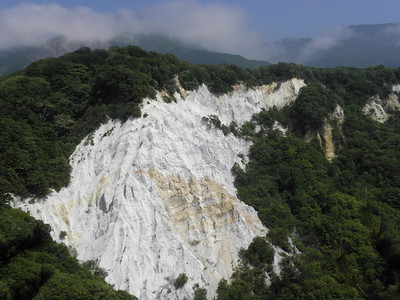 Shirakami-Sanchi is a mountain range covered with virgin temperate forest of Siebold's beech trees.
This kind of forest once covered all of North Japan: Shirakami holds the largest remaining and most pristine stand. The designated area measures almost 17,000ha. Its highest peak is 1243m.
The landscape is features deep valleys with steep slopes. It sees heavy snow during the winter months, something against which the beech trees are extremely resistant to. Its canopy is distinctively monospecific.
The rare Japanese black bear (a subspecies of the Asian black bear) can be found here, as well as the Japanese serow and many species of birds and insects.
There are no human residents or permanent man-made facilities in the core zone of Shirakami. Regional traditional bear hunters, the 'Matagi', spent weeks at a time in the forest during winter and early spring.
Map of Shirakami-Sanchi
Legend
Visit June 2012
Like all other reviewers so far, I did not get into the core zone of Shirakami. I am looking forward to hear from anyone who did – even a trip report to the Anmon waterfalls would be fine. It's located in the original buffer zone and presented that way in local maps. The WHC notes of 1993 seem to suggest that Japan put the buffer and core zone into one core area.
To get a feel for the site, I combined a half circle around it on the JR Gono Line with a stop at Juniko.
My train journey started in Hirosaki, just to the north of the Shirakami mountains. From this city one has the best view of the highest mountain peaks, which even in June are still covered with a lot of snow. I had a reservation on the "Resort Shirakami", a special train that runs a few times a day during the season. It is quite comfy and has extra large windows so you can enjoy the views. They are not so great however when you want to take photos – there's a lot of reflection. How I miss the Indian trains, that travel with their doors open and sometimes even don't have glass in the windows!
For the first hour we travel slowly from village to village, still in the civilised world. There's a live music performance on board with traditional Japanese string instruments. Fortunately this ends after 15 minutes. After that the views start that make the Gono Line special: the coast of the Japanese Sea to the right, the Shirakami mountains and forests to your left. I found the coast actually more impressive to look at. It looks a bit like a British coast.
After 2.5 hours I got off the train at Juniko. From there a bus took me further inland, higher up the mountain and deeper into the forest. Juniko Lakes lies adjacent to the buffer zone of the WHS. To my surprise I noticed at a map displayed at the entrance that the deep blue Aoike Pond even is so close that it looks like only metres away from the designated area.
Anyway, I just enjoyed being here. The weather was great, nothing could be seen of the thunder and rain that was forecasted. I decided to hike from the top back to Juniko station, taking in the several sights under way. It took me 2.5 hours including stops and detours, I guess it is about 5-6 km. Aoike Pond at the top should not be missed, it is so abnormally blue.
Further down there are larger lakes, the views to them mostly obstructed by trees. I guess some of them are the Japanese beeches, although the forest wasn't nearly as "monospecific" as praised in the AB evaluation. Maybe the core zone is more so. I did find nuts on the ground however which are similar to those of the European beeches.
A view not to be missed is that of Nihon Canyon. You can see part of it already from the main road driving up, but there are trails to better viewpoints too. The night before I had been dreaming about encountering a black bear when I was hiking alone on a trail. This was as much inspired by the stories of the Matagi as by this book about the Pacific Crest Trail that I had been reading before I went to sleep. And indeed I was alone on the first trail. I turned around quickly however, as I had reached a crossing of two trails and I had no idea which route to take. A better option came lower down the mountain, where there is a sign "Nihon Canyon – 0.5 km". A man was walking in front of me, which made it even easier. The canyon is surely impressive, although it looks more like a ravine. Annoyingly there are pine trees and a wooden fence that block most of the views. After the man had left and I was alone, I crawled under the fence to take a couple more unobstructed photos.
I did see my black bear further along the road: it was encaged and pacing back and forth. Probably it was caught here locally, but I don't know what the purpose is of keeping it locked up and somehow on show.
Back at Juniko Station, I completed my trip on the Gono Line with a local train to Higashinoshiro. The Shirakami mountains still visible to the left, but the views aren't that great.
Finally I have some practical info about Juniko, which I hope is to some help of future visitors. There's not much available in English elsewhere on the web:
- Juniko can be reached by local trains and the Resort Shirakami Express. The last one only runs in season, and requires seat reservation. They don't do seat reservations at Juniko station, so you'll have to arrange your return journey beforehand (or just take a local train).
- "Juniko station" is not much more than a bus and train stop, there is no village.
- The bus across the road from the train station goes up to the Lakes. Buses leave about once an hour, and departures seem to match the arriving trains. A handy leaflet (partly in English) with arrival and departure times can be taken freely from a box at the bus stop.
- The bus requires about 15 minutes from Juniko Station to its final destination, Oku Juniko Parking. This is near the Aoike Pond. The other sights are located lower on the mountain slope, and can be reached by walking or taking a bus back down.
- There are coin lockers both at Juniko Station and at Oku Juniko Parking. They both also have vending machines, toilets and sell souvenirs and snacks.
- The main signage is in Japanese and English, but when you want to hike a trail (even a small one like to the Canyon) it is wise to copy the destination down in Japanese or take a digital photo of it. At crossroads on the trails they seem to have forgotten the English, it's easy to wind up at the wrong trail that way.
- Even on a Monday in June there were lots of other tourists around, both by public transport and by tour buses. Most come to see the lakes however, traffic is much lighter on the hiking trails.
Click
here
to see more of my photos of Shirakami-Sanchi
Community Reviews
---
---
---
---
---
---
---
---
Community Rating
Community Rating 3.50. Based on 4 votes.
Site Info
Full name: Shirakami-Sanchi
Unesco ID: 663
Inscribed: 1993
Type: Natural
Criteria: 9
Site History
1993 - Advisory Body overruled

IUCN had pleaded for referral, because of integrity issues.

1993 - Inscribed
Site Links
Unesco Website
Official Website
Related
In the News
Connections
The site has 9 connections.
Visitors
18 community members have visited Shirakami-Sanchi. Show all