Shahr-i Sokhta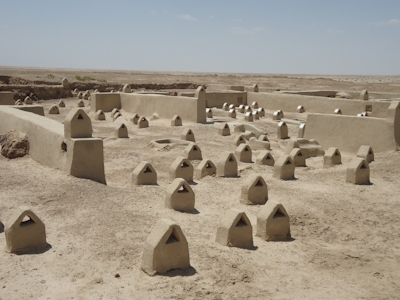 Shahr-i Sokhta ("Burnt City") is an archaeological site of a Bronze Age urban settlement.
It is associated with the Jiroft culture, an "independent Bronze Age civilization with its own architecture and language", intermediate between Elam to the west and the Indus Valley Civilization to the east.
Covering an area of 151 hectares, Shahr-i Sokhta was one of the world's largest cities at the dawn of the urban era. In the western part of the site is a vast graveyard. It contains between 25,000 to 40,000 ancient graves
The settlement appeared around 3200 BC. The city had four stages of civilization and was burnt down three times before being abandoned in 2100 BC. The site was discovered and investigated by Aurel Stein in the early 1900s.
Community Reviews
---
Site visited in May 2017. Sharhr-i Sokhta or Shahr-e Sūkhté (farsi name means exactly Burnt City in English) is located between Zabol and Zahedan (Iranian towns that are located close to Pakistan border, around 177 km from Zahedan and ca 55 from Zabol). In theory there is a convenient public transport from Zahedan (oficial taxi from Zahedan Bus Station to Zabol, a place in a car should cost around 5 Euro per person, one way). It is also possible to hire a taxi on your own for the whole trip (dar baste) - including waiting time - prices are negotiable.
The site consists of two parts: main excavations area covering around 150 ha - vast land where only 3 % of the ancient city is uncovered and prepared for visiting. Second part is a small museum located on the opposite side of the road, some 900 meters from the exavations entrance.
It is good to start visiting the site from small Visitors Centre (all the information, photos and maps are displayed in Farsi and English). Excavation site is serviced by circular hiking path covering all attractions (building sites, so called temples, craftsmen area, graveyards). Have in mind that currently it is almost a desert, no trees, no shadow so take plenty of water if you want to wander around.
The museum is relatively small but at least is under roof. The site itself is not very popular along Zahedan people but taxi drivers know the place.
And one important remark - the photo presented on this site - above in an official statement - is certainly not from Shahr-i Sokhta. It may be from Kuh-e Khuaja
---
Site Info
Full Name

Shahr-i Sokhta

Unesco ID

Country

Inscribed

Type

Cultural

Criteria

2

3

4

Categories

Link
Site History
2014

Advisory Body overruled

ICOMOS proposed Deferral, Malaysia & Lebanon provided Amendments to Inscribe
Site Links
Unesco Website
Related
In the News
Visitors
4 Community Members have visited.