São Francisco Square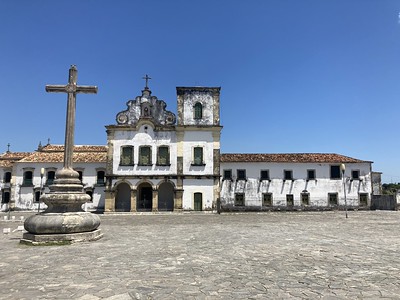 São Francisco Square in the town of São Cristovão is an open space surrounded by a monumental architectural ensemble.
It combines the urban planning ideas of Portugal and Spain, as the square originates from a time when Portugal and Spain were under the same crown. The concept of a Plaza Mayor was taken from Spanish colonial cities. The most prominent monuments around the square are São Francisco Church and Convent (begun in 1693), Church and Santa Casa de Misericordia (18th century), and the Provincial Palace.
Community Perspective: Due to its Spanish roots it's unique in Brazil, but that's about it and there is little tourist infrastructure. Best reached from the coastal city of Aracaju.
Community Reviews
---
Site visited in December 2020. Before São Cristóvão we visited 12 WHS in Brazil and they were all worth a visit. Although the Brazilian list can be accused of overloading with colonial towns, selected examples (Ouro Preto, Diamantina, Goias) were certainly outstanding in their category. However, the visit to São Cristóvão left a great dissatisfaction. The town is not particularly distinguished, the historical center is small and rather overlooked by tourists. São Francisco Square itself makes a nice impression, but it is definitely hard to notice the 'outstanding universal value' of this place. It was even harder for us, because both churches entered and the Provincial Palace were closed due to the pandemic.
The negative experience was somewhat sweetened while walking around the historic center and visiting the Igreja Matriz de Nossa Senhora da Vitória open church. It seems that according to ICOMOS, adding the historic center to this entry would make more sense than listing the square itself. But even in that case, it would be by far the worst place on the Brazilian UNESCO list. Fortunately, the visit to São Cristóvão did not require us to deviate too much from our route from Serra da Capivara to Salvador. It took us maybe an hour to explore the town, the other hour to a delicious and very cheap lunch in a local bar, and 4 hours later we checked into the historic center of Salvador.
---
Sao Francisco square in Sao Cristovao was not much more than a typical square for the area. We weren't even sure we were in the right place but finally found a UNESCO sign on a nearby building. Surprisingly there is a lack of preservation in the surrounding streets though there are a couple of older churches. In all we spent maybe 1.5 hrs there.
it feels like they don't know what they have there. There wasn't any tourist infrastructure at all. We visited late morning mid week. We were the only obvious tourists, foreign or domestic, there were school kids running around the neighbouring streets and everything was closed, including the little tourist info office. It felt safer and cleaner than I expected given the state of northeast Brazil these days but there arent any of the quaint guesthouses or little restaurants catering to visitors you expect to see around a WHS these days.
The easiest way to visit is a side trip from Aracaju, a pretty standard coastal city with plenty of accomodation options. There is a local bus leaving from the old central bus station quite regularly and takes less than an hour. We actually caught an Uber there and took the bus back. For us it was a logical stop as we worked our way down the coast from Olinda to Salvador but unless you are in the area and have time to kill it has nothing to add to the experience of visiting those other beautiful sites.
---
São Francisco Square is located in São Cristóvão, a small town close to the capital of the State of Sergipe - Aracaju. It is rather an ordinary square, like so many others in Northeastern Brazil, with a simple church and a religious museum on its side. What UNESCO suggested to be extraordinary is that the square was designed in 1590 according to Spanish Ordinations, something unique in Brazil and it was to the fact that, at that time, the Portuguese and the Spanish Crowns were united under Philip II. There's a couple of other 17-Century churches nearby and a humble museum of the State of Sergipe - São Cristóvão was its first capital, and nothing more. It is difficult to understand why UNESCO chose this city to have the same status of Olinda, Salvador or Ouro Preto, majestic colonial cities. If you really want to collect this WHS, Aracaju is well served with internal flights and, by land, is not far away from Salvador.
---
Site Info
Full Name

São Francisco Square in the Town of São Cristóvão

Unesco ID

Country

Inscribed

Type

Cultural

Criteria

2

4

Categories

Link
Site History
2010

Advisory Body overruled

ICOMOS advised Deferral: "Reconsider the proposed boundaries of the nominated property in order to include other sectors of the São Cristóvão historic centre "
2008

Referred

boundaries, conservation management
2008

Revision

Reduced from former TWHS Les couvents franciscains du nord-est brasilien (1996)
Site Links
Unesco Website
Official Website
Visitors
30 Community Members have visited.