Ombilin Coal Mining Heritage of Sawahlunto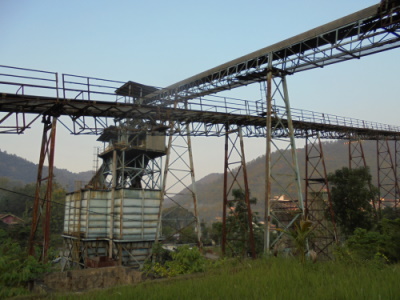 The Ombilin Coal Mining Heritage of Sawahlunto is a late 19th century industrial system built by the Netherlands colonial government.
The mines were worked by local labourers (including forced labourers), the town of Sawahlunto grew to 7,000 inhabitants. The site comprises 12 locations, including mines, coal fields, tunnels, a Mining School and railway system.
Map of Ombilin Coal Mining Heritage of Sawahlunto
Load map
Community Reviews
---
Site visited in August, 2019, Just a few weeks after inscription. Nice surprise. I managed to see 2 components out of 3: coal storage facilities located in Padang (port of Emmahaven), and mining town Sawahlunto.
Initially visited those storage facilities in Padang – area is not marked by any means – you should use location from a website (exact coordinates 0°59'28.7"S 100°22'51.6"E). Site consists of warehouses, infrastructure and different machineries connected with coal. The whole site looks as unused and a bit neglected for some time but is still fenced – the only access is from western part of Jl Tj. Priuk road. As for August 2019 the site looks as completely unprepared for mass tourism but you can visit all places at your own risk – some areas are not very secure. The site can be reached from Padang central area (around 7 km) by Go Jek or by local public transport (minibuses).

Sawahlunto itself is a small mining town located some 2 – 3 hours from Padang. You can easily use public transport (regular buses are from Jl Dr. Sutomo road), approximately hourly during the day.
The city looks prepared for tourism. There are several hotels (different standard), homestays (there is an office that gather all homestay offers – they can call and reserve such a place for you – standard also different), restaurants, museums, tourist information center – there is a decent map of the area with information in English.

Places not to miss in Sawahlunto area are:

Sizing plant (huge industrial area with silos, transporters, factory buildings, located approximately 0°40'43.5"S 100°46'28.8"E
Administration building of Ombilin Coal Mine – Bukit Asam PT (photo),
Museum Tambang Batu Bara Ombilin – different objects from mining activities as well as history of the town and coal mining,
Hole Mine Site Museum Mbah Suro & Infobox – museum and a possibility to see an underground coal mine, visits only with a guide, underground corridor is approximately 200 meters long,
Museum Goedang Ransoem – former kitchen for miners,
Puncak Polan, Puncak Guak Sugai – a summit overlooking Sawahlunto town with Hollywood-style lettering
Church of St Barbara,
Different colonial heritage scattered all over the city.

All those places seem to be recently restored, some museums like Tambang Batu can be visited free of charge, others – like Museum Situs Lubang Tambang Mbah Suro, has moderate prices for visitors – 40.000 rupias – that is less than 3 dollars.

Mind that on Google maps you will be directed some 16 km further north from official heritage town. The original area is located similarly to coordinates of seizing plant.
The place can be recommended to industrial heritage lovers and those who like colonial atmosphere and architecture. It is small enough to see within one day.
---
The City of Sawah Lunto, around 3-4 hrs from Padang, the capital of West Sumatra, is actually quite a small town. It is an easy day trip starting from Bukittinggi and ending it in Padang (with a close detour to another TWHS, Nagari Sijunjung).
Visited the Goedang Ransum (mass kitchen for the labourer) Museum and one of the Coal Mine. It's really worth to see how the city was alive because of the coal mining exploitation from the Dutch period, how a big deal it was during that time. I must say it is cool experience.
Highly recommended.
---
Site Info
Visitors
6 Community Members have visited.