Ombilin Coal Mining Heritage of Sawahlunto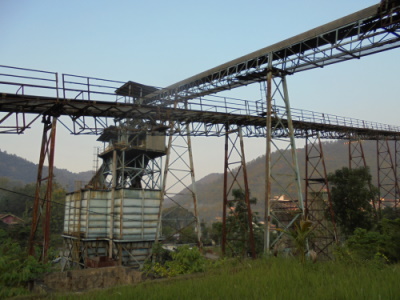 The Ombilin Coal Mining Heritage of Sawahlunto is a late 19th-century industrial system built by the Dutch colonial government.
The technological complex was a fully integrated system that covered all steps from coal extraction to the shipment of industrial-quality coal. The mines were worked by local labourers (including forced workers), and the mining town of Sawahlunto grew to 7,000 inhabitants. The site comprises 12 locations, including mines, coal fields, tunnels, a Mining School, a harbour, and a railway system.
Community Perspective: Jarek listed a number of places that are worth a visit and the appropriate geocoordinates, while Bernard managed to visit all components and pointed out more highlights.
Map of Ombilin Coal Mining Heritage of Sawahlunto
Load map
Community Reviews
---
3.00 The Philippines - 27-Oct-23 -
Tucked deep within the Bukit Barisan mountains, Sawahlunto may not ring a bell to many, but it is a city that is well worth a visit. The two-hour drive from either Padang or Padang Panjang is not short of wonderful sceneries including those offered by Kerinci Seblat National Park, the island's largest nature reserve.
The detection of coal in Sawahlunto is attributed to the Dutch colonial authorities' efforts to explore and exploit the natural resources of Indonesia (formerly the Dutch East Indies) for economic gain. The attempts by geologists and prospectors in the mid-19th century led to the discovery of significant coal deposits in the region. The coal obtained was found to be of superior quality and the valley, suitable for large-scale mining.
The seemingly endless supply of coal from the site contributed to the industrialization and modernization of the Dutch East Indies and the Netherlands. It powered machineries, railway networks, and ships that played crucial roles in transportation and trade operations during the colonial era. They invested heavily in developing it as a mining town equipped with some of the most advanced technologies of the time, demonstrating a most complete knowledge and technology transfer from Europe to the East.
While deep-bore coal mining in Sawahlunto is no longer as commercially significant as it was during the peak of the industry, declining in the latter part of the 20th century due to the depletion of coal reserves and changing economic conditions, the city was able to preserve its mining attributes in excellent conditions. Because of this, the Ombilin Coal Mining Heritage of Sawahlunto was inscribed as a UNESCO World Heritage Site in 2019. Today, the city boasts at least six museums and restored old structures where one can gain a deeper understanding of the heritage of this once prolific mining town.
Having been received by the site managers of Sawahlunto as a visiting cultural worker, I was able to see all the components that make up the world heritage site and was even accompanied by the people (local historians, fellow ICOMOS members, engineers, etc.) who worked hard to get the city in the prestigious list quite swiftly. The city boasts colonial period buildings including the company town administrative building, a church, social hall (that bears "Glück Auf", a greeting used by miners in the Erzgebirge region), hotel, hospital, mining school, railway stations, coal storage facilities, and several residences including the extensive laborers' quarter whose residents even developed their own creole. Here are some other sites that are of interest to sightseers:
Mbah Soero Mine Pit Site Museum. The museum was built on the site of a ventilation shaft of an underground mine. Through guided-only tours, it allows visitors to go 35 meters deep to get a glimpse into dark and damp world of coal extraction. During my visit, the management had just successfully drained the water that filled up Level 2 and I was allowed access to that restricted section 75 meters below the ground. The site manager shared that I was the first outsider to see it and that it will still take years before the general public can safely explore that depth.
Goedang Ransoem Museum. Not far from the mine pit site is another museum housed in the former kitchen and mess hall compound that was built in 1918. The museum showcases the meals provided to the mines' laborers and the implements used in preparing them. In each meal, the kitchen used to produce enough quantity to feed as much as 6,000 individuals. Outside, beside the coal-fired steam generator, piles of grave markers of the Orang Rangtai (meaning, chained men; slaves forced to work in the mines), distinguished by the engraved numbers corresponding to the identity of each slave, have been retrieved over the years. There is also an audio-visual room inside the museum where a short documentary on Sawahlunto's history is shown, as well as a souvenir shop that sells coal-carved products.
Museum Kereta Api Sawahlunto. Twice a month, the city's train station –the start of a more than 100-kilometer railway network— operates its last fully functioning steam locomotive. It travels all the way down to Muara Kalaban train station, passing through the 827-meter-long Kalam tunnel. The charming train museum acts a repository of instruments relating to trains and the transport of coal.
The impressive and largely unscathed colonial period railway network winds around Bukit Barisan and terminates at Emmahaven Port where another Dutch-built coal storage and sorting facility still stands. There used to be two. Entrance to the facility in the port area of Padang, however, is regulated and is only possible if permission is gained from the Bukit Asam Company. The site managers sought one for me and I was even guided inside and to the top by an engineer.
Salak Power Plant and Rantih Water Pumping Station. The former power plant is in a state of disrepair but there are plans by the management to make the former into an electrical museum in the future. According to them, it is still intact and can be brought back to operating condition. The water pumping station is fully working. While both facilities are located far away from the city center, it nevertheless rewards anyone, especially those who are interested in the history of energy production, with remarkably intact and topnotch industrial plantations.
At the end of a satisfying three-day stay in the mining town, a greater sense of appreciation to industrial heritage is born. Charming, cool-climate, and tourist-friendly Sawahlunto offers a journey into history where guests can see one of the greatest achievements during the Dutch colonial period in Southeast Asia.
---
Site visited in August, 2019, Just a few weeks after inscription. Nice surprise. I managed to see 2 components out of 3: coal storage facilities located in Padang (port of Emmahaven), and mining town Sawahlunto.
Initially visited those storage facilities in Padang – area is not marked by any means – you should use location from a website (exact coordinates 0°59'28.7"S 100°22'51.6"E). Site consists of warehouses, infrastructure and different machineries connected with coal. The whole site looks as unused and a bit neglected for some time but is still fenced – the only access is from western part of Jl Tj. Priuk road. As for August 2019 the site looks as completely unprepared for mass tourism but you can visit all places at your own risk – some areas are not very secure. The site can be reached from Padang central area (around 7 km) by Go Jek or by local public transport (minibuses).

Sawahlunto itself is a small mining town located some 2 – 3 hours from Padang. You can easily use public transport (regular buses are from Jl Dr. Sutomo road), approximately hourly during the day.
The city looks prepared for tourism. There are several hotels (different standard), homestays (there is an office that gather all homestay offers – they can call and reserve such a place for you – standard also different), restaurants, museums, tourist information center – there is a decent map of the area with information in English.

Places not to miss in Sawahlunto area are:

Sizing plant (huge industrial area with silos, transporters, factory buildings, located approximately 0°40'43.5"S 100°46'28.8"E
Administration building of Ombilin Coal Mine – Bukit Asam PT (photo),
Museum Tambang Batu Bara Ombilin – different objects from mining activities as well as history of the town and coal mining,
Hole Mine Site Museum Mbah Suro & Infobox – museum and a possibility to see an underground coal mine, visits only with a guide, underground corridor is approximately 200 meters long,
Museum Goedang Ransoem – former kitchen for miners,
Puncak Polan, Puncak Guak Sugai – a summit overlooking Sawahlunto town with Hollywood-style lettering
Church of St Barbara,
Different colonial heritage scattered all over the city.

All those places seem to be recently restored, some museums like Tambang Batu can be visited free of charge, others – like Museum Situs Lubang Tambang Mbah Suro, has moderate prices for visitors – 40.000 rupias – that is less than 3 dollars.

Mind that on Google maps you will be directed some 16 km further north from official heritage town. The original area is located similarly to coordinates of seizing plant.
The place can be recommended to industrial heritage lovers and those who like colonial atmosphere and architecture. It is small enough to see within one day.
---
The City of Sawah Lunto, around 3-4 hrs from Padang, the capital of West Sumatra, is actually quite a small town. It is an easy day trip starting from Bukittinggi and ending it in Padang (with a close detour to another TWHS, Nagari Sijunjung).
Visited the Goedang Ransum (mass kitchen for the labourer) Museum and one of the Coal Mine. It's really worth to see how the city was alive because of the coal mining exploitation from the Dutch period, how a big deal it was during that time. I must say it is cool experience.
Highly recommended.
---
Site Info
Visitors
8 Community Members have visited.