Mistaken Point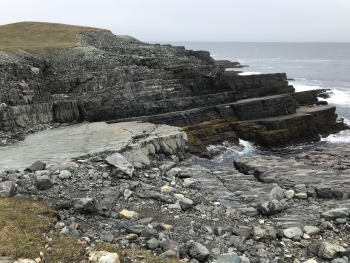 Mistaken Point is a 17-kilometer-long coastal strip renowned for its fossil deposits on exposed rock surfaces.
The more than 10,000 fossil impressions date from the middle Ediacaran, 580 to 560 million years ago. They show the transition of life on earth from microbe-dominated to the ancestors of animals as we know them. These large and complex organisms lived on the deep-sea floor.
Community Perspective: Located in the far southeastern corner of Newfoundland, this is considered the most interesting of the three fossil sites in East Canada. It has a small visitor center, but the main focus is the guided hike along the coastal marshland to the rock platforms with the fossils that have been kept mostly in situ and can be clearly seen.


Community Reviews
---
3.50 The Netherlands - 22-Jun-22 -
Along with Red Bay in Labrador, Mistaken Point is the hardest-to-reach World Heritage Site of the 10 in Eastern Canada. Located in the far southeastern corner of the island of Newfoundland, it can only be visited with a prearranged tour. I reserved 4 weeks in advance by e-mail and was given a choice between two time slots on my preferred day. Fortunately, the tours rarely get cancelled ("about 5 times a year") as bad weather does not deter the Newfoundlanders, they are only called off when the waves are so high that they cover the fossils or it gets dangerous. The day before the visit, I drove from Deer Lake in the West to St. John's, the largest city in the East (which takes 6.5 hours). Then it's a further 2 hours to the South via the "Irish Loop", a coastal road across the Avalon Peninsula past many villages of Irish origin.
12 people showed up for the 10.30 a.m. tour, all Canadians except me. We were then invited to follow our guides by car in convoy towards the starting point of the trail towards the fossils. Do they do it this way to discourage illegal entry? The entrance (just a rope across a path) and parking lot aren't exactly hidden, but they don't advertise it either. You could find the exact location on Google Maps of course but it is not signposted from the road. Also, when we parked our cars, we had to put a sign with the text "Tour" behind the windscreen: the police(?) apparently do check on illegal visitors.
Above the cliffs, a narrow strip of peat has been designated as a buffer zone, with a sign referring to the Ecological Reserve every few hundred meters. Besides tourists who go on a tour like this (about 1000 per year), local people with a special permit are also allowed to enter the area. They may hunt and pick berries there; the bakeapple (cloudberry) is popular for making jam.
The 3km trail is easy, and a wooden bridge was even recently built to help you across a little stream. It rained heavily at the start of our visit, but fortunately, the sky cleared when we got to the fossils. These are best seen on two flat, horizontal coastal rocks. You are allowed to walk on the rocks, as long as you take off your shoes and leave behind other items such as a backpack or hiking poles. They don't hand out slippers or free socks anymore – instead, the trip confirmation e-mail said: "bring a spare pair of socks"! In the end, I didn't even need them, as the rocks had dried up enough to stay dry with some clever positioning of your feet.
We were given laminated papers with examples of what the various fossils look like, and the guide pointed out the most important ones. Some look like leaves, or like the ferns you see in Joggins. However, they are all small organisms with no shells, bones, or other hard parts. Compared to Miguasha and Joggins, relatively few fossils have been removed here. This is probably because they were discovered so late (1967) – but still, until the 1980s the area was unprotected and 200-250 fossils have disappeared into museum collections. You can still see in a few places that a piece is missing. Sometimes also a boulder has fallen on top of them, you can see the damage. Erosion however is the main cause that more and more fossils are lost.
Visiting Mistaken Point will also introduce you to the charming Avalon Peninsula. It is recommended to drive the full Irish Loop (as mentioned above). There are gas stations along the way but hardly anywhere to buy food or drinks (so bring your own). There seem to be more amenities on the east side of the loop than on the western side. Not to be missed there as well is Witless Bay Ecological Reserve – home to hundreds of thousands of breeding seabirds at its islands. I joined a very satisfying 1.5-hour boat tour here and saw more common murres than I had ever seen together in my life, as well as loads of puffins and we had good views of both minke and humpback whales.
Read more from Els Slots here.
---
3.50 Chinese-Canadian - 29-Jul-19 -
So with this one I had finally "ticked off" all sites in NF but each one was great. I specifically say NF because the site in Labrador sucks. Mistaken Point, named after the many ships that turned too early and wrecked here, is a fossil site. Unlike many fossil sites there is more to see than fossils. The nature at the tip of the Irish route is beautiful, you see many flora, in summer there were thousands of whales at the shore that come right into the bay, there is a seal that comes to visit tourists at the fossil area (I forget its name, Barry?), and this is overall a wonderful day out. It will take an entire day and you must prebook although an Indian fellow had only inquired a night before to join us, there were only two groups of ~12 in total. You also need to check in with them at noon before leaving an hour later, then you return at 4pm. So you cannot really add any special sightseeing to this day's itinerary (but they have whales!). Furthermore, you must have your own car, really, I mean you could theoretically take whatever transportation to get to their office and then get a ride to the parking lot inside the reserve but it just doesn't make sense.
Unlike all other sites (in NFL or even in all of Canada) this is not run by Parks Canada. Their office still has a nice introduction to the site but I really felt it was not up to par with the National Park videos in the US.
Before I continue I want to mention that they give you a free pair of socks!! I ended up not using it but you must not tread on the fossils with shoes thus they offer this in case. It may get wet.
After a 30 minute ride to the parking lot, half of it paved, you get split into groups and head along the trail to the fossil site. It takes 30-45min depending how many things get explained on the way. The guides are really lovely like most Newfies.
Once at the fossil rocks you take off shoes and step on the lower platform. With a handy sheet you can explore the fossils and figure out their names. Some don't even have names yet. Platform B has different kind. The other rocks also have fossils but tourists are only allowed in these two and it is enough to have fun while learning. I can't say that for the other similar inscribed places.
---
5.00 Vancouver Canada - 27-Jul-18 -
The name alone conjures up shipwrecks and those who ventured where they should not have.  This is a challenging site, and weather conditions should be taken into account.  While it is only 70 kilometres from St. John's, it feels a world apart, and the road had surprisingly little traffic.  However, in July there was a waiting list to do the tour, which is the only way you can see the fossil area.  You need to book a few weeks ahead, and checking the forecast is a good idea too.  The tour does not go ahead in very wet, foggy or windy weather, so call before you proceed. The landscape is stunning, with open fields and wide vistas, as well as having sections with wildflowers and stunted forests created by the strong winds.  We were lucky to draw a dry day, and the 3 km walk each way is mainly difficult near the end where you have to ford a river by stepping on rocks.  These can be slippery when wet, and sometimes the water may be too deep to see the actual stepping stones.  
  Once near the fossil area, you need to put on felt booties, which protect the delicate rock faces but aren't great for grip near a steep cliff edge and raging seas below.  The fossils themselves are interesting and are of sea life from ancient times and fairly eroded, so the guide is quite useful. Our tour consisted of mainly older people and one rambunctious child, so we were happy to make it back to the visitor centre without incident.  The staff were great, but there aren't many facilities in the area to stay or eat.  Those of you who depend on public transport might prefer to rent a car. The gathering area near where the walk commences is some 15 minutes away from the Welcome Center and everyone usually goes there in a caravan of automobiles!
All in all, this site was unforgettable!
Visited 11JUL 2018
---
We visited Mistaken point on Canada Day 2018 and was greated with cake at the visitor center. It was rainy and cold, not the best for a hike out to the fossil site.
The visitor center is on the highway at Portugal Cove South, outside the sites boundary. It is about 2 h by car from St. John and you will need a car to get to there. You also need to join a tour to get into the core zone. We had pre-booked a tour on the website at 13:00, the only one that day. Quite a steep price, 24 CAD per person. The visitor center was small and kind of boring. No cafes or store around either, so bring some food and drinks because the tour took about 2-3 hours.
First there is 10 km drive to a parking lot followed by a 3 km hike through the marshland. Some places were really wet, so hiking boots are recommended. The rain and wind really made it a cold walk, but as a miracle it stopped raining when we got to the core zone 😊. The site is by the ocean and sometimes whales can be seen although we didn't.
At the actual site we had to take off our shoes and put on some soft slippers before we could walk out on the fossil site. On our tour in Canada we visited all the fossil sites, and this was clearly the most interesting one.
The fossils are 500 million years old, and there were so many and so visible. Really amazing.
If you are visiting on a rainy day, bring extra socks. The slippers you are wearing on the rocks get wet and so does your socks.
From the parking lot at Mistaken point, there is a 10 km short detour on gravel road to Cape Race Lighthouse. In 1904 they put up a Marconi wireless radio station at the lighthouse. I 1912 it was all over the news, when they received distress calls from Titanic. There is a small museum on the site. Worth a visit to this outpost when you are in the area.
### Randi & Svein
---
I visited Mistaken Point in October 2016.
Mistaken Point is home to the oldest multicellular fossils on Earth. They are found in a thin layer of rock which is right on the Atlantic Coast.
While the site can be visited on a day trip out of St. John's, there are several things you should know before you go, as they could ruin your trip.
The most important thing to know is that you can only access the fossils on a group tour which starts at the Mistaken Point visitor center.
Also, only a small part of the Mistake Point Ecological Reserve is part of the world heritage site.
Read more about Mistaken Point on my website.
---
S. B. Misra
It is surprising that the site remains without signage. I wish I could put some interpretative sign boards there. I remember every bit of the area even after 40 years of my long association with the fossils and rocks of the region.I am in the possession of fossil bearing original rocks and casts of fossis. My Masters thesis submitted to Memorial University details the terrain how it was like in 1967-69.
---
Mary Moylan
I came across this site almost by accident. After a long hike with a friend through some medium difficult terrain and fording a small stream we came across these breathtaking rocks, full of fossils. Quite unprotected from the weather and no interpretative signage. This place desperately needs preservation and also protection as we could have walked on top of these precious remnants of human beginnings. We were the only two there but subsequently ran into the local archaeologist who filled us in on what we'd seen.
---
Site Info
Full Name

Mistaken Point

Unesco ID

Country

Inscribed

Type

Natural

Criteria

8

Categories

Link
Site Links
Unesco Website
Official Website
Related
In the News
Visitors
30 Community Members have visited.