Mistaken Point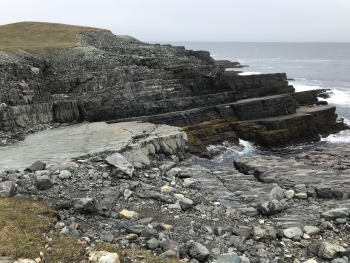 Mistaken Point is a 17-kilometre-long coastal strip renowned for its fossil deposits on exposed rock surfaces.
The more than 10,000 fossil impressions date from the middle Ediacaran, 580 to 560 million years ago. They show the transition of life on earth from microbe-dominated to the ancestors of animals as we know them.
The site was first discovered in 1967, and lies in Canada's Newfoundland and Labrador Province.
Map of Mistaken Point
Legend
Community Reviews
---
I visited Mistaken Point in October 2016.
Mistaken Point is home to the oldest multicellular fossils on Earth. They are found in a thin layer of rock which is right on the Atlantic Coast.
While the site can be visited on a day trip out of St. John's, there are several things you should know before you go, as they could ruin your trip.
The most important thing to know is that you can only access the fossils on a group tour which starts at the Mistaken Point visitor center.
Also, only a small part of the Mistake Point Ecological Reserve is part of the world heritage site.
Read more about Mistaken Point on my website.
---
S. B. Misra India - 30-Oct-11
It is surprising that the site remains without signage. I wish I could put some interpretative sign boards there. I remember every bit of the area even after 40 years of my long association with the fossils and rocks of the region.I am in the possession of fossil bearing original rocks and casts of fossis. My Masters thesis submitted to Memorial University details the terrain how it was like in 1967-69.
---
Mary Moylan Canada - 25-Nov-09
I came across this site almost by accident. After a long hike with a friend through some medium difficult terrain and fording a small stream we came across these breathtaking rocks, full of fossils. Quite unprotected from the weather and no interpretative signage. This place desperately needs preservation and also protection as we could have walked on top of these precious remnants of human beginnings. We were the only two there but subsequently ran into the local archaeologist who filled us in on what we'd seen.
---
Community Rating
Community Rating 3.83. Based on 3 votes.
Site Info
Full name: Mistaken Point
Unesco ID: 1497
Inscribed: 2016
Type: Natural
Criteria: 8
Site Links
Unesco Website
Official Website
Related
In the News
Connections
The site has 6 connections.
Visitors
8 community members have visited Mistaken Point.