Lake Turkana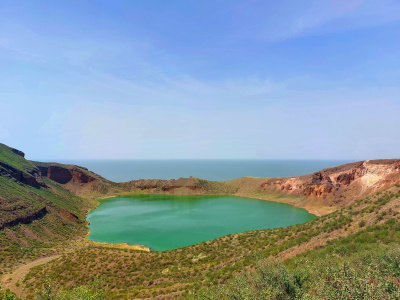 The Lake Turkana National Parks provide an important stopping point for migratory birds and holds fossil and geological records that have brought an understanding of its paleo-environment.
The parks consist of Sibiloi National Park and two islands on Lake Turkana (South Island and Central Island). They contain both animal and hominid fossils in the Koobi Fora deposits which are unique in the world. The parks also are a breeding ground for the Nile crocodile, hippopotamus, and snakes.
Community Perspective: more romantically known as the Jade Sea, the area is characterized by a constant fight for survival against drought and starvation.
Community Reviews
---
4.50 South Aftica - 25-Dec-19 -
Visited September 2005.
As I was born in Kenya, it holds a special place in my heart. The Northern Frontier District or NFD has always been seen as a very wild place and certainly not for the faint-hearted to visit.
Lake Turkana itself has gone by many names, initially Lake Rudolph and the more romantic Jade Sea.
Life for the local tribes people is a constant fight for survival against drought and starvation. Camels and goats are the only animals able to survive these conditions.
Lake Turkana is absolutely huge and you could spend many weeks traversing its shores. Of particular interest to the adventurous soul are the Volcanic islands which have their own lakes within them. Hiring a reliable boat is essential as it gets very rough out on this mini sea.
Also of great interest to human history are the archaeological finds that have been made along its eastern shore.
Finally their are the immensely interesting tribes people who inhabit its shores. Regularly in conflict with one another over the limited resources available it is always good to keep abreast of travel advisories, and particularly in respect of somali incursions. Some of the local practices such as female circumcision may make you cringe and witch doctors still hold sway over modern medicine.
The best way to visit as we did, is with a small group of people led by an experienced guide/driver/mechanic.
If you want to see an Africa which is in most respects unchanged over millenia then this is the place to come. Combine your trip with a visit to Samburu and Marsabit and be amazed at the vistas that extend infinitely into mirages.
Read more from Richard Stone here.
---
Site Info
Full Name

Lake Turkana National Parks

Unesco ID

Country

Inscribed

Type

Natural

Criteria

8

10

Categories

Link
Site History
2018

In Danger

Threats come from Dam in Ethiopia (already complete), plus sugar developments and the LAPSSETT project
2001

Extended

To include South Island National Park
2001

Name change

From "Sibiloi/Central Island National Parks" to "Lake Turkana National Parks"
1997

Deferred

Bureau - Need to sort out Natural aspects (Mammal fossils) from Cultural (Hominid) even though Kenya only nominated under natural criteria
Site Links
Unesco Website
Official Website
In the News
Visitors
18 Community Members have visited.