Bikini Atoll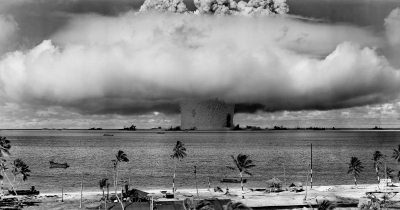 .
Bikini Atoll is a group of 23 islands in the Pacific that is forever linked with the nuclear age. Between 1946 and 1958, twenty-three nuclear devices were detonated at Bikini Atoll by the USA.
The local inhabitants were displaced and the tests had major consequences on the geology and natural environment of Bikini Atoll and on the health of those who were exposed to radiation.
In 1968 the United States declared Bikini habitable and started bringing a small group of Bikinians back to their homes in the early 1970s as a test. In 1978, however, the islanders were removed again when strontium-90 in their bodies reached dangerous levels after a French team of scientists did additional tests on the island.
Prior to the explosion of the first atomic bomb on the island, the lagoon at Bikini was designated as a ship graveyard after World War II by the United States Navy. Today the Bikini Lagoon is still home to a large number of vessels.
Map of Bikini Atoll
Legend
Community Rating
Community Rating N/A. Based on 0 votes.
Site Info
Full name: Bikini Atoll
Unesco ID: 1339
Inscribed: 2010
Type: Cultural
Criteria: 4 6
Site Links
Unesco Website
Official Website
Related
In the News
Connections
The site has 21 connections. Show all
Visitors
3 community members have visited Bikini Atoll.