Bamiyan Valley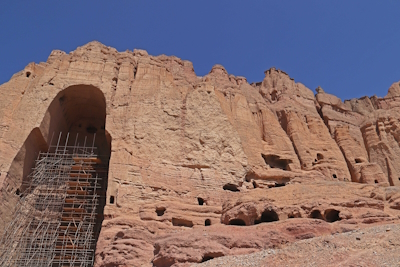 The Cultural Landscape and Archaeological Remains of the Bamiyan Valley is an outstanding representation of the Buddhist art that resulted from the interaction between man and nature especially from the 1st to 13th centuries CE.
The kingdom of Bamiyan was a Buddhist state positioned at a strategic location along the trade routes that for centuries linked China and Central Asia with India and the west.
Many statues of Buddha were carved into the sides of cliffs facing Bamiyan city. The two most prominent of these statues were standing Buddhas, measuring 55 and 37 meters high respectively, that were the largest examples of standing Buddha carvings in the world. They were probably erected in the 4th or 5th century.
In March 2001, the Afghan Taliban government ordered them to be demolished.
Community Reviews
---
Tara- Michelle Foster
This site is only one of the things Afganastan has to offer as a tourist attraction and I reckon it is a real beauty and a half.After all Afganastan have been through with the TALIBAN, Afgnastan has lost alot of tourist because the world still considers it to be an unsafe place. Belive me it it provides cultral and is a safe place-it does have it dangerous share of the place but then again doesn't every country?
Anyway Landscape and Archaeological Remains of the Bamiyan Valley is an educational and cultral place to come and vist coming here is like an time travel machine and it is very cheap
i really recommend this place to all looking for somthing authentic
---
sidney
It was not exactly a day more like a 2 week experience in 1971. The most amazing place on my journey East. I had the good fortune to sit on the Giant Buddhas head and meditate and watch the sun rise over the Hindu Kush and watch those mountain peaks turn a color red that I had never seen in my life. The sunset on the buddha was just as spectacular. Lost to us forever by forces from hell. I also had the good fortune to ride horses over the fiords of Band I Amir lakes. I will never forget my trip to Bamiyan, I cried when I saw the destruction of the Buddha, I cried for all our loss but most of all for Hazra people who no longer have the magic of the Buddha. Sidney
---
Site Info
Full Name

Cultural Landscape and Archaeological Remains of the Bamiyan Valley

Unesco ID

Country

Inscribed

Type

Cultural

Criteria

1

2

3

4

6

Categories

Link
Site History
2003

In Danger

"suffered from abandonment, military action and dynamite explosions. Parts of the site are inaccessible due to the presence of antipersonnel mines."
1983

Deferred

Deferred as conditions under which recommendation made not yet fulfilled
Visitors
13 Community Members have visited.