Ancient Kingdom of Saba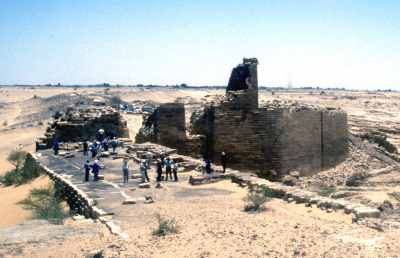 The Landmarks of the Ancient Kingdom of Saba, Marib comprise 7 archaeological sites representative of this ancient civilisation of South Arabia.
The Kingdom flourished from the 8th century BCE to the 3rd century CE and mainly relied on the trade of incense. The Landmarks contain the ruins of the Great Marib Dam, an ancient wonder of the world for its innovative irrigation system whose destruction was referenced in the Koran. The city of Marib was the largest and most populous in the kingdom and was surrounded by a 4.5km long wall. Outside the city are the remains of two Sabean temples, the oval temple of Awwam, known as the sanctuary of the Queen of Sheba, and the Barran temple, dedicated to the moon god Almaqah.
Community Perspective: having visited in 1996, long before the site became inscribed via the emergency procedure, Solivagant details its history and his visit to a region that held a reputation for kidnapping visitors.
Community Reviews
---
Only time will tell whether Marib, as a recent report suggests, really is a serious contender for inscription in 2023 - or even relatively soon thereafter, in a country riven by a long running civil and proxy war which shows no sign of ending and which is currently raging close by. We visited way back in April 1996 but it hasn't yet been reviewed by any of the 3 "Community members" who have recorded a visit to it. The news of its possible nomination has stimulated me to do so despite the passage of so many years!
Marib was "capital" of the Semitic Sabaean Kingdom which ruled in southern Arabia from around 10th C BCE, reaching its peak between 7th/5th C BCE - the era of its great monuments including those of Ma'rib. Its wealth derived from agriculture, supported by dams such as that at Ma'rib, and trade including in frankincense. It had close links with Ethiopia and its script is related to the one used there to this day. It survived various vicissitudes through to the Common Era and was eventually overrun by Persians and Arabs. Its famed wealth was reflected in Judaic biblical stories and associated legends regarding the possibly legendary "Queen of Sheba". These were carried through to and adapted by Islam in Surah 34 of the Quran (covering the destruction of the Marib Dam and conversion of the unnamed Queen of Saba by Solomon).
The first excavations at Ma'rib took place as recently as 1951/2, instigated by the US archaeologist-cum-oil magnate Wendell Phillips. But even he, the "great fixer", had to depart rapidly, leaving all his equipment behind, when faced with tribal tensions and complexities. His life story (he is often considered one of the real characters on whom Indiana Jones was fictionally based), is a great read. Another interesting fact, of which I was unaware before researching this review, was that his younger sister, Merilyn Phillips Hodgson, returned in 1998 (2 years after our visit and 23 after her brother's death!) to restart excavations at Ma'rib and continued doing so annually through to at least 2006.
In 1996 Yemen was generally situated on the "safe but slightly adventurous" list as a tourist destination. However, within the country, Ma'rib wasn't a completely straight forward place to visit. A weak central government, which was still trying work though the North/South unification which had been agreed in 1990 and had led to the first civil war in 1994, didn't have full control of the area. The tribes people had a long standing reputation for kidnapping visitors and for general "awkwardness" to outsiders. Such kidnapping was often less dangerous than might be thought since the victims were being targeted primarily as a tool to leverage demands on central government rather than as part of a "terrorist" agenda and there were often reports by returning hostages of having been treated courteously as "guests"!
We were able to reach Ma'rib on a day return road trip from Sana'a - 173kms by twisty road which dropped 1500m from mountain to desert. 2 months earlier, 17 French tourists had been kidnapped (but safely released) and we were assigned a couple of machine gun carrying guards! There was almost certainly no need, and our main concern was the state of our driver who seemed to be worryingly "happy" whilst chewing his huge ball of Qat acquired at a market a few miles outside Sana'a where we had to stop whilst he bought that daily necessity of Yemeni life. However, in Dec 1998, a group of tourists travelling with a British tour company were taken hostage and 4 lost their lives during a failed rescue attempt by the Yemeni government. This seems to have been one of the first occasions in which Islamic "extremism" rather than tribal issues was involved. Since then Yemen has yo-yoed on and off the international tourist map. In July 2007 a suicide bomber killed 7 Spanish tourists at Marib temple itself. I note that the reviews of the TWHS sites of Jibla and Thula on this Web site (which we also visited in 1996) related to visits in early 2007 and 2009. … to what extent Ma'rib was also still "open" around that time I don't know, but the general descent of the entire country into Civil war from that date can be followed on Wiki and, to all intents and purposes, had totally removed Yemen from the "normal" tourist map by 2011.
The details of our "visit experience" are not likely to be of use to any future visitors if and when the country eventually reopens, so I will concentrate on simply introducing the site. The first aspect to note is that, at the time of writing this review, we have the site described as consisting of "1 location". The T List description indeed seems to envisage the creation here of a place of homage to early Yemeni civilisation, partly as a unifying feature for the country - "à faire de ce site un lieu fondateur de son identité et de son unité…..Un Parc Archéologique dans ce lieu mythique donnera aux pays du monde l'image d'une grande civilisation, égale à celles de Mésopotamie, d'Egypte, d'Abyssinie." Grand hopes of a united Yemen which is currently a long way off! In fact it would seem from the T List description and Google Maps that 4 locations will be needed even of they are "united" into a single Archaeological Park - they are all separated from each other by built up areas and, in the case of the Dam, by around 13 kms of desert. Wiki has good articles on b/c/d so I won't describe them or their history.
a. Historical Marib (15.427136, 45.335904). Wiki describes this as "The site of ancient Marib….largely abandoned during the 20th century. Although a small village remains, the multi-story mud-brick buildings of the historic city are largely in ruins". It was apparently bombed by Egyptian planes in the first civil war even before our visit and all remaining inhabitants moved to "New" Marib (Now a city of over 1 million people, swelled by persons displaced by the Civil wars - compared with a few thousands in 1996). The UNESCO description refers to it as separate from the Temples which are "beyond (it's) walls" so it may well be included in any nomination. It provided attractive photography opportunities from a distance but we didn't go in and walk round.
b. Barran Temple (15.403058, 45.343199). "Arsh Bilquis" or "Throne of the Queen of Sheba" (Bilquis = Sheba in Islamic tradition). This is the one with the "iconic" 5 big and 1 small, pillars in a row!
c. Awwam Temple (15.404348, 45.355443). "Mahram Bilqis" or "Sanctuary of the Queen of Sheba". The one with the "iconic" 8 pillars in a row (Photo)!
d. Old Marib Dam (15.397803, 45.271445). Perhaps the most "important" element of the entire ensemble. The approximate date of construction is subject to debate but is probably 8C BC or earlier. The size of walls to this day is impressive and, as in the 2 temples, there are easily viewable stones with carved inscriptions in early Semitic languages such as Sabaean and Himyaritic. The Dam was damaged in 2015 by Saudi bombing.
Comparing my photos from 1996 with more recent ones I am surprised at the amount of change which had taken place - due partly, I guess, to those seasons of excavation by Merilyn Phillips Hodgson, but, perhaps, also reflecting a degree of improvement in presentation during c 15 further years when Yemen was a tourist destination. When we were there it looked rather as if the desert was still blowing in! Whatever the reality of the current "nomination situation" this is a site which clearly justifies inscription….and a visit by anyone going to Yemen!
---