Agadez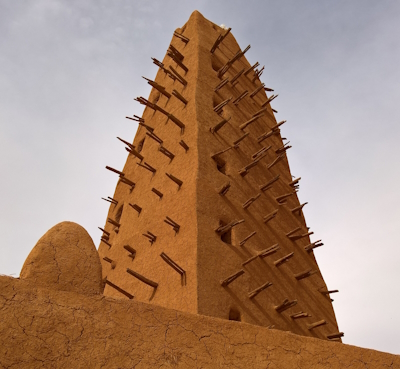 The Historic Centre of Agadez has an original irregular street layout, which dates from its creation in the 15th century on the structure of existing Tuareg encampments.
At that time, the Sultanate of Aïr started a process of sedentarisation and consolidation of various Tuareg tribes. The town became an important centre in the trans-Saharan caravan trade, linking the Maghreb to the Sahel.
Agadez still is the largest and most important city in the region. It comprises 11 quarters, with buildings made of mudbrick. Notable buildings, next to many traditional houses, include:
Palace of the Sultan of Aïr
Grand Mosque including its 27 metre tall minaret (the world's tallest minaret made entirely of mudbrick)
Hotel de l'Aïr, originally a palace
Community Reviews
---
Agadez has been on my African agenda for a very long time, and it was only in autumn 2011 that I made my way to this remote Tuareg outpost in Niger's northern Air region.There were travel warnings in place by almost all western governments, and direct flights to Agadez have all been cancelled.The only practical way to reach the Sahel town was the early morning bus that leaves the Niger's capital Niamey at 4.30h. A sunrise to sunset expedition that usually takes 12 long hours.
As we reached the outskirts of Agadez, there was a police checkup, my passport was taken away, and I got the message to show up at the Police Headquarters the next day for interview!but no problem, I was just advised not to leave
town for some Sahel adventure without informing the Police headquarters!
The old town of Agadez is manageable in just one day by foot and the main attractions like the Grand Mosque, originally built 1515,rebuild in 1844, then the Sultans Palace, yes there is still a real Sultan residing here, and sometimes he even gives audience to tourists and visitors!
The real charm of Agadez is to just wander around in its narrow sandy alleys, climb the old houses, the best view that can be enjoyed is from the roof terrace of a restaurant just opposite the Grand Mosque.
Also worth a visit is the old bakery, la Maison du boulanger, its a perfect place to get a first hand impression how daily life must have been in the old days!
I also visited the camel market, a little outside of town, but with excellent photo opportunities.
---
Site Info
Site Links
Unesco Website
Official Website
In the News
Visitors
9 Community Members have visited.