Birkenhead Park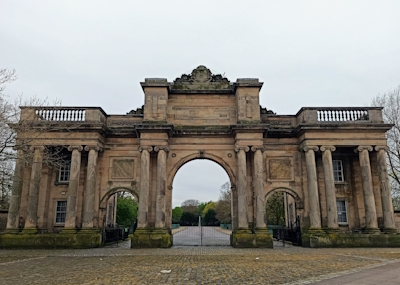 Birkenhead Park, the pioneering People's Park is part of the Tentative list of United Kingdom in order to qualify for inclusion in the World Heritage List.
Birkenhead Park, the pioneering People's Park, is an English Landscape Garden from the mid-19th century. The urban park was paid for by the municipality and aimed at the general public. At the grounds, a variety of architectural components were placed by the park's designer Joseph Paxton to simulate a journey through Western Europe.
Map of Birkenhead Park
Load map
The coordinates shown for all tentative sites were produced as a community effort. They are not official and may change on inscription.
Community Reviews
---
The soundscape of Birkenhead Park could almost have been the soundscape of any country park: the rustle of squirrels in the foliage, the quacking of ducks on the lakes, the sudden plosive eruption of a flock of pigeons bursting into flight. Two very English sounds intruded. The cheers of spectators heralded competing cricket matches. And over by the Grand Entrance morris dancers clonked their sticks against each other. They danced for the May Day weekend. And they danced for the last celebration of Birkenhead Park's 175th anniversary year.
Birkenhead Park is not spectacular. It is nice enough, well cared for, and locals know to bring bags of monkey nuts to feed to the resident squirrels. It is a naturalistic landscaped expanse of pastures, woodlands and lakes criss-crossed by paths. There are a couple of noteworthy follies around the Lower Lake. The Swiss Bridge is a red, rather oriental-looking, covered wooden bridge (left in photo) and the Roman Boathouse (right) is an eye-catching lakeside pavilion. There is also a variety of fanciful mid-19th century architectural constructs fringing the park too, from the massive Grand Entrance to several 'lodges' (of which the 'Italian Lodge' with its open belvedere on Park Road South is the highlight).
In the early 19th century Birkenhead grew rapidly from a small village of barely one hundred people to a major industrial centre. This was principally due to its complementary location on the Mersey estuary opposite the 'mercantile maritime city' of Liverpool. Ironworks, a shipbuilding yard and a major expanse of docks stimulated growth. The historic 'ferry across the Mersey' was replaced by a steamship, permitting the wealthy of Liverpool to move out to a more rural location, and Hamilton Square was laid out in Georgian fashion to provide a civic focal point to the booming town. As part of the civic fathers' plans for their new town they commissioned a park to provide recreational and health opportunities to all. The new park, designed by Joseph Paxton and Edward Kemp, opened to the public on 5th April 1847. What is most noteworthy about Birkenhead Park is how it was funded. This was not an existing stately park opened up to public access, nor a park funded and donated by a wealthy benefactor. Birkenhead Park was funded and planned by the local municipal authorities for the benefit of all (though extra money was raised through selling off the neighbouring plots to the wealthy for housing). The fact that they contracted Paxton and Kemp, who had previously worked together on the gardens of the Duke of Devonshire's Chatsworth House, demonstrated the city fathers' ambition. Birkenhead Park was hence the world's first publicly-funded park. It started a trend for municipal parks across the UK and further afield (Frederick Law Olmstead visited prior to submitting his designs for what became New York's Central Park).
And the fact that it was the world's first publicly-funded park is, I think, the sole reason Birkenhead Park has made it to the UK's T-List. And I just don't think there's enough here to justify an inscription. There are plenty of planned urban landscapes incorporating parkland for the benefit of the residents already on the List – does it really matter that Birkenhead used taxpayers' money to fund a park rather than Titus Salt funding a park alongside his factory and workers' housing? Interestingly, the early 20th century Port Sunlight, a different planned urban environment located only a 15 minute drive away from Birkenhead Park, was proposed for inclusion on the UK's T-List in 2022 but was unsuccessful. I personally think that the Port Sunlight proposal, demonstrating how it influenced a more egalitarian 'garden town' concept of urban planning, was the worthier option. And despite its delisting, there is still more than enough to see in Liverpool to make it worthwhile for a heritage-focused exploration. Happily all three locations are easy to access. The ferry still runs across the Mersey from Liverpool to Birkenhead and trains run under the river through Hamilton Square to both Birkenhead Park and Port Sunlight (though you will need to change trains to travel between Park and Port). Or there is usually free on-street parking around and about. Personally, I just walked downhill from my parents-in-laws' house.
World Heritage-iness: 1
Our Experience: 1.5
(Visited July 2020, December 2021, April 2023)
---
We visited Birkenhead Park in June 2022. The park is open 24h a day, 7 days a week, free of charge. You can easily park your car (for free as well) along the streets around it, or access it by public transport (by train from Liverpool, which is just on the opposite bank of the Mersey).
Birkenhead Park offers everything you can expect from a typical English city park : wide open greens and wooded areas ; an artificial lake (with ducks and swans) and meandering paths around it, bridges, a bandstand, a boathouse on its shore ; all sport facilities : tennis courts, bowling greens, and of course a cricket ground where the local junior team was practicing on that day. This makes it a very nice place to spend a leisure afternoon. It advertises itself as "the People's park", having been thought and created from its very origin as a public park and opened as early as 1846. Open to everyone, all the time. It would even have inspired the creator of Central Park in New York city during a trip he made to Liverpool soon after Birkenhead park had opened. All in all, I think we spent two hours in the park, including some time to enjoy ice creams.
This being said, what makes it so special or outstanding? Well, the leaflet you can pick up at the Visitors' centre proudly reads "World's First". And, I would say, that's it. We were lucky enough to live in central London for five years, half way between Regent's Park and Hyde Park. They both exceed Birkenhead Park in beauty, size, design, variety of landscapes, age. Of course they were initially private parks, for the upper class only (and are still "Royal Parks"), but from a visitor or user experience, that does not really matter nowadays. British people are without any doubt experts for parks and landscapes design, but is Birkenhead really "outstanding"? Looking out of the UK, parc des Buttes Chaumont or parc Montsouris in Paris, just to name a few, are not less valuable and are almost as old as Birkenhead park : it will need a top class nomination file to explain why Birkenhead should be the one to inscribe.
Still, this is an unusual nomination and for sure no such park has been inscribed yet on its own. Would this be enough? The recently updated UK tentative list is quite disappointing – only four new sites, of which another medieval town with a nice cathedral, and a duplicate of the already inscribed Wadden Sea – so I would still prefer to see Birkenhead put forward by the UK administration for inscription. And they will want to "heal" the delisting of nearby Liverpool, too. While you are there, do pay a visit to Port Sunlight model village : we were very positively surprised by the quality of that place and the number and preservation state of the buildings. We visited both Port Sunlight and Birkenhead on the same day, that's a 20 minute drive between the two places.
---
Community Likes
Site Info
Full Name

Birkenhead Park, the pioneering People's Park

Country

Added

2023

Type

Cultural

Categories

Link
Site History
2023

Added to Tentative List
Visitors
6 Community Members have visited.