Montado, Cultural Landscape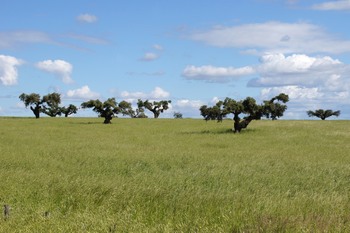 Montado, Cultural Landscape is part of the Tentative list of Portugal in order to qualify for inclusion in the World Heritage List.
Montado is a cultural landscape in south Portugal covering significant areas in the Alentejo region, the Tagus valley, and the mountain range of the Algarve. Montado is a traditional agro-silvo-pastoral ecosystem, which means a combination of livestock breeding on pastures and agriculture in a low-density forest area. The tree population consists mainly of cork oak and holm oak.
Map of Montado, Cultural Landscape
Load map
The coordinates shown for all tentative sites were produced as a community effort. They are not official and may change on inscription.
Community Reviews
---
October 2020 - we drove south from Lisbon to Vila nova Milfontes. We took the occasion and took the most scenic roads through the cork forests of montado. We were driving for a few hours and all we saw was dry plantations with cork trees. I am positive, that if it should become a WHS we passed the core zone at some point or another. I would be in favor of seeing this tremendous amount of cork shaping the landscape being recognized.
---
I visited this tentative WHS in July 2020. The Montado Cultural Landscape is all about cork and is a unique agro-forestry ecosystem found only in the Mediterranean region. It is a savannah-like woodland of cork oak and holm oak trees (Quercus suber and Quercus rotundifolia) and it is also a cultural landscape requiring active management to ensure its continued existence. Cork/holm oaks are only found in South Western Europe and North Western Africa, with Portugal alone holding one third of the world species distribution. Moreover, Portugal is the world's leading cork producer, accounting for over 60% of the volume of world exports.
With variations in the territory, the Montado landscape is suitable for several uses, depending on the density of trees that seek to adapt to the harsh conditions unlike no other tree (except the recently introduced Stone Pine tree), frequently dominated by skeletal soils with sparse organic matter and the Mediterranean, Continental or Atlantic climate influences. By definition the Montado is a constructed landscape, shaped over time exclusively by human activity, that mankind has generated and manages in a unique manner, in order to guarantee its sustainability. However, this system is under numerous pressures: rural abandonment, tree mortality, depreciation of cork market value, overgrazing as well as climate change.
According to the information on the UNESCO website, the Montado system occupies "a significant part of the Alentejo region, large areas of the Tagus Valley and of Beira Baixa interior, as well as and the mountain ranges of the Algarve (Serra Algarvia)". Even though there are large patches of the Montado landscape around Evora, which I unknowingly took photos of during my last visit in August 2014, I willingly was on the look out of the old cork trees along the secondary roads around Mertola when heading towards the Algarve (apart from the mountain ranges, another important patch can be seen and explored around the Bensafrim area) as well as on my way vback from Tavira along the EM517 road near Sao Bras de Alportel which is vaguely signposted as the centre of a cork route and where it is possible to visit the modern Francisco Carrusca Eco-Cork Factory (closed on weekends). It is believed that as much as 60% of Portugal's avifauna biodiversity depends on this unique habitat which supports rare species such as the Iberian lynx (no wonder it was reintroduced near Mertola!) or the royal eagle.
That said, the core area of the Montado is the Alentejo region. Cork has remarkable features as being light, elastic, completely impermeable to liquids and almost impermeable to gases. These characteristics lead to the use of cork since many centuries ago, although when the Benedictine monk Perignon discovered the advantages of cork as a stopper of champagne bottles in France in the late 17th century, this triggered a major change in the management of cork oak forests. For a more touristic yet informative approach to this tentative WHS, the area between Charneca do Montado de Sobro and Lezirea (around Coruche) is a good place to start. In fact, Coruche proudly claims to be the World's Cork Capital. Here you can also visit the Cork Observatory (Observatório do Sobreiro e da Cortiça - closed on weekends). However, I felt that in this area there was way to much emphasis given to the importance of cork for the wine industry, most probably because Coruche supplies around 5 million cork stoppers daily!
Since we already have a lot of WHS linked to wine production, I was more interested in appreciating the natural and agricultural aspects of the Montado landscape and learn more about the many other uses of cork in the past and in modern times. Interestingly, in the Convento de Cristo WHS in Tomar, among the elements carved in stone in the Sala do Capitulo, linked to the history of the Discoveries, there are cork oak trunks, recalling its use in the caravels of the Portuguese navigators. Moreover, cork has excellent thermal and acoustic qualities. Monks were well aware of this and for example in the Convento da Serra da Arrabida, in the Convento dos Capuchos in Sintra, and in the Convento de Santa Cruz do Bucaco, the monks' cells and common areas were lined with cork. In modern times, cork supplied by the Portuguese company Corticeira Amorim is also used as an insulation solution by NASA. Thanks to the thermal and weak combustion properties of cork, cork oaks are more fire-resistant than other trees. The slow combustion of cork makes it a natural fire retardant, forming a barrier against fires and its combustion does not release smoke or toxic gases - a very important characteristic for areas constantly prone to fires.
Cork is periodically extracted from the cork trees by specialized workers (descorticadores) that remove long boards of the trunk and branches. Cork is extracted every 9-10 years and the tree has the ability to regenerate a new layer of bark. This means that a single tree can produce from 15 to 20 crops over its 200-250 years life span! The stripping does not imply the destruction of the tree but merely harvesting the outer layer of the tree's bark. This makes it relatively easy for non-experts to be able to recognise which trees are in fact cork trees as most will be stripped of their precious bark and marked with the last number of the year in which they were harvested. Harvesting cork bark assists in the absorption of CO2 since harvested cork trees absorb 3-5 times more CO2 than non-harvested trees.
Perhaps the area, within the Alentejo region, which will surely be included should this tentative WHS ever be inscribed, is the section spanning from Grandola to Alcacer do Sal, also mentioned in the UNESCO website. Already towards the last stretch of the highway approaching Grandola from Algarve, you'll be able to notice vast picturesque savannah-like areas with a low density of cork trees. Make sure to head slightly south of Grandola, towards Serra do Grandola, to be fully immersed in the Montado landscape and possibly go for a picnic or do some hiking on dry sandy terrain to inspect the cork trees up close (if you can bare the intense summer heat). From Grandola, we took the minor IC1/N120 road (as marked on our tentative sites map) which leads to Alcacer do Sal. This road unfortunately sees quite a lot of heavy vehicle traffic, mostly because most truck drivers and passenger vehicles avoid the toll roads, but if you keep you're eyes peeled you're more than likely to notice a couple of trucks transporting freshly harvested cork. You'll have to look out for some minor roads off this one or gravel parking pits on the roadsides to be able to find some accessible patches of cork trees without too much hiking, or else most of the Stone Pine trees close to the edge of the road will obstruct your views.
For a quieter alternative, away from the bigger plots of Montado land owned by bigger companies (some of which are fenced off), we explored some secondary roads almost lined with cork trees on both sides (not fenced off) on the same IC1 road but on the stretch between Alcacer do Sal to Aguas de Moura, near the Sado river. Most of the local families here seem to own some cork trees or at rely on cork harvesting to secure their livelihood. I noticed that on some of the trees, together with the final two numbers of the harvesting year, some wrote down their surnames or family nicknames.
Once I was satisfied that I covered enough ground and took photos of 'different' areas and aspects on purpose (something I didn't do on my previous trip to Evora), I ended my visit with a cherry-on the-cake stop at Aguas de Moura to see two of the oldest cork trees. One is just in front of the main church and small city hall, while the most famous one is the Monumental Cork Oak, a 234-year old, 16 metre high tree with a trunk that requires at least five people to embrace it. It has been considered a national monument since 1988 and the Guinness Book of Records states that it is the largest and oldest cork tree in the world. Apparently, the "whistle tree", as it is nicknamed locally due to the numerous songbirds that live among its branches, is also one of the most productive trees in the world too. It has been stripped more than 20 times since 1820, and in 1991, its stripping resulted in more than 1200 kg of cork, which is more than most trees of the same species produce during their entire lives.
---
Site Info
Full Name

Montado, Cultural Landscape

Country

Added

Type

Cultural

Categories

Link
Site History
2017

Added to Tentative List
Visitors
9 Community Members have visited.