Taihang Mountain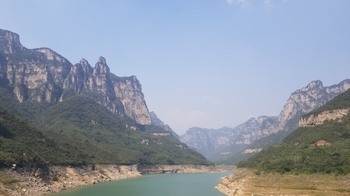 Taihang Mountain is part of the Tentative list of China in order to qualify for inclusion in the World Heritage List.
Taihang Mountain, represented by a unique Zhangshiyan landform, has towering peaks, deep gorges, continuous waterfalls, peculiar caves. Together with the unique ecological landscape, astronomical phenomena in four seasons and beautiful colors, it has formed a rare landscape gallery at the turning place of two major tablelands in China. The Taihang Mountains contain rare, almost intact natural secondary forests, alpine meadows and steep slopes. The unique Zhangshiyan landform and Yuntai landform of Taihang Mountain have recorded the long geological history and profound changes.
Map of Taihang Mountain
Load map
The coordinates shown for all tentative sites were produced as a community effort. They are not official and may change on inscription.
Community Reviews
---
Chinese-Canadian - 27-Sep-19 -
The Taihang mountain range stretches from Shijiazhuang in the north to the Luoyang in the south covering three provinces (Hebei, Shaanxi, Henan). It's famous yellow mountains will remind you of Huangshan if you have been there. The geology is similar I suppose. The bold inscription attempt is for geology and in fact there are many UNESCO geoparks in this mountain range already, as well as several unique species that live here that you wouldn't see as a tourist and are probably not seen by the inspection team when they come either. You get to see macaques though...
I have been to Zhangshiyan, or cliff, a long time ago. It is the Canyonlands of China but not quite as spectacular as the Utah counterpart.
My recent trip was to Yuntaishan which I would say is the highlight of the Taihang mountains. To get here I took a G-train Zhengzhou (easily combined with other sites if you haven't done them such as Anyang, Luoyang) and onto Jiaozuo. There aren't many G-trains going to the latter from Zhengzhou East so I had to ride a specific one else exchange to the other station in Zhengzhou which is far away and even then the trains to Jiaozuo don't go late in the evening. I stayed near the train station overnight. All buses in town are 1 RMB to get around if you don't want to walk at all.
The next morning I took the #3 bus to Yuntaishan. The main bus stop for this special bus is at the south side of the train station and has a sort of fixed schedule. It doesn't say it only that the first bus leaves at 06:20 but morning departures are frequent and then it gets less. There are other bus stops around town for this route including the north side of the station but in summer you may want to get to the first stop to ensure you have a seat. The bus is 90-120 minutes depending on traffic and how often it stops. This is a normal bus route after all and doesn't go directly to the parking lot of the park. The upside of the slower method is that it only costs 4 kuai! The last bus back is at 17:30 (18:00 on weekends or just Saturday I forget). There are also shared taxis that may take you back at 20 per person although nobody went for it. It's not a bad deal and will take you a lot less time. Overall if anyone in town tells you that you "don't have enough time to see everything", "you should stay 2 days" or "the bus doesn't take you all the way you need a taxi" then they are full of sh.... Yes, you probably should stay 2 days if you want to see EVERYTHING and go everything REALLY SLOWLY. You don't need to see everything though. Finally I want to mention that there are buses from Zhengzhou directly to the park as well but it will take you a while so then you must stay for 2 days, and I read about a faster bus being available from Jiaozuo but I didn't see it so maybe that stopped running. I think that was combined into the a more frequent #3 route.
It is set up as a AAAAA tourism site which a grand entrance, a small walk to the ticket office is filled with statues of snow white, Cinderella's carriage, step art, fake grass carpets and so on. When you buy your ticket you can buy combo tickets. I will tell you right now that I avoided the cable car combos because I didn't want to visit the peak. The view is probably nice but I have seen similar sites and the costs and extra time didn't justify it for me. You would need to get to the cable car bus stop, ride it up, walk around before heading back down. All that for a huge amount of extra cash. The "normal" ticket price isn't listed but you just ask for it and it's 120 + 60 for the bus which is unavoidable unless you are a kid below 1.20m ;) You can of course NOT buy the bus ticket but the distance to the places are so far that would be crazy. On the other hand once you are inside they don't check that bus ticket anymore but anyway it's not recommended. The ticket card takes a photo first time you enter to ensure it is you. This is because you could give away the car to someone else for the 2nd day it is valid. Hop on the bus to get going. It is only a 10 minute ride to the first highlight. On the way you can see the town of Yuntaishan which has lots of food and lodging options and the prices quoted were very good so you aren't in a tourist trap here at all!
The first stop on your bus should be Hongshi Gorge, an absolute must-see. Everyone got off here anyway so it's hard to miss. You might not see a sign as the bus stops because you have to walk 100m up the road to the entrance. The valley is faded red colors which isn't very striking in mid-day light but the way it winds along the river is stunning. The park management has built a safe and sturdy path along the side if not narrow at some points that frustrate you when people stop to take pictures or chat. Luckily this is only one way traffic. It takes a good 30 minutes to pass through it and that is without photo stops. Before ascending there is a nice wide area for picnicking. Trash bins are provided every 10 meters plus plenty of garbageman employed to keep things tidy and picturesque. They even have some on small boats in the river. As you ascend from the other side you arrive at the artificial lake as well as the bus stop exchange for the bus you just took and the two destinations, the gorges or the cave. I only picked the gorges. I'm not into caves much. If you want to go to both you have to come back to this exchange, take another bus to the other side. It doesn't take that much time.
When you get to the hub for Quan Pu Xia and Tan Pu Xia as well as the Macaques Valley. I was kind of shocked to see how massive the area is and built up with restaurants, play areas, a taiqi performance stage amongst other touristy things. I skipped the macaques. First off I don't find them special, then I find that the "wild" monkeys in these kind of parks are aggressive to grab food and tourists enable them to eat crisps and fruit from their hands which alters their behavior into a circus animal. Second the gorges are much prettier and worth your time. At the end of this hub the path splits to the spring and pool waterfall gorges. There is an e-shuttle service for 10 RMB that takes you further into the former but only about 500m which is almost flat walking. It takes you back later too and not an entirely waste of money but still not necessary. The entire gorge is 3km long but because it's all flat it doesn't take more than 90min if you keep going. Beautiful scenery all along the way. The water levels are not so high in September but the pools are still nice and the waterfall still a nice sight.
Pro tip: keep enough time for getting back to the entrance of the park because the hub is long, there might be lines for the bus and the bus doesn't necessarily go all the way back and even stop somewhere for waiting to pick up more passengers.
Overall a great day out.
---
Site Info
Full Name

Taihang Mountain

Country

Added

Type

Mixed

Categories

Link
Site History
2017

Added to Tentative List