Akdamar Church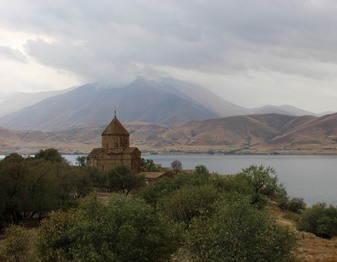 Akdamar Church is part of the Tentative list of Turkey in order to qualify for inclusion in the World Heritage List.
Akdamar Church is known for the sculpted decoration of mostly biblical scenes on its external walls. It is a symbol of the medieval Vaspurakan Kingdom which centered around Lake Van.
Map of Akdamar Church
Load map
The coordinates shown for all tentative sites were produced as a community effort. They are not official and may change on inscription.
Community Reviews
---
Akdamar (Holy Cross) Church is located on an small island in Lake Van, in eastern Turkey.
The Armenian Church was built between 915 and 921 AD. It is made of volcanic tufa, which give the church a peculiar dark redish color. The most unique and striking feature of this church are the stone bas-relief decoration. They represent a wide range of themes, mostly religious subjects derived from the Old and the New Testament. Adam and Eve, David and Goliath, Daniel with lions, and a funny scene a Jonah thrown overboard into the whale.
To reach the island, you first need get to a small port about an hour west from Van town. There is no schedule : ferries leave when enough passengers have shown up. My travel guidebook said they usually leave when 15 people have arrived. In summer week-ends, local peaople flocks the boats, as the island is considered a great barbecue spot. I arrived in the port early in a rainy Tuesday afternoon in October, and was skeptical about any chance for a ferry departure. However I only had to wait half an hour, and a boat left when 8 passengers on board. The ride is about twenty minutes and costs 15 lira. On the island, another 15 lira entrance free is recquired. The boat waits for an hour (which is enough for a thorough visit, but if not, it is possible to board any later boat).
The interior of the church is decorated with frescoes, which are rare in Armenian church, which walls are usually rather bare.
The church was disused and abandoned during World War I, it was then vandilized and planed to be destroyed in the 50's and was saved by a local writer. It was heavily restored in 2005-2006 and is now a secular museum. An armenian service is only allowed once a year and controversies surround the restoration (initially without a cross atop the church) or even its name, as it is called Akhtamar in Armenian. A huge turkish flag also flies on one end of the island.
The island itself is very nice to walk around, even if the top of the hill seemed to be banned for visitors (I doubt local people respect that, but I did not try). There are great views of the lake and of mountains of the south shore, and on clear day of the entire shoreline.
I really liked this church in all of its aspect: the bas-reflief on the facades, the frescoes inside, many armenian tombstones scattered around the island, and the magnificient landscape. Worth both a visit and an inscription.
---
Community Likes
Site History
2015

Revision

Formerly part of former TWHS The old city of Van and Lake Van (1984)
2015

Added to Tentative List
Visitors
13 Community Members have visited.