Aihole-Badami- Pattadakal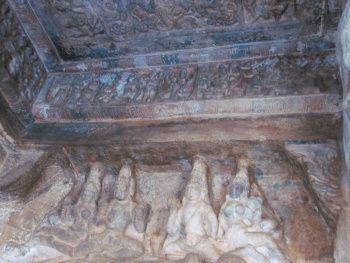 Evolution of Temple Architecture - Aihole-Badami- Pattadakal is part of the Tentative list of India in order to qualify for inclusion in the World Heritage List. It is a proposed extension of Pattadakal WHS.
At Badami and Aihole the prototypes of free-standing temples and rock-cut shrines were developed, which later matured in Pattadakal. These Hindu temples (16 groups of monuments) date from the eastern Chalukya Dynasty (6th-8th century).
Map of Aihole-Badami- Pattadakal
Load map
The coordinates shown for all tentative sites were produced as a community effort. They are not official and may change on inscription.
Community Reviews
---
Chinese-Canadian - 29-Dec-18 -
Most people coming here to exactly this tour starting from Badami, the only real overnight lodging. After a long ride from Hubli one of the guests asks the reception what time the cave temples open. 6am!? You can get this journey started before breakfast! I didn't visit all caves, I wasn't sure if I had to pay entrance for each one honestly but having seen many cave temples in my trip this didn't seem necessary. I know that they are different but I have to say walking around the area is not a delight, where everyone washes clothes and pigs run into you, so after Cave 1 I felt accomplished already.
After breakfast I checked out and took an auto (tuktuk) ride to Pattadakal. It was full of school kids and a few foreign tourists who actually all stayed at my hotel... incidentally they also took autos because I guess the hotel's high quote for a car ride put them off as well (it was 4,000+) and the distances are really not far to manage. The road, as pointed out already, is in excellent condition with only a few speed bumps. Pattadakal doesn't take too long either unless you have a guide babble on forever which is why I never hire them. Buy a cheap guide book off the touts if you don't have access to online info explaining it better alright. Pattadakal is already a WHS. If not I would recommend inscription immediately but seeing that this is not an extension I have to wonder if it should not be relisted as the evolution process instead of the single entry, i.e. extend and rename.
Third stop, Aihole. You'll probably target Durga temple first. Even if you continue to see more it is clear that the temples in the area have evolved from cave carvings to free standing and finally proper structure that combine several temples into one at Pattadakal. The artisans have first carved simple structures before creating masterpieces. Whereas I said I don't like the guides at an individual location I can imagine that when taking a tour with the same guide it will be explained to you how the temples evolved.
All of this can be done before lunch to catch a ride to Hampi via Hospet for the next destination (buses, not auto). With a guided tour expect this to take all day.
The temples are unfortunately badly eroded on the outside. The sandstone isn't meant to last forever and I would almost recommend a canopy if it is to last longer. A lot of statues are now just shapely rocks. Pattadakal had some of the friendliest security guards in India, although the last guy shoved a local tourist out of way when I was trying to leave - awwww.
---
In November 2016, before visiting the WHS of Pattadakal, I stopped in Aihole to visit the Chalukya temples of Meguti Jaina, Durga, Ravanaphadi, Huchimalli and Lad Khan. Then after visiting Pattadakal I stopped in Badami where I visited the Badami Caves and the Bhuthanatha group of temples.
I sincerely hope that some of these sites get inscribed as a value added extension of Pattadakal, clearly showing the evolution of temple architecture.
In Aihole, the highlight the Durga Temple (open 10 to 5pm, closed on Fridays) which has different examples of experiments in temple design and wonderful sculptures (picture). In Badami, the Badami Caves are a worthwhile stop and some of the carvings are on par (if not better) than the already inscribed Elephanta Caves.
The terrible Aihole-Pattadakal-Badami road is being widened and resurfaced and as of November 2016 the road from Pattadakal to Badami is in perfect condition.
---
Community Likes
Site Info
Full Name

Evolution of Temple Architecture - Aihole-Badami- Pattadakal

Country

Added

2015

Extension of

Pattadakal WHS

Type

Cultural

Categories

Link
Site History
2015

Revision

Includes former TWHS Monuments at Aihole (1981)
2015

Added to Tentative List
Visitors
23 Community Members have visited.