Dong Villages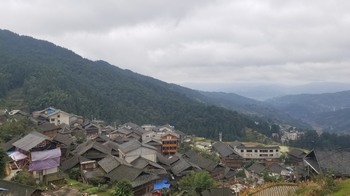 Dong Villages is part of the Tentative list of China in order to qualify for inclusion in the World Heritage List.
The Dong Villages contain historical information of Dong people's origin, migration and lifestyle in the region. The traditional architecture, especially those for public use such as the drum towers and the roofed bridges, intensively reflect the traditional Dong construction skills and the cultural landscape in the Dong settlements. The Dong Villages are a representative of a traditional human settlement lifestyle featuring Dong people's adaption to nature and harmonious co-existence with the environment, and also an outstanding example of Dong people's sustainable utilization of land and resources in the past nearly one thousand years.
Map of Dong Villages
Load map
The coordinates shown for all tentative sites were produced as a community effort. They are not official and may change on inscription.
Community Reviews
---
Chinese-Canadian - 28-Oct-20 -
The name "Dong Villages" is misleading because there are probably thousands of these spread around the country. There is a detailed list of nominated villages shared across Guizhou, Guangxi and Hunan. You will see the different styles of buildings, especially the roofs, from the railway station already. Stunning, especially at night. I also respect how the architecture of the Dong people has been retained and spread unto the land to let you think you have entered their territory - not something simply to "please" the minority which would be easy to think looking at the government's checkered past and present. Nevertheless, one of the criterion is the traditional architecture and I have to stay it is marvelous to not only see the old drum towers and roofed bridges but building tourism offices and hotels in the same style. I think this alone merits an inscription.
So my first exposure was the village of Zhaoxing which is not be inscribed. It has surely become too commercial and overgrown with modern influence to be considered. It is still nice and has enough to make you think you get the picture (5 drum towers, many bridges etc) but the best part is you can make it a base to explore the nearby 2 villages that are nominated: Tang'an and Xiage. Tang'an has a regular shuttle bus for just 20 yuan, where as for Xiage, the less impressive one, you have to hire a driver or walk (I don't recommend it if you are already going to Tang'an which is much easier but you can get a shot of Zhaoxing with rice fields in front so if you MUST have that selfie you better get to Xiage). Tang'an is all the way up the hill and road isn't pleasant but the views you get after a bumpy 25 minute ride are totally worth it. BTW there is also a 60 yuan round-trip to Basha Miao Village but whether or not it's good, or nominated for the similar "Miao Villages" tentative list I wouldn't know.
Tang'an is a Norwegian-Sino joint project for whatever reasons, trying to keep the culture intact. The museum is totally empty and many of the old buildings are being replace with new (still wooden and same architecture) ones. It only contains 1 drum tower and lacks any sort of nice photospots so I spent more time taking pictures of the valley beyond. Overall 1 hour is enough to make a roundtrip and see everything, catching the new bus back down. One cannot see anything that the cultural criteria is trying to nominate this for.
Entrance for all of the area is 40 yuan and valid for 3 days so you should have enough time to visit everything. In fact I think half a day is enough to see the traditional villages and the evening is best spent in Tang'an to see the lights, performance and enjoy some local food and snacks (not even overpriced). You may even find that Zhaoxing was the better place to see.
As for the other two criteria listed on the nomination file, I totally disagree with them being important or even tangible enough to be inscribed. The historical info of the Dong people's origin cannot be seen by the inscription of a village itself. These aren't ruins of ancient tribes but instead is a living village that seems to be evolving with modern technology. Thus also the criteria for traditional human settlement lifestyle is thrown out the window in my opinion.
Despite these lackluster criteria I find the architecture enough to be unique and it's certainly a good visit. Whether or not you MUST visit the villages nominated is best left to the die-hard WHS seekers.
---
Site Info
Full Name

Dong Villages

Country

Added

2013

Type

Cultural

Categories

Link
Site History
2013

Revision

Successor to Dong Villages (2008)
2013

Revision

includes Chengyang Yongji Bridge
2013

Added to Tentative List
Visitors
10 Community Members have visited.