The forts of Rostaq and al-Hazm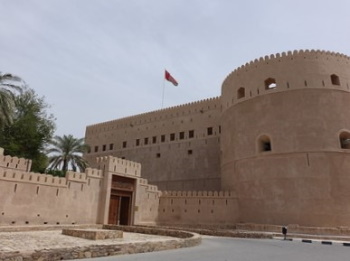 The forts of Rostaq and al-Hazm is part of the Tentative list of Oman in order to qualify for inclusion in the World Heritage List.
The forts of Rostaq and al-Hazm are two forts in northern Oman, situated 19km apart. Rostaq fort holds one of the oldest remaining forts in the country (7th century). It was built on top of pre-islamic fortifications. Al-Hazm fort dates from the 18th century.
Map of The forts of Rostaq and al-Hazm
Load map
The coordinates shown for all tentative sites were produced as a community effort. They are not official and may change on inscription.
Community Reviews
---
I visited both locations of this tentative WHS in December 2020. The best way to visit is as an afternoon side trip from Muscat as the roads are perfect for any vehicle (the road from Al Ayn still requires a 4x4 vehicle and is not worth the hassle since the best time to visit, especially for photography, is in the early afternoon before closing time).
I planned to visit Al Hazm Fort (marked as Al Hazm Castle) first, followed by Rustaq Fort and Nakhal Fort and its several watch towers nearby (even though the latter fort and towers are not up for inscription) via a convenient loop on road 13. The Al Hazm Fort (top photos) was built in the beginning of the 18th century towards the end of the reign of Al Yarubi tribe in Oman, when Rustaq was their capital. The Al Yarubi tribe is most famously known for expelling the Portuguese from Oman. They are also responsible for constructing a number of other significant Omani forts and castles including Nizwa Fort and Jabreen Castle (which I visited towards the end of my trip in Oman in January 2021). There is a clear difference between the latter two forts and Al Hazm, namely the shift in the construction of Omani forts designed to withstand gun attacks to those designed to withstand cannon attacks, with Al Hazm being the more technologically advanced structure. Since back in the 18th century, the imam resided in Al Hazm, it features numerous unique ornate stucco elements as if it were a palace-like structure and unlike most forts in Oman it doesn't have wooden rafters but roofs held up by columns. There is a recently restored falaj just opposite the main entrance and on the rear side of the fort's wall, local boys have put up metal goal posts to play soccer around sunset!
Next we headed to Rustaq and after visiting the inscribed Falaj Al Muyassar, since we felt we had visited a fair share of forts, we hiked around the high walls of the 13th century Rustaq Fort (bottom right photo) and up towards a magnificent viewpoint close to the Ibadi tomb of the Imam Ahmad bin Said al-Busaidi (bottom left photo), first ruler of Oman of the Al Said dynasty, which from afar resembles the Samanid Mausoleum found in Bukhara, Uzbekistan. From here we could easily appreciate the imposing fort built on three levels with 3 metre thick walls and like Al Hazm with roofs built on columns and not on wooden supports. Al Rustaq Fort is surrounded by nature: date palm groves, caves with subterranean springs with sulphur content, and 3 wadis (Wadi Bani Ghafar, Wadi Al Sahtan and Wadi Bani Auf). Interestingly, beekeeping is still one of the main sources of livelihood here.
Although we enjoyed visiting these forts as well as the huge Nakhal fort and watchtowers towards sunset, I would only be in favour of their inscription as an extension of Bahla Fort, possibly as forts and castles of northern Oman, and not on their own.
---
You'll easily end up with 'fortress fatigue' when travelling through Oman: in the past, local chiefs built them in high numbers to protect strategic positions and water sources. On my second day in the country I was still up for visiting some good forts though. Along what is called "the Rostaq loop" lie 3 worthwhile examples, of which those of Rostaq and Al-Hazmhave a combined spot at Oman's Tentative List. The third fortress, that of Nakhal, has the prettiest setting of them all. However, the very brief tentative site description gives no clue why it could not join the other two to be part of a future WH nomination.
Rostaq is a former capital of Oman, and it holds one of the oldest remaining forts in the country. It was built on top of pre-islamic fortifications. It's huge: while looking for a parking spot I drove for hundreds of meters all the way along its outer walls. Fortunately one can park right at the entrance.
The fort is not only large in surface, but also in height: it has 3 levels. These are connected by stairways that are not easy to find. There are great views from the roof and the towers over the surrounding countryside with its date palms. Cultivating dates was (and is) an important craft in Oman, and inside the fort there are date storage and date 'honey' production rooms as well. Large forts like this one in Rostaq were more like castles, where a ruling family lived and entertained guests. It also had its own mosque within the walls. The most splendid rooms are said to be those of the imam, but I found them closed except for one with indeed a very nicely decorated wooden ceiling.
The 18th century fort of Al-Hazm lies some 20 km east of Rostaq. This is a much more compact building. After paying the same entry fee as I had at every fort this day (0.5 rial/1 EUR), I this time received an audioguide with my ticket. I must say that this was a bonus as the other forts that I visited earlier in the day came with little explanation. The audio tour also followed a numbered route, so you will not get lost here or miss an important part.
Al-Hazm has the best examples of decorated wooden doors among these forts. The masterpiece is the main entrance door made out of Indian wood from Surat. A number of the rooms are redecorated with furnishings and displays – they seem to have used the same textbook for this at all the 3 forts along the loop, resulting even in similarly coloured pillows in the meeting rooms. Here at Al-Hazm you will also see how they used to cool water by hanging pottery jars in front of the windows to catch some fresh air.
The Rostaq loop along 3 forts and with opportunities for some more historical detours is an often recommended day trip from Muscat. It starts and ends about an hour north of the capital at the main highway #1 to the United Arab Emirates, and follows secondary roads 13 and 11 in a 150km long circular route. Although I found the 3 fortresses worth visiting, I had expected the drive as a whole to be more scenic. Currently there are major roadworks going on especially at the first half of the stretch. There was also quite a lot of traffic. These forts lie in the foothills of the mountains, unfortunately it was too hazy on the day that I visited to see much of the scenery along the way.
Read more from Els Slots here.
---
In case of this TWHS, the road taken was even more interesting than the actual site. We saw the burial tumuli of Al-Ayn and then decided to drive the shortest way possible to Al-Rustaq. Long story short, don't. The road seems to be okay for a while and then it gets worse before getting abysmal. 4WD would have been better, as the road gets bumpy and dusty, but at least you can catch glimpses of some unique local places. Anyway after a bumpy ride we arrived and parked our car by the fort. It was Friday, so it was closed in the afternoon, therefore we opted for the next best thing and walked around it. It's huge. If you've seen some other places of the Omani irrigation system WHS, this one has some too: there's a visible aflaj around, oasis and some wells.
---
Rostaq fort is located at the foot of the impressive Western Hajar Mountains, a range of bare steep sided mountains. The fort itself does not seem as dramatically located though as the one nearby at Nakhal. Rostaq is distinguished by having a falaj flowing beneath it, but this feature is already included on the WHS list.
Rostaq is located on a loop road off the Batinah highway, and makes a delightful side trip when travelling between Muscat and Abu Dhabi.
---
Community Likes
Site Info
Full Name

The forts of Rostaq and al-Hazm

Country

Added

Type

Cultural

Categories

Link
Site History
1988

Added to Tentative List
Visitors
17 Community Members have visited.