Hikone-Jo (castle)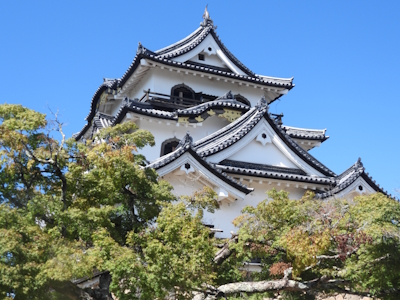 Hikone-Jo (castle) is part of the Tentative list of Japan in order to qualify for inclusion in the World Heritage List.
Hikonejo belongs to the golden age of castle architecture of the early seventeenth century. It has retained well the entire form of the castle, including its defensive sections and the lord's residential area. Parts of the residential sites have been restored according to old maps, pictures and the results obtained through excavation studies, and these sites are now being used as museums.
Map of Hikone-Jo (castle)
Load map
The coordinates shown for all tentative sites were produced as a community effort. They are not official and may change on inscription.
Community Reviews
---
Currently, there are three Japanese castles listed as World Heritage Site, the magnificent Himeji Castle, the lavish Nijo Castle of Kyoto, and the unique Ryukyuan Shuri Castle in Okinawa, Hikone Castle is on the tentative list since 1992 that its status is becoming uncertain; however the recent move of Kamakura, another long pending site on the tentative list, I am suspecting that the fate of Hikone is going to be revived soon. In my idea, the perfect preserved Japanese castle should have an original main tower, a residence quarter and a castle garden. Himeji Castle is the place that has all thing I mentioned, while Nijo Castle has perfect residence and gardens, its main tower was lost long time ago. Some famous castles only have main tower like Matsumoto, Hirosaki and Matsue, some only with gardens and turrets like Kanazawa and Edo. In case of Hikone Castle, it has the original wooden main tower which is quite lovely with beautiful multi-styles roof gables and gilded decoration, a piece of art, and the very fine castle gardens. Another plus of Hikone which similar to Himeji is that the labyrinth fortification layout is well preserved and noticeable.
Compared to Himeji, Hikone is very much smaller and inferior in almost every sense; only the decoration art and gardens are more superior to Himiji. The biggest contrast of these two castles are the location and usage, while Himeji is located on strategic point, many defensive elements for war are required, Hikone is totally different, the castle is quite symbolic of what authority should be in more peaceful time. Sadly that its original residence quarter were demolished, but the modern reconstruction as the the museum is quite fine, and make the castle more completed. The castle garden, Genkyuen, is also very nice and worthwhile for extra walk to see. For me, Hikone Castle is a lovely place to visit, it does not process any wow factors like Himeji does, but like the fine garden strolling.
However, to be listed as another World Heritage Site is quite questionable as Himeji Casetle is already represented this kind of architecture. If Hikone is goting to be represent the castle that built in peaceful time, then what is special of Hikone compared to other castles like Kochi. Moreover there are many better examples like Matsumoto for perfect main tower or Kanazawa for outstanding castle garden. Hikone Should be listed but only as an extension of Himeji Castle to represent overall style of Japanese Castle which in opinion is much more reasonable. Another thing need to be mentioned is Hikone Castle is a very good example of unique Japanese cute Kawaii pop culture with its mascot, Hikonyan, a big white cat with samurai hat, the castle visitors, or actually maybe Hikonyan fan club, mainly come to see this cat dancing and playing in castle ground, a very strange tourism phenomenon but very cute!
---
Community Likes
Site Info
Full Name

Hikone-Jo (castle)

Country

Added

1992

Nominated for

Type

Cultural

Categories

Link
Site History
1992

Added to Tentative List
Visitors
19 Community Members have visited.