City of Granada and its natural environment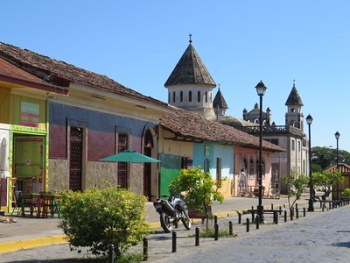 City of Granada and its natural environment is part of the Tentative list of Nicaragua in order to qualify for inclusion in the World Heritage List.
The City of Granada was one of the principal cities of colonial Central America. It has notable colonial Hispanic and neoclassical buildings dating from the 16th to the 19th century. This mixed proposal also includes a number of natural properties such as Volcan Mombacho Natural Reserve and the Archipielagos de las Isletas y de Zapatera National Parks.
Map of City of Granada and its natural environment
Load map
The coordinates shown for all tentative sites were produced as a community effort. They are not official and may change on inscription.
Community Reviews
---
We got delayed in Nicaragua a little longer than planned so spent about a week in Granada. It is by far the most touristic and popular town in the country and not without reason. It is relaxed, pleasant and within striking distance of a number of other nearby attractions/activities.
The colonial architecture dominates the majority of the city core to varying degrees of preservation. In common theme to other small touristic cities the world over, they have freshly painted the buildings of the most popular streets in multiple colours making it quite photogenic. There are a handful of churches to visit though most are in need of some fresh paint and upkeep. The lakefront was an undeveloped disappointment.
Overall, while this is a nice place to linger in and a must visit if in Nicaragua it doesn't really add any more value to the already saturated Spanish colonial towns portion of the WHS list. If they'd nominated it much earlier it would've had a much better chance but now they'll have to get really creative to justify an inscription.
---
Granada and Leon have battled forever about which of the two is the most important city in Nicaragua. The Republic's Leadership even had to find a new capital in between the two rivals as a compromise: Managua. The City of Granada therefore must look with envy to Leon's 2 WHS, the only sites designated in Nicaragua so far. In the promotion of the TWHS City of Granada and its natural environment every argument possible seems to have been brought forward to turn this around.
The city was founded in 1542 and now has some 100,000 inhabitants. It's Nicaragua's 'Tourism Capital': it has been a blossoming tourism and expat center since the early 21st century. It holds a particular attraction for Snowbirds from the USA. Clearly it does tick the right boxes for them: a warm climate, cute colonial town center, lots of foreigner-oriented restaurants (serving smoothies and green salads instead of the Nicaraguan staple rice and beans) and still cheap to live in.
I stayed for 3 nights in Granada, and one of the best things I did was take the self-guided Lonely Planet "Colonial Explorer" City Walk. The whole circuit takes 4 hours, and passes many structures of interest. It takes you from the harbour at Lake Nicaragua to the fortress La Polvora in the western outskirts of town. The outdoor market near the bus station is great for some couleur locale, and certainly not tourist-oriented. The view from the tower of La Merced Church definitely is the best in town: only from that point of view one notices the brick tiles that cover many of the city's roofs.
There's a whole lot of 'natural environment' included in this mixed proposal too, both to the east and to the west of Granada. The isles of Lake Nicaragua (365 of them!). Zapatera Archipelago National Park. The Apoyo volcanic lagoon. And Volcan Mombacho Natural Reserve - another famous Nicaraguan volcano.
On one of my mornings in Granada I paid a visit to the Mombacho: a dormant volcano, covered by a cloud forest. The park entrance lies just 10km from Granada City. You can only reach the top of the volcano by the truck provided by the park service a few times a day. The whole excursion is a rather costly affair for foreigners: 15 dollar for the ride, 5 dollar for the park entrance, 4 dollar for maintenance and 12 dollar for a tame guided hike. Like Masaya, it leans towards a tourist trap and I feel sorry that Nicaragua takes this route. Such a contrast with the great experience that I had with Matagalpa Tours earlier in my trip, in a more off-the-beaten track location. A genuinely in nature interested guide (he was happy to tick off 2 birds he hadn't seen before) and a creative route designed for a group of one tourist did the trick.
Spanish-colonial town, 'One of the most ancient cities in America', volcanoes, cloud forest, Lake Nicaragua: it is hard for Granada to find its own niche. It does resemble the Antigua Guatemala WHS, and is also not unlike Cuba's Trinidad. It surely was the prettiest town that I encountered in Nicaragua, but a future nomination will need a lot of focus.
Read more from Els Slots here.
---
SooSooSees
The colonial architecture is a sight to behold. Baroque with Moorish influences and grand embellishments is a prominent style that can be seen in no other Central American country.
We visited Granada on a two-month trip through Central America earlier this year. It may not be as tourist-savvy as it's sister city, Antigua, Guatemala, but it is well on the road to becoming a more desirable destination! Parts of the city are worn, other parts are freshly painted or in the process of being restored. Care is being given to maintaining ancient colonial structures. The locals are friendly and prices are reasonable.
It is said to be the first European settlement in mainland America. And if the claim that Granada is registered in the official records of the Crown of Aragon and the Kingdom of Castile in Spain is true, that, indeed, is a royal accomplishment! Government incentives make it very attractive to foreign investors. More and more tourists are discovering the beauty and enjoyable lifestyle in the city!
---
The bright yellow church here is worth visiting but I don't think Granada is of universal value. However it is definitely a national heritage.
---
Community Likes
Site Info
Full Name

City of Granada and its natural environment

Country

Added

Type

Mixed

Categories

Link
Site History
2003

Added to Tentative List
Visitors
32 Community Members have visited.