The Crusader Fortresses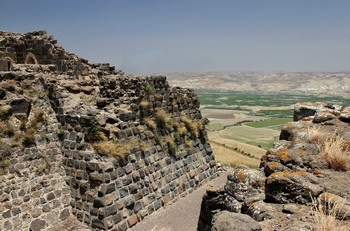 The Crusader Fortresses is part of the Tentative list of Israel in order to qualify for inclusion in the World Heritage List.
The Crusader Fortresses comprise the ruins of four fortresses built by the European crusaders between the 12th and 15th centuries. The Crusader castles are characterised by a mixture of European, Byzantine and Arabic styles. These fortresses experienced an eventful history of conquest, destruction and reconstruction by alternate rulers, which led to a mixture of architectural styles.
Map of The Crusader Fortresses
Load map
The coordinates shown for all tentative sites were produced as a community effort. They are not official and may change on inscription.
Community Reviews
---
While in Israel in November of 2019, I stopped by the Jordan Star National Park (Kokhav HaYarden, in Hebrew) which is centered on the Belvoir crusader castle high above the Jordan river valley.
The castle itself is the type of ruins that actually give you a pretty good idea of how it used to be in its heyday. Sufficiently impressive, although once you learn that the heyday lasted barely 20 years in the 12th century, you may doubt that any OUV can be justified here.
The killer feature of the place are the views over the valley and towards the Sea of Galilee. The castle's nickname of "fine view" was not for nothing. The views themselves are worth the cost of entry, but if you have "orange card" Israel Pass (which allows one entry to almost every national park in Israel over the course of two weeks) there is no additional cost. Brochure that you pick up at reception has all necessary information, and no guidance is needed. My overall visit lasted under an hour and I was nearly the only visitor on an early afternoon.
The sites of this serial property are spread around the country, and I have not managed to fit other castles into my itinerary. But it appears that Montfort could be combined with exploration of Acre (and the caves of Rosh HaNikra, if you are doing the non-WHS stuff), while either Pelerin or Apollonia could be combined with Caesarea (and the latter is not far from Tel Aviv either).
Read more from Ilya Burlak here.
---
Ken Fisher MD
The massive construction of Belvoir is very impressive, but pales next to the gorgeous views of the valley from its commanding hilltop position. It's easy to see how its defenders could have held out against even an attacker such as Saladin. Montfort also has a commanding view of a much smaller valley, but is far less impressive.
---
Israel offers several sites with ruins of Crusaders' fortresses (about a dozen of them including Aqua Bella, Chateau Pelerin, Yehiam). I have been to Montfort, Belvoir and Apolonia and there is not too much left of any of them to be honest. Monfort makes a nice trip but mostly for its location. Belvoir still clearly shows its massive star-shaped fortifications resembling later constructions by Vauban. It also offers its visitors a nice panorama if you happen to visit Israel in spring. The Crusador architecture also features in the WHS of Acre and the TWHS of Caesarea.
---
Community Likes
Site Info
Full Name

The Crusader Fortresses

Country

Added

Type

Cultural

Categories

Link
Site History
2000

Added to Tentative List
Visitors
34 Community Members have visited.