Taormina and Isola Bella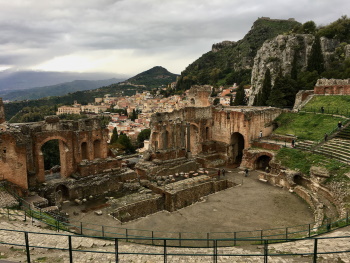 Taormina and Isola Bella has been part of the Tentative list of Italy.
Taormina and Isola Bella are an ancient town and adjacent island on the eastern coast of Sicily. A natural fortress of strategic and political importance, Taormina was originally inhabited by the Siculi before becoming a Greek city. Most well known for its Ancient Theatre, which dates back to the Greek period but whose current structure dates to the Roman period, it became a popular destination on the 18th- and 19th-century Grand Tour. Isola Bella is a small island crossed by steps, paths and small terraces.
Map of Taormina and Isola Bella
Load map
The coordinates shown for all tentative sites were produced as a community effort. They are not official and may change on inscription.
Community Reviews
---
I recently stayed for 2 nights in the Sicilian coastal town of Taormina, using it as a base for visiting Mt. Etna. There's no way that I can write up 500 words about it (the usual size of my blog entries), so I'll keep this a short TWHS review.
The roots of the town go back to the Siculi, a tribe that inhabited the area before it became part of Magna Graecia. The Greeks came, then the Romans, the Byzantines, the Normans, the Spanish and finally the Anglo-Saxon Grand Tour travelers. This impressive list of civilizations unfortunately isn't reflected in a wealth of historic points of interest in the current town.
The most prominent sight is the Greek theatre, but it is not particularly attractive when you know the type already. Its only selling point is that Mt. Etna can be seen in the distance behind the stage – at least when you come during the morning, otherwise the sun will shine from that direction. Also worth a visit is Florence Trevelyan's garden, a quirky leftover from the time when some British made Taormina their second home.
And what about Isola Bella? I only saw it from the bus on my way up to Taormina. It's a tiny island, also once owned by Florence Trevelyan. The owner of the B&B where I was staying in Taormina used to be the park ranger on Isola Bella, until it changed ownership for the umpteenth time and ceased being a formal nature reserve. It still is under some protection – by the Archaeological Park of Naxos according to the Italian wiki – but seems not to be ready for any serious evaluation regarding a prospective WH status.
So overall this results in a 'thumbs down' rating by me. Taormina is already totally overrun by tourists anyway, why would they aim for more?
Read more from Els Slots here.
---
March 2019 - After two days in and around Catania, we went further north to Milazzo. That day we stopped in Taormina. You can park next to the Isola Bella and take the cablecar to the twon. Bad luck, it was in renovation, when we were there. However a bus took us up to town. Taormina is a nice old city with charming houses, churches and Piazzas, but also many souvenir shops and snops in fancy jackets.
The most stunning in Taormina was the Giardino pubblico. It looks like made from toy bricks and parrots are making funny noices. Back to Isola Bella you can take the stairs. In total it is a nice destination. WHS yes, but rather as an extension
---
Taormina seems to be a tourist hotspot. It's easily reached over the highway from Catania or Messina. The town itself is very pleasant for a stroll and offers loads of restaurants and shops.
The Greco-Roman theatre is clearly the highlight of Taormina. Spectacular is rather the location in the hills, overlooking Sea and Mount Etna, than the structure itself. Clearly there are more impressive theatres around (e.g Orange or Merida). The other remains within the city are rather small.
I also visited Isola Bella. It's a tiny island a few meters off the coast. You reach it by removing your shoes and walking a few steps through the sea. There is an entrance fee (4 EUR) but really not much to see despite the view. I did not understand the OUV of this island.
---
Taormina is a beautiful destination for a quick weekend break. Great food too. Yet I don't think it merits a WHS status.
---
Site Info
Site History
2021

Removed from Tentative List
2006

Added to Tentative List
Visitors
30 Community Members have visited.