Shibam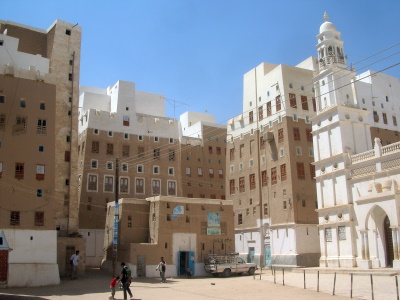 The Old Walled City of Shibam is one of the earliest and most perfect examples of vertical construction.
Shibam, nicknamed "The Manhattan of the Desert", was built on a hill to escape the floods of the wadi Hadramawt. The dense setting of its mud-brick tower houses goes back to the need for protection against rivalling clans. Most houses date from the 16th century, when Shibam was recovering from a severe flood. It enjoyed prosperity as a stop on the caravan trade routes for incense and spices.
Community Perspective: located "in the middle of the desert", it has escaped severe war damage so far and can be reached by air or overland from Oman. See Christravelblog's review for logistics.
Community Reviews
---
5.00 Netherlands - 20-Nov-22 -
In November 2022, finally I was able to visit Yemen Mainland. Just Hadramout though, but that's were Shibam is. Will advise on logistics below.
It was around 10AM when we finally headed to, in my opinion, the highlight of the Yemen trip: Shibam Hadramout, the Manhattan of Arabia. Shibam is a UNESCO World Heritage Site since 1982 and I now know why: It's an amazing unique place.
Shibam is a unique city in Wadi Hadramout as it's completely built from mud bricks up to eleven stories high. These skyscrapers house around 7000 people and are built very close to each other. The whole city is surrounded by a wall. It's amazing to see that just mud and wooden beams are used to build these houses. Cars can get in through the main gate, but you'll only be able to drive up to the mosque and the main square. The alleys must be explored on foot which you can cover all of them in 2 hours.
If you walk the alleys, you'll notice plenty of goats. They live on the ground floor of many of the buildings. When I arrived, the goats were the only living beings I saw in Shibam, but this changed. I got invited to see the interior of one of the houses. They are colourful and not sandy as the outside! Each floor has a few rooms for the various families living together. The top floor often is for the newlyweds which move down once another couple marries. Once back outside in the alleys the whole city came to life because it was lunch time. Suddenly there were kids playing, shops opened and women coming back with the goats from outside the city. These Hadhrami women wear pointy hats which is an interesting sight. All this really gave a good impression of the life in Shibam.
UNESCO In Danger State: I talked to some people there who are helping to preserve Shibam. In 2022 alone they restored/preserved 60 buildings. There is plans for 60 more in 2023. There is plans to put all phonelines underground as well (electric / sewer already is). This leaves some annoying ACs hanging on the buildings; maybe someday they could put these on the roof out of sight. Is it in danger? At the moment preservation is good and ongoing from what I saw. There is a few (most annoying one on the left corner of the city) collapsed buildings; but these landowners aren't interesting rebuilding. The danger probably comes from the instabillity in the country; which in this areas is getting better.
How to plan this trip?
Hadramout is "safe". You can fly in from Cairo to Seiyun. The trips normally are 3, 5 or 7 days (there is 3 flights a week). The 7 days doesn't add much so I went for the 5 day trip. Which covers Seiyun, many Sufi tombs to the east, Wadi Do'an and of course Shibam. 3 days will excludie Wadi Do'an. You need an agency/fixer to arrange this. I used Kais at Yemen Touring Agency / Yemen Skyscraper Tours. Kind of the man to go to. The flights I booked direct with Yemenia Airways agent in Cairo. Visa is easy: sent in passport, application and photo. Week later I got the PDF. A few days after that the security clearance. You need all this to board the flight. Although Kais didn't travel with me I met him on the last day. Great person! I travelled with his security fixer (ex-military who has ears everywhere) and a guide who also advises to the Shibam UNESCO. The hotels are actually very good (bit basic / old fashioned) but had good wifi, pools and everything needed. I travelled solo. Didn't feel unsafe at any time. Checkpoints (many!) went smooth, the longest wait at one was 5 minutes. Stories of long long waits normally are US passport holders.
When I was there, it seemed some flights opened from Socotra to Mukallah and maybe in the near future Seiyun to Socotra as well. If this opens, I suggest to fly to Socotra, then Mukallah to Wadi Do'an to Seiyun out to Cairo. This way you can tick Socotra too without going through Abu Dhabi and a minimum stay of 1 week.
It was a magical trip. And, once possible I hope to visit North Yemen.
Read more from Christravelblog here.
---
Visited December 2009
Shibam Hadhramaut, called Manhattan of the desert... In the middle of the desert, with some palm grooves around, you can experience something really unexpected: 8-, 10-stories clay buildings, all brown with white geometrical ornaments. The oldest ones were built in 10th century - but according to the local law any new house built inside the city walls must follow the old pattern. There a small museum in Shibam and it is possible to visit some houses. Just ask around, and they let you in.
This starting point of visiting Shibam Hadhramaut (there's another Shibam close to Sana'a) can be Sayyun or for a very long day trip - Al Mukkalla.
---
Site Info
Full Name

Old Walled City of Shibam

Unesco ID

Country

Inscribed

Type

Cultural

Criteria

3

4

5

Categories

Link
Site History
2015

In Danger

under potential threat from armed conflict, in addition to already existing problems
Site Links
Unesco Website
Official Website
In the News
Visitors
27 Community Members have visited.