Santiniketan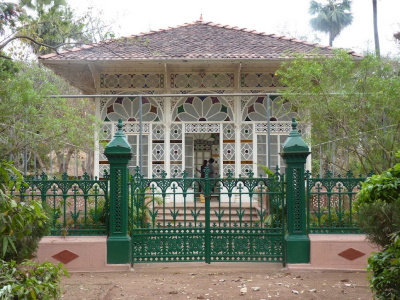 Santineketan is a holistic educational institution founded by the poet and philosopher Rabindranath Tagore based on a utopian ideal.
The experimental settlement from the early 20th century had a rural setting. It offered a broad spectrum of classes in arts, language, humanities, crafts, and music, embracing many cultures and religions. The buildings were designed in an eclectic style, moving away from colonial architecture. The site is also strongly associated with Tagore's work and holds a collection of his manuscripts.
Community Perspective: Solivagant is the only one who has reviewed this site so far (over a decade ago), and he explains its values and nomination history.
Community Reviews
---
Shantiniketan (a.k.a "Santiniketan") is another Indian site which is having problems getting inscribed (Nominated for 2011 but withdrawn). Its credentials as the location where the Bengali poet, artist, philosopher and polymath Rabindranath Tagore put his ideas into action suggested that it might be worth looking at, both in its own right and in pursuance of my Indian T List quest! It is located 160 kms North West of Kolkata and is feasible as a day return trip from there. We took the "Shantiniketan Express" (sic) out, leaving Howrah at 10.10 and arriving at 12.25 and returned on the 17.38 arriving back at 20.15. The train goes to Bolpur which is only a 3km rickshaw ride from the site.
Tagore (1861 -1941) is a Bengali, and by transference, an Indian, national hero. In 1913 he became the first "non-European" to win the Nobel prize for literature (or, apart from T Roosevelt, any Nobel prize ). Interestingly. this was for his own English translation of a collection of his poems written in Bengali which is generally considered significantly less good than the original!! He was later knighted but returned this honour in protest over the Amritsar massacre. In the following years he became an internationally acclaimed figure who, whilst traveling the World, met with all the great and good of the era so there are reams of photos of him meeting Einstein, GB Shaw, Helen Keller etc etc. He is credited with bringing Eastern culture to the West and vv . The sorts of epithets applied to him include "Internationalist", "Idealist", "Humanist", "Naturalist" and "Pacifist" – all "good stuff" one would think for UNESCO! His persona was of a saintly (even Christ/"God"-like) figure in flowing robes with a long white beard/hair – the archetypal "Eastern Philosopher" in much the same way as Einstein's persona was of the archetypal "mad professor"! 2011 was the 150th anniversary of his birth and, even in 2013, in Bengal certainly, there were large public photos of him looking down on everyone. When one adds that he was also the composer of the National Anthems of both India and Bangladesh one can see why India would have tried to gain inscription for a site related to him in 2011. It might also be mentioned that 2013 is the 100th anniversary of his Nobel award – however India is rather more shame-faced over this as the medal was stolen in 2004 from the museum in Shantiniketan and has never been recovered – though the prime suspect was murdered a few years later, presumably for sullying the honour of Bengal/India.
So what is the nature of Shantiniketan, its claim for OUV and its relationship to Tagore? The land there was in his (rich) family's possession and had been given its name, which means "Abode of Peace", by his father. In 1901, Tagore started there the Patha Bhavana, an institution of primary and secondary education. "whose central premise was that learning in a natural environment would be more enjoyable and fruitful" (Wiki). This was based on the traditional Gurukul system of guru teaching and community living. Later the Nobel prize money was used to expand it and, eventually, it developed into the fully fledged and, in some disciplines, even prestigious, Visva-Bharati University. Among famous Alumni are the film director Satyajit Ray (whose 1961 B+W movie about Tagore is on YouTube) and Indira Gandhi, who was sent there for a year by her father Nehru!). It has since adopted some more conventional educational approaches but other aspects such as open air teaching remain in place (the campus is dotted with stone circles for guru and pupils). But, as other (failed !) nominations around the world have discovered it is not adequate for a place merely to have historical or mystical connections with a famous figure or ideas - there have to be firm tangible links. You can be the judge! As far as I can discover (lacking access to a Nomination file or to an AB evaluation) the proposed core zone covers the following
a. The Ashram – the original heart of the development, contains the Chhatimtala meditation place (Successful graduates of the University are each presented a branch of five leaves from the Saptaparni trees which grow around it), the Amro Kunja or Mango Grove under which students learn with their guru and the Upasana Griha or Prayer Hall (my site photo) where prayers, a la Tagore, take place weekly. Tagore's religious beliefs were based on eastern religions but are eclectic, syncretic, mystical, non-denominational, encompass Christianity and are beyond easy categorisation. One of his most famous books consists of a series of lectures titled the "Religion of Man". This is usually published with a joint conversation with Albert Einstein titled "Note on the Nature of Reality"!!
b. The Uttarayan – the complex where Tagore lived and worked. This contains 5 houses in different styles. The Shyamali is in the form of a traditional Bengali mud house and was where Tagore welcomed Gandhi (though the 2 did not see entirely eye to eye on philosophical and political matters!). Unfortunately India's obsession with controlling photography operates here and no photos are allowed within the complex - even outdoors.
c. Kala Bhavan – the college of Fine Arts and Crafts (Photo). Here work is both done and displayed in the open – here and elsewhere works by noteworthy modern Indian sculptors are also on show.
d. Sangeet Bhavan – the College of Dance and Music – but we didn't enter this.
e. Rabindra Bhavan – a memorial and Research centre for Tagore studies. This operates as a museum and something akin to a shrine to Tagore. Shoes have to be removed and quietness observed. A replica of the stolen Nobel Medal is displayed (very well guarded!!!) and a raga is played continuously.
Among several other potentially significant locations which we did not visit are the nearby Palli Samgathana Vibhaga, originally established Tagore in 1922 "with the primary objective to bring back life into villages making them self-reliant and self-respectful, acquainted with the cultural tradition of their own country and competent to make an efficient use of modern resources for the improvement of their physical, intellectual and economic conditions." Tagore's role in developing ideas for rural development is considered significant but, whether this site is included in the nomination I don't know.
I have tried to establish the history of the Nomination to date -
a. File submitted on time in Jan 2010 for the 2011 WHC
b. The 2010 WHC documentation confirms that the documentation is complete
c. An ICOMOS evaluation team (led by a Nepali) visits Shantiniketan in Oct 2010 to significant Indian press coverage with much optimism!
d. Press report in May 2011 "Shantiniketan, the living legacy of Rabindranath Tagore, will have to wait for its turn to be listed as a world heritage site…. The Culture Secretary, Mr Jawhar Sircar, said the Ministry, in coordination with the State government in West Bengal, will work on further strengthening of the system to look after the Shantiniketan as required by the Unesco. He said currently there is more than one authority entrusted with looking after the institution, including the Gram Panchayat, Vishwa Bharti, Shantiniketan Development Authority and the Zila Parishad, but a "unity of command" is required for a World Heritage Site …."We are waiting for the elections in West Bengal to get over. We will then consult the state government, and come up with something more vigorous," Mr Sircar told PTI. "Before the end of the year, we will again make a submission for the next round of listing," he said."
e. June 2011. The Provisional Agenda for the 2011 WHC (WHC-11/35.com/8B) includes a list of evaluated sites to be considered, carried forward from the 2010 documentation, but Shantinketan is struck through with the comment "withdrawn at the request of the State Party on 29/04/2011"
f. The evaluation documentation for the 2011 WHC does NOT include that for Shantiniketan but the Summary list of conclusions does indicate the ICOMOS views on 5 matters, together with the conclusion that the site should not be inscribed (but without any recommendation for de/referral) – Comparative Analysis/Integrity/Authenticity/Criteria/Selection Justification. The assessments are (in sequence) :- Not adequate/Not demonstrated/Good/Not adequate/Good
g. Nov 2011. Press report states "The officials said the work has been expedited and the resubmission of the nomination will be done by December so that if all goes well, the university will be declared a World Heritage Site in July, 2012 when the UNESCO meets in Paris.". But no such events occur!
h. May 2012. Press report states "Visva-Bharati University will make a fresh bid to include Rabindranath Tagore's abode Shantiniketan in the UNESCO's list of World Heritage Sites, though such an attempt last year had ended in failure. "We will make a fresh bid as soon as possible," Visva-Bharati spokesperson Amrit Sen told PTI. Seeking support for the coveted status, the central university is now in the process of forming a heritage committee which will send its recommendations to the Prime Minister Manmohan Singh, who is its Chancellor. "There were some mistakes in our proposal last year. We need to rectify them. The committee will give us suggestions on how to make our bid flawless this time," Mr Sen said."
Without access to ICOMOS's detailed comments it is difficult to know if the problems it identified are fundamental or addressable – clearly India thinks they are of the latter category – a bit of reorganization and removal of mistakes and everything will be ok!! But it is unusual for a withdrawal to occur so early so the ICOMOS team must have been pretty "up front" with their views! I remember my visits to the inscribed Universities in Mexico City and Caracas and ask myself if they are of any greater OUV than Shantiniketan. Some (but certainly not all!) of the architecture at the former is more "iconic" whilst that of Caracas is really not that special. Unfortunately many of the University buildings at Shantiniketan are typical low cost Indian 2 story concrete structures not in a very good state of preservation. However, neither Mexico nor Caracas contain an ensemble like the Ashram and Uttarayan nor have the same degree of "philosophical underpinning" and historical significance. I believe therefore that Shantiniketan could be a valid candidate – the quality of the proposal is of course another matter! However, inscribed or not, we enjoyed our day trip out there and value the extra insights it has given us about Tagore.
---
Site Info
Site History
2011

Requested by State Party to not be examined
Site Links
Unesco Website
Official Website
Visitors
3 Community Members have visited.