Jodensavanne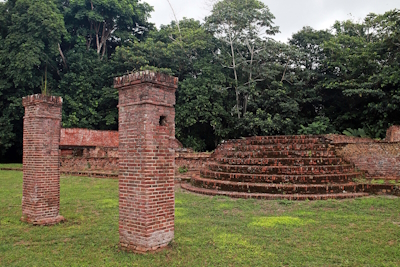 The Jodensavanne Archaeological Site: Jodensavanne Settlement and Cassipora Creek Cemetery comprises the remains of early Jewish colonies.
The sites date from the second half of the 17th century, when Jewish settlers from Europe established agricultural plantations here and developed an autonomous community. The Beraha VeSalom synagogue within the property is considered the first synagogue of architectural significance in the New World.
Community Perspective: the site lies not far from the international airport and can be combined with a trip in or out of the country. The settlement remains are quite basic.
Community Reviews
---
1.50 Chinese-Canadian - 18-Jan-23 -
I may dislike religious sites in general but I'm extra negative about this one. It basically tries to show a "testament to Judaism in the Americas" which means that Jews came to the South Americas in the settler ages as seen by the founding year of the site: 1682. The synagogue remains are quite basic with mainly the ground bricks, steps and short remains of the walls to be seen. At one point it must have been a nice settlement away from the main that is now Paramaribo. It also contains a cemetery which are many large rectangles on the ground. If all religions would start to add locations for their cemeteries around the world it would be full of sites. So yes, Jewish settlement in this part of the world is pretty interesting but that's about it, I mean they have antique synagogues in the city too if I'm not mistaken.
Getting here is not difficult but obviously you need to arrange transportation. What I did and what you may want to do as well is combine this wit ha trip to or from the airport. It's only a bit east of the airport and Paramaribo is a long trip in and out if you are coming only for the settlement remains but it's still alright if you can't manage it for timing reason. My flight into Suriname arrived shortly before midnight and with the lengthy visa payment it wasn't until 1am to be at my hotel. So instead I arranged a taxi to take me to the Jodensavanne monument before dropping off at the airport. The bridge to the settlement is the only crossing over the Cassipora creek outside of the city and it's a solid bridge, maybe worth a look for a quick stop, too.
---
Site Info
Visitors
4 Community Members have visited.