Churches of the Pskov School of Architecture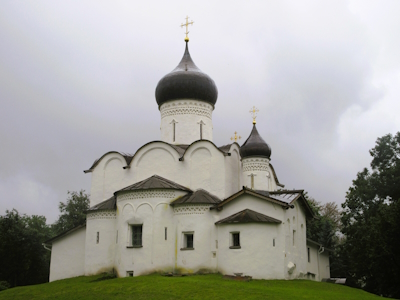 The Churches of the Pskov School of Architecture reflect the city's Golden Age and are the best examples of this style.
The buildings date mostly from the 16th and 17th centuries, when Pskov was an important trade partner of the Hanseatic League. They comprise religious, defensive and civic architecture.
Map of Churches of the Pskov School of Architecture
Load map
Community Reviews
---
Ivan and I have visited Pskov and seen some of its churches many years ago, before it was inscribed - with Ivan's Dad. We made this town on the Estonian borders an overnight stop when taking the car through the borders and back due to customs reasons. It was a lovely summer afternoon and evening, which added to the beauty and pleasure of the experience.
Since we haven't been anywhere via an overnight train, one of our favourite modes of travel in Russia, in a long time, we decided to make a weekend trip out of revisiting Pskov and examining its sacral school of architecture a bit closer. And examine we did. Ten churches are inscribed and if you wish to make a proper visit out of it, I recommend marking all of them on a map. Most are a walking distance, except for the Church of Svyatitel Nikolay inside the Snetogorsky monastery. We were overchurched by the time we could visit it and skipped that one, along with Church Rozhdestva Ioanna Predtechi.
If you had to pick one, I would recommend visiting the Cathedral at the Spaso-Pereobrazhensky Monastery, which has beautiful 12th century frescoes in s very good state. Entrance to the monastery complex is for free, but to get admitted to the Cathedral you have to visit the green "tickets shed" and buy your tickets there. I also very much enjoyed the double church of Pokrova i Rozhdestva ot Proloma. There is no entrace fee for the remainder of the churches - if you want to support them in any way, I recommend buying and lighting a candle (we did so and and ended up lighting 14 throughout the day). I would also recommend visiting the Pskov Kremlin - you only pay for entrance if you wisht to take part in a guided tour nd you can visit their Trinity Cathedral, which, though not one of the inscribed as its of a much later date, you can compare and contrast the evolution of sacral style.
The ladies that mind the churches are very nice, if you speak Russian, you can ask them anything you want to know about the churches. When we visited the church of Kosma and Damian s Primostya, the lady inside, happy to see at least someone coming in, gave us a tour of the whole church. It was very sweet. As I've said, most churches are walking distance, but if you become tired of walking, you can always take Russian version of Uber - Yandex and order a taxi to drive you anywhere you please. They are super cheap - one ride costs 150 rubles max, which is less than two euros.
As for where to go on next, Pskov trip can be combined with Veliky Novgorod, also a WHS. There are regular train and bus connections between the two towns. As for other trips available, there's Mikhailovskoye estate of Pushkin two and a half hour-ride one way, cave monastery of Pechory and medieval fortress in the town of Izborsk.
---
Visited this site in July 2019 exactly during the weekend when Pskov was inscribed. However, most local guides were quite sure that Pskov was already inscribed for a while. I concentrated on 10 churches recommended by ICOMOS for inscription. As I understood, there was a bit of mess whether 10 sites or all 18 proposed were finally inscribed. Now the official site shows 10 locations. In overall, Pskov and Nogvorod white churches, not influenced by Mongol invasion, have distinct features (like thick walls, unusual bell towers), as compared to traditional ones. The majority of the monuments date back to 15th and 16th centuries, but the most interesting one, in my opinion, is the oldest – Transfiguration Cathedral of the Spaso-Mirozhsky Monastery has clear Byzantine origins of the 12th century and as the most impressive frescos of all sites. This Cathedral is open from 11:00 until 18:00 and costs 200 rubles. The Cathedral is closed for visit in case of rain, fog, snowfall and high humidity in order to preserve impressive 12th century frescos painted by the Greek masters.
The Cathedral of the Nativity of the Mother of God of the Snetogorsky Monastery also has some 14th century frescos, but they're much less preserved and this church is closed for restoration works as of July 2019, we were let in by chance by one of the nuns.
We also managed to enter inside a number of other churches, but they are not very impressive inside, however outside architecture is quite similar. Some churches are active religious sites with orthodox services and worships.
In overall, we liked Pskov with its fortified walls, numerous churches and lazy provincial atmosphere. The sites are concentrated around historical center with only exception of the Snetogorsky Monastery located 6 km to the north. Most churches received a lot of damage during the war and especially during the Soviet times, but now being returned to the church and put to restoration.
Some interesting fact, Church of Theophany with a belfry was visited in 1961 by Le Corbusier and impressed him most.
For some traditional and tasty food, I highly recommend Dvor Pozdnoeva, which has four (!) thematic places to eat: Trapeznye Palaty (upscale food); Pivnya Palaty (beerhall); Kofeinye Palaty (excellent self-made cakes); Pirogovye Palaty (pies).
---
I visited Pskov at the end of my trip to Russia in 2016. I did not expect anything special in Pskov, although wanted to visit this city, with links to the history of Poland and famous city walls. And indeed, massive city walls were the first thing that was outstanding in Pskov. The second one was its kremlin (here called Krom) which was very small comparing to Russian standards (where usually kremlins are quite broad) but one of the niciest. But honestly I had mixed feelings with the historical center – although overall it was fine, it lacked integrity and historical buildings were mixed with much newer ones. It did not help that the weather was rainy that day and at the end I got all wet.
The third outstanding thing about Pskov was the abundance of churches. During my 18-day trip I had visited hundreds of tserkvas, including iconic ones in Vladimir, Suzdal, Yaroslavl and other cities of Golden Ring, but I remember the ones in Pskov were special. They were all white with really thick walls – I bet they can survive a nuclear attack. Contrary to most of Golden Ring tserkvas, covered in frescoes, the ones in Pskov had plain white walls and roofs. They reminded me the architecture of Russian Far North, e.g. Solovetsky Islands.
I am not sure how many of now inscribed churches I visited – not so many due to bad weather. I certainly visited Church Vasiliya na gorkie (completely renovated in 2016), neighboring church Nikoly so Usokhi (see photo) and Church of Saints Kosma and Damian. I have evidence of my visit to Church of St. Anastasia – also very old (XVth century) and similar in style to the inscribed churches but not proposed for inscription.
---
Part of my Russian experience was to ride a night train once. I did some digging and found that Pskov was a good destination on my way from Moscow to St. Petersburg as it also allowed me to visit Novgorod along the way. Admittedly, the experience was rather boring: All the Russians on board of the train wanted to sleep and I ended up drinking the beers I brought on my own.
In any case, I made it to Pskov and found a pretty Kreml (or Krom as they call it in Pskov). The weather was gorgeous and I had a nice time visiting and wandering around the city.
Not to be missed is the Mirozhsky Monastery on the other side of the river. The 12th-century artwork by a Greek/Byzantine artist in the chapel is astonishing and survived the Mongols. To me, these together with those in Suzdal were the best wall paintings I have seen in Russia.
[Updated July 2019] I had to update this yet again. The Unesco site today (08 July) shows all locations including Krom / Kreml. Apparently, Icomos recommended to exclude the Krom and focus on the surrounding churches and monasteries. This was approved by the committee. Let's see what happens.
The Mirozhsky Monastery is included. And I think I stumbled into plenty of the other locations spread across the city. So tick done. Still, I don't understand Icomos here at all. Why not simply inscribe a core zone than 10 locations? And why exclude the central, most prominent building in Pskov, the Krom?
Getting There
I took a night train from Moscow (I think Kalanchovskaya). We arrived in the morning at the train station on the outskirts of town and I walked into town. From Pskov, I continued on by bus to Novgorod in the afternoon. There are also direct buses to St. Petersburg.
Another option is to cross into Estonia. I think there are direct buses to Tartu where you can visit Struve's home university.
While You Are There
Around Pskov on the border with Estonia, you find Lake Peipus and the Pechory Monastery. The Pechory Monastery is known for its "eerie burial chambers". I did not make the trip.
---
Site Info
Full Name

Churches of the Pskov School of Architecture

Unesco ID

Country

Inscribed

Type

Cultural

Criteria

2

Categories

Link
Site History
2019

Name change

Upon inscription: from Monuments of Ancient Pskov to Churches of the Pskov School of Architecture
2019

Revision

Only 10 out of the 18 nominated locations were inscribed, leaving out the Kremlin and administrative buildings which ICOMOS found had no OUV.
2018

Incomplete - not examined

As Monuments of Ancient Pskov
2017

Incomplete - not examined

As 'Monuments of Ancient Pskov'
Site Links
Unesco Website
Official Website
Locations
The site has 10 locations
Churches of the Pskov School of Architecture:
Ensemble of the Snetogorsky Monastery: The Cathedral of the Nativity of the Mother of God, 16th century
Churches of the Pskov School of Architecture:
The Cathedral of Ioann Predtecha (John the Precursor) of the Ivanovsky Monastery, 1240
Churches of the Pskov School of Architecture:
Ensemble of the Spaso-Mirozhsky Monastery: the Transfiguration Cathedral, 12th century
Churches of the Pskov School of Architecture:
Church of the Archangel Michael with a bell tower, 14th century
Churches of the Pskov School of Architecture:
Church of Pokrova (Intercession) ot Proloma (at the breach in the wall), 15th-16th century
Churches of the Pskov School of Architecture:
Church of Koz?ma and Damian s Primostya (near the bridge) remains of the belfry, gate, fence of the 15th-17th century
Churches of the Pskov School of Architecture:
Church Georgiya so Vzvoza (St. George near the river descent), 1494
Churches of the Pskov School of Architecture:
Church Nikoly so Usokhi (St. Nicholas from the dry place), 16th century
Visitors
29 Community Members have visited.