Domus de janas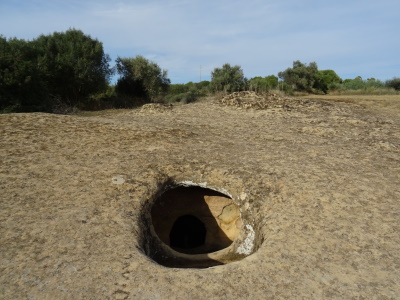 Art and Architecture in the Prehistory of Sardinia. The domus de janas. is part of the Tentative list of Italy in order to qualify for inclusion in the World Heritage List.
The domus de janas are 35 prehistoric underground funerary structures on Sardinia. There are different types and together they represent the pre-Nuragic cultural system of the 5th - 3rd millennium B.C.. Domus de janas translates to "House of the Fairies", as by legend they were inhabited by magical creatures.
Map of Domus de janas
Load map
The coordinates shown for all tentative sites were produced as a community effort. They are not official and may change on inscription.
Community Reviews
---
Sardinia boasts arguably the best beaches in Europe as well as countless prehistoric and protohistoric archaeological sites. This TWHS is only about necropoles though, not less than 35 in the description (out of more than 10,000 on Sardinia), and most of them situated in the northwest of the island. As I have not been to that part of the island yet, I have only seen two of the tentative sites: Li Muri near Arzachena and the mysterious Tomba del Labirinto. Both are unique and worth the visit, and the latter could definitely use a protection concept.
Li Muri is situated in the northeast, not far from the famous Costa Smeralda, in a geographic cluster with other interesting megalithic/nuraghic sites. It consists of a series of four concentric funerary circles with vertically placed stones, a central sepulchral compartment and menhirs in the outer circle. It forms part of the Arzachena Archaeological Park along with other interesting sites but the distances between them are a bit too long to walk (and walking along the road certainly is not enjoyable). From the closest to the farthest from Li Muri, the other sites of the archaeological park are: Li Lolghi and Coddu Vecchiu (giants' tombs), La Prisgiona (nuraghe) and Albucciu (protonuraghe). All are worth to visit when in the area.
Tomba del Labirinto (also known as Luzzanas rock tomb) was an adventure to visit more than a decade ago (and probably still is today). At 40°26'11.98"N 9°7'30.87"E, it is situated in the middle of Macchia close to Terme Aurora (the closest municipality is Benetutti). It is next to a creek bed and gets flooded occasionally. Most famous for its incised labyrinth (photo) and of a remarkable form, the tomb was in an unprotected but relatively well-preserved state when I visited. I have seen a big hornet/wasp nest on the ceiling, luckily abandoned, and I have read that bats also live here. For these reasons alone, visitors should be very cautious and considerate (if access is not regulated anyway these days). Back then, I did not want to crawl deeper into this cave-like tomb. All in all, really interesting and worth protecting! Not far (by car), close to Orune, is Sardinia's best preserved fountain sanctuary Su Tempiesu, also very unique and in a nice leafy setting.
I can highly recommend to visit some of the (inland) prenuraghic and nuraghic sites when visiting Sardinia, including but not only the WHS Su Nuraxi di Barumini. The "Domus de Janas" cluster of necropoles, connected to the older Ozieri culture (ca. 3000 BC), would be a worthwhile addition to the World Heritage List and is to be seen separately from the Nuraghic culture.
---
This is quite interesting serial nomination of 35 pre-historic, pre-Nuraghic sites of Sardinia. Nevertheless, I was thinking intensively how to evaluate it in comparison to other archeological sites in Europe. The killing feature is enormous number of sites and rather scientific description/justification provided by the state party of Italy: They are praising unique combination of hypogeism and megalithism typical for these structures dating to 5th-3rd Millennium BC. Well, maybe yes... However, I like and support megalithic TWHS sites like Carnac in Bretagne, Ceide Fildes and future-TWHSs around Sligo in Ireland. Thus, why not Domus de Janas of Sardinia? This is the reason I change my initial thumb-down to -up for this TWHS, but we will see...
I visited Sardinia in September/October 2017, and I enjoyed my stay very much. From the point of view of UNESCO material, Sardinia is a poor sister of Italian mainland. Besides already inscribed Nuraghe (only one site in this WHS, what about extended by other hundreds of Nuraghic sites...???), I can see a potential only in natural coastal reserves (La Maddalena Archipelago) and these pre-Nuraghic sites that are obviously much older than Nuraghes...
I visited only one site from this nomination: the component No.33 Pranu Mutteddu near Goni village, and it happened by coincidence, I would say. During my Sardinia vacations we explored almost all Eastern cost of the island.
Thus, we passed by the component No.31 "Corbeddu Cave in Oliena" without visiting the site. We could see the mountain range, where this component is located from the village of Orgosolo (famous for its murals), and also from other side overlooking impressive Gorropu gorge.
We spent a few days also in the campsite Torre Salinas and decided to explore hilly landscape around. I noticed in the map that the village of Goni is marked as worth-visiting place. OK, why not? Goni is small rather unassuming place. Only interesting sites are small Nuraghe sitting on the hill above the village and nearby archeological park Pranu Mutteddu. First, we climbed the hill with the Nuraghe Goni (not included to TWHS) that was a nice stroll with beautiful views...
After that we headed to Pranu Mutteddu, which is located not far from the village by the local road. We were the only visitors in early October. The site-keeper was very kind but did not speak English too much. With the English site description in my hand, I enter the site by myself. My friends refused, and stay at the reception and practiced their Italian language by conversation with the site-keeper. The archeo-site looked like a park with green oaks. It was full of pre-histroric monuments like menhirs, dolmens, circles, gallery graves (allée couvertes), and also Domus de Janas (House of the Witches), which is a kind of chamber tomb typical for Sardinia. However, no decoration survived at this site, and Domus de Janas was opened structure without ceiling after excavations. As I understood what the site-keeper said, Pranu Mutteddu is one of the most important archeological sites of Sardinia, sometimes called as Stonehenge of Sardinia, and I was impressed by his enthusiasm. Pranu Mutteddu is kind of unique, because it combines almost all the megalithic and hypogeic features together on one site. Well, I visited only this site from 35 nominated, but this should be a fine and representative example.
He recommended to us visiting of nearby Nuraghe Arrubiu (not included to the nomination, it belongs to younger Nuraghic period), and we did two days later. Arrubiu is more monumental than Nuraghe Goni and maybe even than Pranu Mutteddu, and with more interesting surroundings. But it was clear to me for now and forever that Nuraghes and Domus de Janas are two completely different structures from completely different periods...
PHOTO: Fortunately, I found my photos from Pranu Mutteddu very recently. Here is the excavated entrance to the biggest tomb.
To sum up: I am still not decided if Pranu Muttedu or even all 35 sites (encompassing all features of pre-Nuraghic period - civil, funerary, and religious) would deserve the WHS status. Pranu Mutteddu is certainly an interesting site and worth-visiting when you are in this part of Sardinia. Next time, I am not against visiting also other sites of this nomination (for example "Archaeological complex with the Altar of Monte d'Accoddi in Sassari" looks extremely interesting to me on photographs). Unfortunately, all these archeological sites, and there are really numerous similar ones in Mediterranean and Northern Europe, are fully enjoyable only for educated scholars and experts. However, these sites including Pranu Mutteddu have their own specific charm that is attractive also for total laymen like me.
---
Community Likes
Site Info
Full Name

Art and Architecture in the Prehistory of Sardinia. The domus de janas.

Country

Added

Type

Cultural

Categories

Link
Site History
2021

Added to Tentative List
Site Links
Visitors
4 Community Members have visited.