Ayvalık Industrial Landscape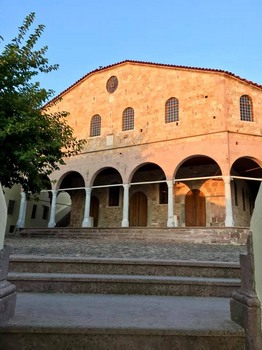 Ayvalık Industrial Landscape is part of the Tentative list of Turkiye in order to qualify for inclusion in the World Heritage List.
Ayvalık Industrial Landscape comprises an olive grove landscape. It holds industrial buildings used for the produce or storage of olive oil. The traditional settlement has workshops, churches, and typical long and narrow Ayvalık Houses.
Map of Ayvalık Industrial Landscape
Load map
The coordinates shown for all tentative sites were produced as a community effort. They are not official and may change on inscription.
Community Reviews
---
The Turkish Tentative list is a bit of a mixed bag. You have sites like Kaunos, Zerzevan or Mor Gabriel that are clearly WHS material. And you have sites like Izmir, where you wonder what specifically they refer to. It feels like the Turkish authorities use the tentative list as a work in progress list and that each region is free to submit any site they like to submit. Interestingly, I found several sites that according to the official signs were "inscribed on the Unesco Tentative List". If there was such a thing...
The Ayvalik nomination feels more like a draft nomination. I made a few markers in town, where to go and what to visit, but it was hard to pinpoint OUV. Ayvalik certainly has its charm, though. An old town with cobble stones. A nice port area. Some olive factory buildings, nowadays parking lots or tourist olive hops. And old churches. On the other hand, the town could use some paint and less cars.
I stayed for a night in town as a stop between Troy and Pergamon. It's a standard bus stop for buses from Istanbul to Izmir. I am not sure I saw the right places, but it was a pleasant night.
OUV
I wouldn't see a reason why Spanish Olive farming would be superior to Turkish Olive farming. And Ayvalik had a certain hard to pinpoint charm about the old town. With some renovations in town and some polishing of the nomination file, who knows? But as is, I don't think it belongs on the list.
Getting There
If you travel along the Western coast by bus from Izmir to Troy, you will stop in Ayvalık. The bus station (otogar) is on the highway a few kilometres outside of the old town. There are also local buses to Bergama/Pergamon. I came from Troy in the evening and left for Pergamon in the morning the next day.
From the bus station, you can take a local bus or a cab. You can also walk but there is a hill between the bus station and the town proper. I stayed in a historic townhouse in the old town. The cabbie had problems finding the way in the narrow cobble stone streets. Eventually, I just walked and I would encourage you to do the same.
While You Are There
Nearby Pergamon is a must. And you can continue up the coast to Troy. The area also holds several tentative sites, both in Turkey as well as in nearby Greece (Lesvos). Supposedly, the best parts of Ayvalik is the island off the coast: Alibey Adası. The area also has several beaches.
---
Chinese-Canadian - 01-Mar-19 -
Ayvalık is a nice seaside town at the Aegean coast. It is easy to place this onto an itinerary when you visit the Aegean area as you are very likely to drive past it. I didn't have much time to spend in town but it mainly looked like shops for olive products at the marina. It's the nearby olive forest I was mainly interested in. There are also olive oil boutiques nearby the main road for your convenience. According to what I read this olive oil is rated as #3 in the world after Tuscany and Greece. I certainly made sure to buy some supply for my mediocre cooking at home. (Is there a limit for liquids in a checked baggage?)
There are several olive oil industries trying to inscribe themselves on the WH list. Andalusia, Spain will try soon and be either the first to be inscribed or first to be rejected, setting a standard for the rest perhaps. I personally recommend this as the Intangible 'Mediterranean Diet' and leave it at that, but the vineyards around the world have managed to get inscribed as part of the culture aspect as well.
I found it hard to understand this place. The olive-oil factories seem new and modern, the traditional houses a little normal, the town is neat and the nearby forest has indeed gave them a continued production livelihood based on olive oil, but is that enough? The document also speaks of corals and migratory birds as if they want to inscribe a natural site!?
I drove through the forest expecting it to be all the green parts on the map but actually it is "only" the western sections that had olive groves. I would recommend the drive though.
---
Community Likes
Site Info
Full Name

Ayvalık Industrial Landscape

Country

Added

2017

Type

Cultural

Categories

Link
Site History
2017

Added to Tentative List
Visitors
17 Community Members have visited.