Anatolian Seljuks Madrasahs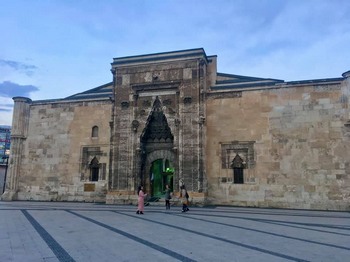 Anatolian Seljuks Madrasahs is part of the Tentative list of Turkey in order to qualify for inclusion in the World Heritage List.
The Anatolian Seljuks Madrasahs comprise 10 Islamic educational institutions. They date from the 12th and 13th centuries. They can be divided in open court madrasahs and covered court madrasahs. Made out of stone, these buildings represent an interesting period of Turkish-Islamic architecture.
Map of Anatolian Seljuks Madrasahs
Load map
The coordinates shown for all tentative sites were produced as a community effort. They are not official and may change on inscription.
Community Reviews
---
I visited 8 out of the 11 components that make up this tWHS in Spring 2021 (except the 3 components in Sivas) and most were really enjoyable places and stopovers. Together with the Seljuk Caravanserais tWHS, we really felt we covered a great deal of smaller places en route between East and West Turkey which we would have passed by unaware otherwise. So even if they never make it on the list, I'm still very glad we made the extra effort to visit almost all sites, and whenever I revisit Turkey to cover more tWHS, I'll surely try to visit Sivas too.
The two components in Konya (also a separate tWHS), Ince Minareli Madrasah and Karatay Madrasah, are quite a walk away from the old city centre proper, yet are worthwhile visiting. There are quite a lot of madrasahs (or medersas, meaning Islamic schools) on the list already but these Seljuk ones in Turkey are still a worthy addition and have architectural elements from Persian and Central Asian ones. The Ince Minareli Madrasah now houses the Museum of Stone and Wood Art. Some of its architectural highlights that emerge in Seljuk Anatolia are the calligraphic portal that serves as the entrance to the complex (reminiscent of one of the portals of the Divrigi WHS), its covered dome at the center of the courtyard, and the highly ornate brick minaret attached to the complex. A visit inside is worthwhile if only for the individual architectural fragments and reliefs of elephants, lions, double headed eagles, and other imaginary animals. Not far from it is the Karatay Madrasah with its black and white ornamentation and muqarnas on its facade. This madrasah houses the ceramics museum where elaborate Seljuk tiles are united and displayed. The central dome is worth the entrance ticket if you have extra time and money to spare.
Unlike Konya, Erzurum is not a tWHS on its own, so we only visited by chance after visiting other Seljuk caravanserais and madrasahs, and as a convenient stopover on our long trip between Ani and Divrigi WHS. But it really turned out to be a pleasant surprise as an interesting big city in East Turkey with several monuments, conical tombs, and the Çifte Minareli Madrasah and Yakutiye Madrasah being merely two of the many historical highlights of the city. The Çifte Minareli Madrasah is thought to be the model for the Gök Madrasah in Sivas, which is partially why opted to skip Sivas when we were pressed for time together with bad weather forecast on the day of our intended visit. It is easily recognisable from its two fluted brick and tile minarets that crown the monumental ornate facade. Make sure to visit the numerous conical tombs too which are just a short walk behind the madrasah. The Yakutiye Madrasah's highlight is its intricately carved stone facade together with its brick and tile minaret with geometrical designs. This madrasah also has an adjoining tomb/kümbet/gonbad and houses a museum dedicated to ethnography and Turkish and Islamic art.
The Sahabiye Madrasah in Kayseri has been converted in a sort of fondouk with small shops and a cafe (with not so worthy reconstuctions especially the upper parts), while the Çifte Madrasah in Kayseri has been "buried" by too near modern constructions such as shopping malls. So if you had to skip some of the components of this tWHS, I'd suggest skipping the ones in Kayseri. The Cacabey Madrasah in Kırşehir was built as a madrasah, used as an observatory, and after undergoing several renovations, it now serves as a mosque. We didn't dislike our visit here but couldn't help thinking that we could have invested our time on a detour to Sivas instead of Kırşehir.
All in all we really enjoyed the majority of the Seljuk madrasahs we visited. However, even though I give a thumbs up for inscription, I think it would stand a better chance by combining the best elements of this tWHS together with the Seljuk caravanserai tWHS. Only time will tell.
---
Out of all proposed properties we visited only one – Yakutiye Madrasah in Erzurum. I did not read a description on UNESCO site so I did not realize there was another one in Eurzurum - Çifte Minareli Madrasah, very close to Yakutiye.
Yakutiye Madrasah is located in the very center of Erzurum, one of the biggest cities in the East of Turkey. The whole building has been preserved in original shape and it looks very nice - epecially its minaret with vivid blue ornaments. The entrance to the building is beautifully carved with ingenious iwan. There is a museum inside and normally the entrance is paid but we were there during a holiday, so no fee was required and there were many people inside. The museum shows a bit of everything – arms and armors, costumes, daily life ages ago and how the teaching in madrasah was conducted.
Madrasahs, originating from Iran but then spread along all Islamic world, do not have their own representation on World Heritage List. Of course many of them are inscribed under "historic center of…". Maybe Turkey wants to fill out this gap. For us at least visiting the one in Erzurum was worthwhile so if you are nearby, consider a detour.
---
Community Likes
Site Info
Full Name

Anatolian Seljuks Madrasahs

Country

Added

Type

Cultural

Categories

Link
Site History
2014

Added to Tentative List
Locations
The site has 11 locations
Anatolian Seljuks Madrasahs (T)
Anatolian Seljuks Madrasahs: Çifte Madrasah (Kayseri) (T)
Visitors
24 Community Members have visited.