Sites of Saytagrah, India's non-violent freedom movement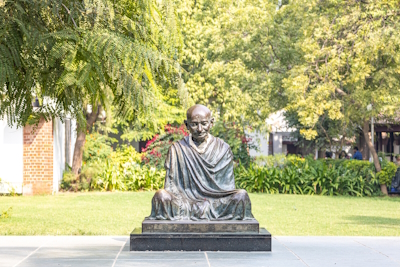 Sites of Saytagrah is part of the Tentative list of India in order to qualify for inclusion in the World Heritage List.
The Sites of Saytagrah are 22 locations associated with India's non-violent freedom movement from the first half of the 20th century. Mahatma Gandhi was the greatest advocate of Saytagrah. To train and strenghten the participants, Ashrams were founded, social projects started and protests organized. It also includes the 390km route of the Salt Satyagrah protest march, where Gandhi lead his followers on a 24 day march to break the British Salt Laws.
Map of Sites of Saytagrah, India's non-violent freedom movement
Load map
The coordinates shown for all tentative sites were produced as a community effort. They are not official and may change on inscription.
Community Reviews
---
I visited two sites included in this serial nomination back in 2019, the Sabarmati ashram (Gujarat) and the Asiatic Society of Mumbai Town Hall (Maharashtra). The sites are interesting, but they apparently face the same dilemma as the Luther sites in Germany: what is celebrated in these sites are not what were built per se, but more of what had happened in them. Is it a bad thing? Not necessarily. If we look past the unassuming structures, we realize that what transpired in these places are truly worth celebrating and the ideas that were cultivated here are indeed to be emulated. Heritage, after all, goes beyond built-structures; a "heritage" ought to have a spirit, a meaning, and these places certainly possess those. While the whole idea of Satyagraha might be difficult to grasp by just visiting one or two sites, it does not preclude the fact that the careful selection of representative component sites comprising this nomination can make a sound case for an outstanding universal value. The Sabarmati/Ghandi ashram in historic Ahmedabad (another memorable WHS for me!), for example, is undoubtedly a world-class memorial and a continuing living heritage space (so much so that even the principles employed in managing the site are highly Ghandian!) whose importance transcends beyond national level.
I have also visited related sites in KwaZulu-Natal, South Africa where the idea was conceptualized and was first observed. The whole essence of non-violence social protest would, likewise, resound much later on in my country during the People Power revolution in toppling down the dictator. Hence, it has clear lasting influences. It would definitely make me happy to see this site be included in the list one day as it well deserves it.
The list would definitely be benefited from having more sites that represent freedom from colonial oppression and the rise of national identities in the 20th century especially from this side of the globe. While I feel that criteria (vi) is easily met, crit. (iv) only argues for the ashrams and not for the others in the nomination. The nomination might have to be reworked, perhaps further narrowing down the sites included and where even crit. (iii) may be explored.
---
I only visited the Sabarmati Ashram in Ahmadabad, which is a well-developed tourist site with a nice ghandi museum and the barracks of the ashram itself. The site seems to be one of the more prominent ones in the proposal, there are a lot of minor sites whose relevance is a bit dubious. The Ahmadabad ashram is certainly an interesting and moving visit - but strictly because of the political and historical background. The buildings itself are quite sober - plain barracks without decorations, fitting Ghandis austere lifestyle. While I have the highest respect for India's non-violent movement, I don't think that a WHS is a good way to honor it. It's all about the ideas and the philosophy - not about sites and buildings.
Visited: Nov 2015
Importance: 5/5 Beauty 2/5 Uniqueness 5/5 Environment 2/5 Experience 3/5
---
Site Info
Full Name

Sites of Saytagrah

Country

Added

Type

Cultural

Categories

Link
Site History
2014

Added to Tentative List
Visitors
16 Community Members have visited.