Torfajökull Volcanic System / Fjallabak Nature Reserve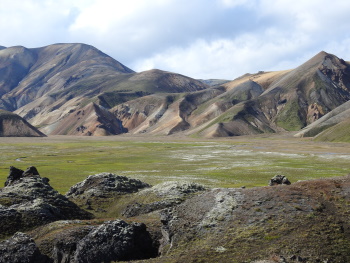 Torfajökull Volcanic System / Fjallabak Nature Reserve is part of the Tentative list of Iceland in order to qualify for inclusion in the World Heritage List.
The Torfajökull Volcanic System is a colourful landscape of diverse landforms that centers around the eponymous rhyolite volcano. This 600 km2 massif lies at an altitude of 600-1200 meters above sea level in the south central Icelandic highlands. The high-temperature geothermal field associated with Torfajökull is the largest and most powerful in the country and the terrain inside the caldera is typified by immense geothermal activity.
Fjallabak Nature Reserve (446 km2) is part of the Torfajökull area and is a popular place for tourism and long distance hiking.
Map of Torfajökull Volcanic System / Fjallabak Nature Reserve
Load map
The coordinates shown for all tentative sites were produced as a community effort. They are not official and may change on inscription.
Community Reviews
---
Visit august 2020
On the last day of our 10 day roadtrip on Iceland, we decided to visit this nature reserve, even though the weather forecast wasn't too good. From Selfoss it's a two hour drive to Landmannalaugur. The last stretch(30 km) is F208 (a gravel road) from the north. This is the easiest road for small 4x4 cars with no river crossings. If you have a car with small wheels you leave it at the parking lot about 0,5 km from Landmannalaugur as the last river crossing might be too tough.
Lonely planet describes the area as mind-blowing with multicoloured, mountains, southing hot springs, rambling lava flows and clear blue lakes as one of Iceland's most unique destinations and we agree. Part of Fjallabaki reserve includes the largest geothermal fields outside Vatnajökul. The place is great for hiking.
We opted for a circular route, clearly marked with white colors. It was nice route through a canyon, crossing lava fields and past some geothermal areas. Great views of the colorful mountains. The hike was 5 km/1,5 h, not very strenuous. If you are into hiking, you might try the 5 days hike from Landmannalaugur to Þórsmörk , called Laugavegurinn.
On the way we made a stop at Hnausapollur Crater. You can drive up to edge of the crater, it is about 200 meters up the hill from the road. It is small sign, easy to miss. It's a clear bluish lake in the crater, very photogenic! It seems possible to walk the rim.
Another stop is at the small crater Sutur, which is clearly marked with a small car park. Walking up here is a short steep walk.
We left the park on the other trail, F225. The condition of this road is gravel as F208, but it is longer and includes river crossings, but we managed the crossings with our Nissan Qashqai 4x4. You better check the conditions before you go. The road is looping around Hekla, and we got a nice view of another famous volcano.
The landscape is very similar to the Laki area within Vatnajökul, variety of lavafields, some black and others green covered with moss. The Landmannalaugur area differ with more colorful mountains and geothermal fields. We wouldn't mind seeing this on the list even though there are many similarities to Vatnajökul.
Bring your own food and drinks as there is nowhere to buy anything in Landmannalaugur.
### Randi & Svein Elias
---
The Icelanders keep on having difficulties to provide catchy names for (possible) WHS - the Torfajökull Volcanic System / Fjallabak Nature Reserve is just another example. I will just call it Fjallabak. "Landmannalaugar" may even be a better choice, as it is the best known and most spectacular part. The Torfajökull volcano created this colourful landscape with its rhyolitic lava flows.
With a "normal" 2WD car, almost the entire interior of Iceland is off-limits: the roads here are unpaved and you have to traverse a river every now and then. So I booked a super jeep tour to Landmannalaugar to still be able to see some of the inland and this TWHS. The drive out there from Reykjavik took about 3 hours. After entering Fjallabak we first held a short stop at Ljótipollur, a crater lake with red colored walls and bright green spots. It is filled by groundwater.
At Landmannalaugar we arrived in a sun-drenched valley where fellow tourists walked around in t-shirts and shorts. You really arrive to something here: it is perhaps the busiest place in all of Iceland! Dozens of cars were parked there and just as many tents were pinned on the rocky surface of the campsite.
There are 2 major things to do here: enjoy one of the geothermal hot pools or go for a walk. I choose the latter and followed our tour guide for a hike of about 2 hours. The trails are marked so it is quite easy. From the ridge behind the Landmannalaugar camping complex there are good views into the valley and right at one of the colorful mountain walls for which this area is famous. These many colors are due to the rhyolite rocks that are light in color and consist of small crystals. In the sunlight it lights up and takes on a white, yellow, pink, brown or gray-green color.
The valley lies on the edge of the Laugahran lava field, which was formed after a volcanic eruption in 1477. While hiking at the back of the mountain ridge plumes of smoke are visible: they come from the hot sulfur springs. We walked straight through the lava field back into the valley. It required some scrambling but there is still a well-marked trail. The lava field contains much of the rare obsidian or volcanic glass.
The last part of the trail we took is flat and runs parallel to a river, opening up yet another piece of scenery. One of the mountain walls here is even green. There is also said to be a blue mountain, but it did not show its color very well today. Back in the valley it felt like walking in a desert, it could be Namibia. Many hikers here are preparing for the 4-day Laugavegur trek, which runs for 55 kilometers through Iceland's interior. You can stay overnight or camp in mountain huts.
On the way back to Reykjavik we drove a different route. Twice we met a group of tourists on horseback: riding the native small horses is also a popular activity here. We hoped to catch a glimpse of the volcano Hekla, but unfortunately it was already hidden behind clouds. We did drive through a spectacular volcanic landscape again though.
This is a truly spectacular place and writing this a week after my visit – at the end of my Iceland trip – I can say that Fjallabak belongs to my top-3 of sights in this country and it would be a worthy WHS.
Read more from Els Slots here.
---
Community Likes
Site Info
Full Name

Torfajökull Volcanic System / Fjallabak Nature Reserve

Country

Added

Type

Natural

Categories

Link
Site History
2013

Added to Tentative List
Visitors
19 Community Members have visited.