Dzongs: the centre of temporal and religious authorities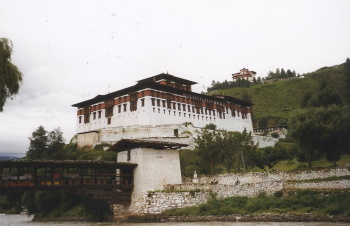 Dzongs: the centre of temporal and religious authorities (Punakha Dzong, Wangdue Phodrang Dzong, Paro Dzong, Trongsa Dzong and Dagana Dzong) is part of the Tentative list of Bhutan in order to qualify for inclusion in the World Heritage List.
These 5 listed Dzongs are significant for their importance in Bhutanese history. They combine administrative and religious functions and are a repository for cultural treasures. They also show the development of the architectural style of Dzongs.
Map of Dzongs: the centre of temporal and religious authorities
Load map
The coordinates shown for all tentative sites were produced as a community effort. They are not official and may change on inscription.
Community Reviews
---
Now these sites are really screaming to be a WHS. The dzongs of Bhutan are iconic buildings, they are of critical importance for the history of Bhutan, they are a blueprint for the whole bhutanese architecture and they are also just really beautiful buildings ! They are impressive from the outside, all with quite picturesque locations, and they are impressive from the inside, as they are full of decorated courtyards and colorful temples. And all are still actively used as religious and administrative centers, with wonderful festivals inside of them. Now that's how to be a worthy WHS site, you hunting grounds and vineyards !
I visited three of the Dzongs, had a look at the forth and didn't found out much about the fifth. Here are my thoughts on the individual locations:
Paro Dzong (The close one): You will probably see this one even before touchdown, as it is quite close to the only international airport of Bhutan. It is probably the one which resembles a castle the most: There is a keep in the middle, a strong ring of walls, a moat and guarded entrance doors. It doesn't have as many courtyards as the other Dzongs, but is still a very fine building, with lots of wooden decorations and towering walls. You shouldn't feel too bad if this is the only Dzong you can visit, as it's a good example of the dzong style.
Punakha Dzong (The beautiful one): This one is advertised as the most beautiful dzong of Bhutan, and is quite a beauty indeed (see the picture). It is the only dzong that is not located on a mountainside or -top, sitting flat between two rivers. It's the most symmetrical of the Dzongs, and seems to be quite well restored. If you can only visit one dzong, I would recommend this one for the biggest wow-factor.
Wangdue Dzong (The destroyed one): This dzong burned down in 2012, and is still being rebuilt. I only looked at it from outside. The back and front part seems to be already finished, but the middle is still in ruins. A visit does not seem to be possible yet, and I can't judge about the quality of the restauration. I would expect a fine and faithful rebuilding, as the bhutanese people are quite serious about their dzongs.
Trongsa Dzong (The large one): Advertised as the largest dzong in Bhutan, the dzong sits on a very nice location, overlooking a deep river gorge. Its external watchtower houses a nice but small museum of royal insignias - not really a must-see. The dzong looks best from the outside, its inside is fine but not as impressive as the Paro/Punakha dzongs. Trongsa is located quite a bit to the east, and you will need multiple days to reach it from the airport.
Dagana Dzong (The unknown one): I have not visited this one, as it is not located on the typical tourist route, which goes from Paro to the east. I couldn't find much information about it, and it is not heavily advertised. The photos look impressive, though.

All in all, the dzongs are very worthy of being a WHS - the only question remaining is: Why are they not on the list yet ? I can't imagine any opposition against their inclusion.
Visited in November 2019.
Importance 4/5 Beauty 5/5 Uniqueness 4/5 Environment 5/5 Experience 5/5
---
Chinese-Canadian - 21-Mar-19 -
I only visited the Paro Dzong and I found it adequate to get an idea of them. You would have to be blind to miss it: a massive structure not in height a la Manhattan skyscrapers but wide, sloping along the relative large hill and compared to the small modest houses Bhutanese live in it looks like a palace. You can see it from the plane, from the airport, probably from EVERY house in Paro, maybe from space? ;) It is, however, not a palace but the government office.
The first time is on the obligatory tour. I say obligatory but actually you can select the itinerary if you have a private tour and this is just one of the must-do things in town and it is totally worth it. The dzong is still in use by the government, or religious government, and you cannot visit anything but the entrance hall and courtyard plus one of the temples. If you think stepping through the gates is already impressive just wait for the view from the terrace. Of course the guides can tell you everything you want to know. Try asking something about the place you think they wouldn't know after the hundredth or thousandth tour they have done - they will maybe not be able to tell you due to the language barrier but not because they don't know. I also loved that the driver drops you at the top of the hill's parking lot and you can descend to the lower area where the river (cleanest river ever?) flows. Later in the evening I got a lovely view of the lit dzong when returning from the local family visit.
I think this should be the 3rd place on the WHS after Tiger's Nest + Manas. It's unclear what has taken Bhutan so long after finally joining the convention and submitting everything in one swoop in 2008 only to leave it dormant for over 10 years already.
---
The "Dzongs of Bhutan" came 12th in our 2014 vote on the most significant sites "missing" from the WH list. Way back in the autumn of 2001 we visited 4 of the 5 included in this T List entry. 4 of them (Dagana Dzong is the exception) sit on a natural East/West route along or near the main "lateral highway". In sequence from the West - Paro, Punakha, Wangdue Phodrang and Trongsa are c350 kms apart and will be passed anyway if you want to visit another fine area of Bhutan further east at Bumthang - where Bhutan's T List site of Tamzhing is also situated and also where some rather fine tshechu festivals take place.
In 2001 this highway was undergoing significant work (a glance at a map of Bhutan will show it to be the only route into the country's centre and east other than by travelling up from India) but is apparently still largely a difficult single track east of Thimpu subject to landslips etc. The terrain is mountainous and heavily forested but runs south of the snowcapped peaks - it crosses several passes at around 3000/3500m. A trip from Paro to Bumthang, taking in the other 3 dzongs is going to take 2 days each way with stops at/near Punakha/Wangdue out/back. Unfortunately Wangdue suffered a major fire in Jun 2012 (yet another Bhutanese T List site thus impacted – ICOMOS will have to pay careful attention to fire protection if any of these sites get nominated!) – a pledge was made to rebuild it but I am not aware of its current status. If it is still intended to include Wangdue then that could result in delay to such a nomination. In the immediate aftermath of the fire the Director General of Department of Culture said, "Since Wangduephodrang Dzong was included in the tentative list before the fire the change will be updated with the UNESCO." thus implying an intention to remove it. However, Wangdue dzong still figures in the T List definition so maybe the Bhutanese had second thoughts on this matter and hope to include it in restored form! With or without Wangdue, it does appear that the Dzongs are high in the "frame" - see this report of a workshop which took place in Aug 2014 - http://www.heritagesites.gov.bt/main/viewmore.php?id=28 ) But, since the Silk Road was also discussed, it may be that it might take precedence even if not currently on Bhutan's T List.
What links these 5 dzongs from among many which could have been chosen is the fact that they were the most significant ones founded in the 17th century by Ngawang Namgyal, who is credited by the Bhutanese with uniting the various warring "fiefdoms" which then existed and thus with creating a distinctly Bhutanese identity, separate from that of Tibet from where it was derived. The full title of the T List entry reflects the fact that he set up a system of dual leadership, civil and religious, which lasted until the country adopted hereditary monarchy in 1907 under a forbear of the current king. The fortified dzong "were later expanded and modified by his successors in order to adapt court of clergies and administrators" (UNESCO) and, even today, are centres of both civil and religious government.
I must admit that my ability to remember the dzongs individually (at least regarding their interiors) has diminished somewhat across the 13 years since our visit. Revisiting my slides as part of a long term digitising exercise has helped (and has been the stimulus for my reviewing of Bhutan's as yet unreviewed T List sites from a long past trip!). I attach one such digitised photo of Trongsa dzong - the largest in Bhutan and wonderfully situated.
As would be expected for structures created at much the same time and for the same purpose they all have significant similarities. When you see them you will realise why the word originally meant "fortress" - these structures are primarily just that, together with a strong religious element in the form of temples and quarters for monks. Externally each is surrounded by massive inward-sloping stone walls, sometimes curved and with occasional towers and slit windows, painted mainly white and topped with a decorative ochre band. Above these walls can be seen the windows of wooden structures. Inside are a number of separate buildings - each with the typical sloped roof (now made mainly of painted corrugated iron rather than traditional wood – though Trongsa has maintained its wooden shingles) and open eaves, often with decorated ends.
Once inside you are in a complex of courtyards, administrative and religious buildings – the latter dark, pillared and full of tantric "paraphernalia". There will probably be service of some sort taking place somewhere with chanting, clashing of cymbals and drums and the blowing of horns of various types. A note in my diary comments that one of the instruments was made from a human femur (look up "Kangling")! There will be groups of monks studying (or even playing!) and ordinary people coming/going for prayer or some administrative purpose carried out inside the dzong. All very relaxing and friendly
Entry to dzongs is "free" but, since most visitors to Bhutan are going to have a guide (travel by foreigners, other, I believe, than those from India, Bangladesh and Maldives, is supposed to be supported by a local company), one would normally have him/her with one when entering. This of course was never normally a problem until we decided to return to Paro dzong for a second visit on our "free" afternoon during which we had been expected by our guide merely to shop and relax! Traditionally all dzongs have a "gatekeeper" even if there is no need to collect money - our desire to enter on our own caused some consternation at the gate, but we were respectfully dressed (another requirement – and locals have to be in religious or officially prescribed "Bhutanese" costume!) and were assigned to another group which was entering and then left to our own devices once inside!
I was somewhat disappointed at how relatively few slides I have compared with the number of digital snaps I would now take (as well as movie!) but that was the way of travel then with limited "expensive" (and bulky) 35mm film which had to be "rationed" through a trip! But I also remember that Bhutan didn't and apparently still doesn't, allow photos inside the religious areas of dzongs/temples although courtyards etc are ok so that at least partially explains the small number. Tibet and Ladakh were both more relaxed on this matter despite their similar Buddhist tantric tradition. We are unlikely to return to Bhutan to rectify this lack of tangible mementos but, looking back, it was a good trip and Bhutan is a country which I suspect it is better to have seen "earlier" rather than "later" given the changes which are inevitably occurring. Those who voted for the dzongs among the top 50 missing were not wrong – indeed they should have come higher than 12th!
---
Community Likes
Site Info
Full Name

Dzongs: the centre of temporal and religious authorities (Punakha Dzong, Wangdue Phodrang Dzong, Paro Dzong, Trongsa Dzong and Dagana Dzong)

Country

Added

Type

Cultural

Categories

Link
Site History
2012

Added to Tentative List
Visitors
23 Community Members have visited.