Plantations in West Curacao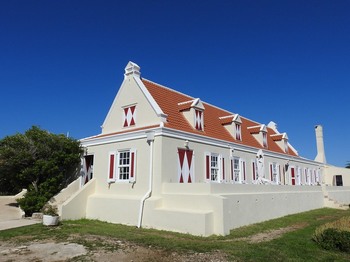 Plantations in West Curacao is part of the Tentative list of Netherlands in order to qualify for inclusion in the World Heritage List.
Plantations in West Curaçao comprises a cultural landscape of Dutch Caribbean slave plantations. They hold mansions, overgrown vegetation and remnants of slave quarters, outbuildings, archaeological sites and memorials. The former plantations included in this proposal are Ascencion, San Juan, Savonet and Knip. They existed in a semi-arid environment and in a setting where crops were grown for domestic use instead of export.
Map of Plantations in West Curacao
Load map
The coordinates shown for all tentative sites were produced as a community effort. They are not official and may change on inscription.
Community Reviews
---
A few weeks ago I wrote about my foray into Sinology; after I quit, I went on to study (and finish) Modern and Socio-Economic History. I wrote my master thesis about the Abolishment of Slavery on Curacao. I re-read it before visiting the TWHS Plantations in West Curacao as it is so close to this subject. The slave plantation society at Curacao was atypical, as the island's soil is not fertile and did not provide enough to make the export of crops profitable. So its mixed produce was mostly eaten by the local population. The plantation owners often had a job in the city as well.
This TWHS has been quite high in the ranking of future Dutch WHS (2019 was once named as the year that it should happen), but doubts have risen and it has been suggested to the Curacao government to think about joining a serial transnational nomination or even seek an extension of the Willemstad WHS (on similar grounds as Trinidad and the Valle de los Ingenios). I have not been able to find any news on its status beyond 2015.
Nevertheless, I looked forward to a visit during my first trip to Curacao in late 2020. The TWHS comprises 4 locations, but I will focus this review on Ascencion. I "visited" the other 3 locations as well, but I found Knip closed and my stops at Savonet & San Juan were superficial as well.
Plantation house Ascencion nowadays can only be seen on a guided tour on Thursday morning, which has to be pre-booked by e-mail. The site is managed by a Dutch couple, the building is in public ownership. In normal years it is rented out for weddings, parties and meetings. The Dutch Ministry of Defense has a special relationship with the building and has come to the financial Covid rescue to rent it for its troops this year while in training on Curacao. A dormitory has been created in the attic and the grounds are also large enough to accommodate a number of army tents.
Ascencion dates back to 1672. It belonged to a plantation where corn and fruits were grown for the local market. It looks neat from the outside, but what distinguishes it most from the other plantation houses is that the interior is also quite well preserved. They even still have a few pieces of furniture from the 17th century. The construction has an interior gallery that wraps all the way around the formal room in the center.
The tour focuses on the history of the house, there is little tangible presence of the "plantation system" that should be the core of its WH nomination. The agricultural fields are completely overgrown by manchineel trees and shrubs: the brackish water, that came when the Shell oil refinery emptied the fresh water bubble underneath, allows little vegetation. Also, nothing can be seen anymore of the living conditions of the enslaved or free labourers. They lived in huts next to the plantation house and had their own small fields. Only the original Slave Bell has been preserved, which was rung to regulate the day on the slave plantation (to be cynical even this may be more of an architectural style feature belonging to the plantation house).
So, in conclusion: while I am glad that I have visited these plantations and closed a circle from my student days, I would not recommend it for WH status in this format. It is brought forward as a cultural landscape that shows a "distinctive variant of the Caribbean slave plantation society". However, the interaction between man and nature here was not very succesful and any impact made has gone already for a long time. Also, the physical remains of the slave plantation society are limited to that of the plantation owners which carries the risk of presenting a one-sided story.
Read more from Els Slots here.
---
Chinese-Canadian - 16-Nov-19 -
I went to 3 plantations in one day, and none take very long so it was on the way to one of the best beaches on the island: Grote Knip. There is the "Knip Manor" just outside the driveway with reasonable opening hours. San Juan is also on the way if you take the detour on the smaller road. Once you get to the outskirts of Willemstad it's clear roads. Both of these are on the tentative list because they are untouched, I visited a third one in town (Chobolobo) and took the tour (every hour) but it is a modern distillery and therefore not going to be part of the nomination.
What each landhuis has in common are that the interior decorations in European, or dare I say Dutch fashion. I don't find these exceptionally unique for the interior but they are unique for Curacao. Interesting was to see the slave books, to show who gave birth while working onsite, with a special room for such women.
I wanted to visit Ascension but it is only open rarely (Thursday for a tour and every first Sunday of the month to the public) which didn't fit my schedule at all. It may be the best one to visit though.
Would not be surprised if these get inscribed, as were the coffee plantations on Cuba but I disagree they are.
---
Site Info
Full Name

Plantations in West Curacao

Country

Added

Type

Cultural

Categories

Link
Site History
2011

Added to Tentative List
Visitors
13 Community Members have visited.